Comparing the Sizes of Dinosaurs in the Lost World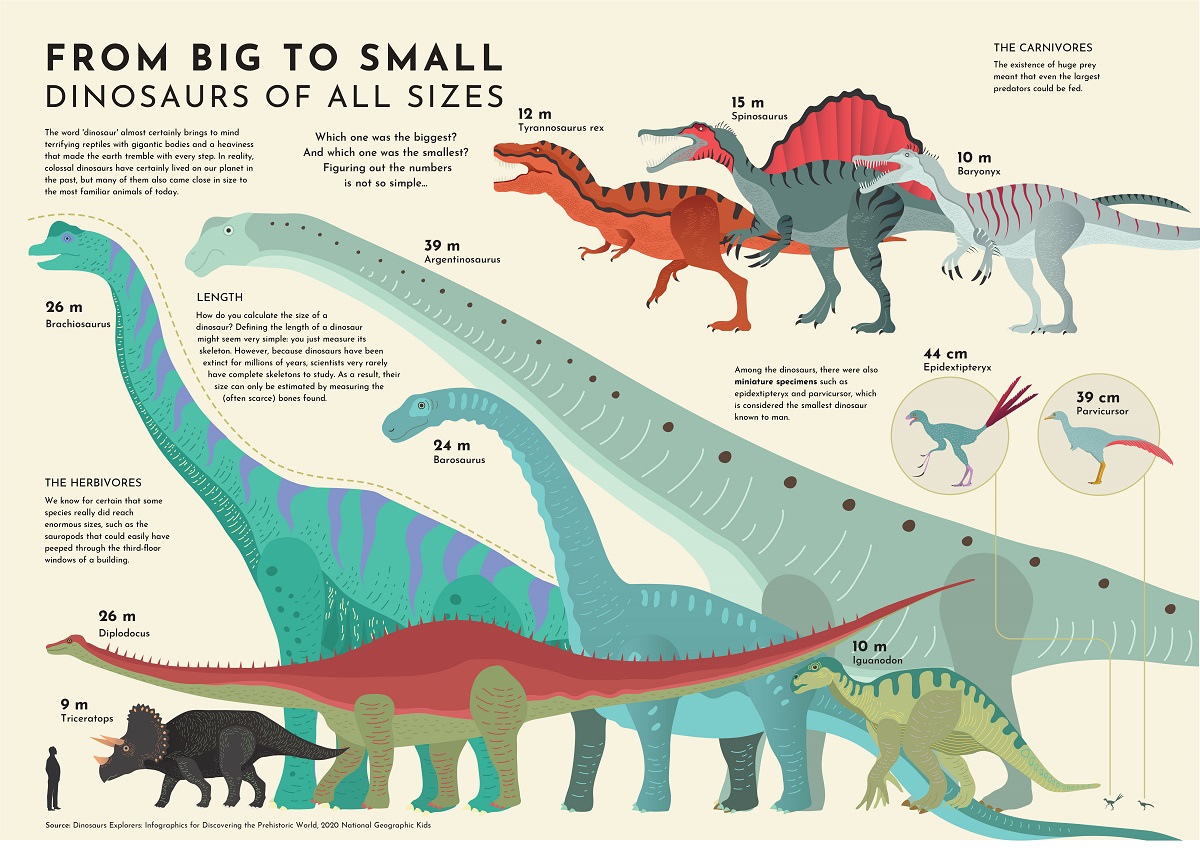 Click to view a larger version of the graphic.
Comparing the Sizes of Dinosaurs in the Lost World
When dinosaurs inhabited the Earth over 66 million years ago, their sizes and species varied dramatically.
While geological evidence is far from complete, fossil evidence suggests that the largest dinosaurs were comparable to the length of a Boeing 737 or the weight of 12 elephants. Meanwhile, the smallest were similar to the size of a chicken or bird.
In this infographic from Giulia De Amicis we compare the sizes of dinosaurs to get a sense of their vast scale and diversity.
Sizes of Dinosaurs Compared to Modern Day Life
Towering as high as 39 meters, the Argentinosaurus or 'Argentina lizard' is currently thought to be the largest dinosaur ever discovered. It was a sauropod, a subgroup of dinosaurs with very long necks and long tails, four wide legs for support, and relatively smaller heads.
In 1987, its bones were unearthed in the Patagonia region of Argentina, a destination well-known for prehistoric fossils. For comparison's sake, the length of the Argentinosaurus is as high as a 13-story building.
| Name | Length (Meters) | Length (Feet) |
| --- | --- | --- |
| Argentinosaurus | 39 m | 128 ft |
| Blue Whale | 30 m | 98 ft |
| Brachiosaurus | 26 m | 85 ft |
| Diplodocus | 26 m | 85 ft |
| Barosaurus | 24 m | 79 ft |
| Spinosaurus | 15 m | 49 ft |
| Tyrannosaurus rex | 12 m | 30 ft |
| Iguanodon | 10 m | 33 ft |
| Baryonyx | 10 m | 33 ft |
| Triceratops | 9 m | 30 ft |
| African Elephant | 7 m | 23 ft |
| Human | 1.8 m | 6 ft |
| Epidextipteryx | 44 cm | 1.4 ft |
| Parvicursor | 39 cm | 1.3 ft |
Other sauropods were also massive, including the Brachiosaurus, or 'arm lizard'—it was roughly the size of a blue whale.
Fossil evidence discovered in 1900 in the Colorado Valley showed that the Brachiosaurus lived in the late Jurassic Period, 140-155 million years ago. Similarly, the Tyrannosaurus rex (12 m) also lived in North America, but during the Late Cretaceous period some 80 million years later.
Among the smallest dinosaurs were the Parvicursor (literally 'small runner') and Epidextipteryx (literally 'display feather'). Both were under 45 centimeters, similar to a modern mid-sized bird.
The Age of Giants
Not only were the dinosaurs sheerly colossal in size, but so too was their mass.
Consider how the Argentinosaurus was about the weight of a typical rocket at 75,000 kg, or twice the mass of a Boeing 737. And there were many heavy dinosaurs, such as the Diplodocus (meaning 'double beam') which weighed a hefty 13,000 kg.
Sizes of Dinosaurs In Question
How do we know these sizes and weights?
Scientists use discovered bones, impressions, and completed fossils to come up with ranges of estimates. The more complete a fossil and the more similar fossils exist, the more accurate the estimate that scientists can make.
But amid discoveries of the largest dinosaurs on earth, many paleontologists have questioned size claims. Due to incomplete fossil records, some estimates are based on as little as a handful of bone records. For instance, just 20% of the Brachiosaurus' skeleton has been discovered.
At the same time, techniques such as 3-D scanning continue to be refined, and there are now many different techniques being used to estimate size. That said, one study has shown that even diverse sizing techniques typically arrive at similar results.
With access to virtual fossils, broad archeological datasets, as well as advancing techniques and new discoveries, the understanding of the sizes of dinosaurs continues to evolve.

This article was published as a part of Visual Capitalist's Creator Program, which features data-driven visuals from some of our favorite Creators around the world.
Visualizing the Relationship Between Cancer and Lifespan
New research links mutation rates and lifespan. We visualize the data supporting this new framework for understanding cancer.
A Newfound Link Between Cancer and Aging?
A new study in 2022 reveals a thought-provoking relationship between how long animals live and how quickly their genetic codes mutate.
Cancer is a product of time and mutations, and so researchers investigated its onset and impact within 16 unique mammals. A new perspective on DNA mutation broadens our understanding of aging and cancer development—and how we might be able to control it.
Mutations, Aging, and Cancer: A Primer
Cancer is the uncontrolled growth of cells. It is not a pathogen that infects the body, but a normal body process gone wrong.
Cells divide and multiply in our bodies all the time. Sometimes, during DNA replication, tiny mistakes (called mutations) appear randomly within the genetic code. Our bodies have mechanisms to correct these errors, and for much of our youth we remain strong and healthy as a result of these corrective measures.
However, these protections weaken as we age. Developing cancer becomes more likely as mutations slip past our defenses and continue to multiply. The longer we live, the more mutations we carry, and the likelihood of them manifesting into cancer increases.
A Biological Conundrum
Since mutations can occur randomly, biologists expect larger lifeforms (those with more cells) to have greater chances of developing cancer than smaller lifeforms.
Strangely, no association exists.
It is one of biology's biggest mysteries as to why massive creatures like whales or elephants rarely seem to experience cancer. This is called Peto's Paradox. Even stranger: some smaller creatures, like the naked mole rat, are completely resistant to cancer.
This phenomenon motivates researchers to look into the genetics of naked mole rats and whales. And while we've discovered that special genetic bonuses (like extra tumor-suppressing genes) benefit these creatures, a pattern for cancer rates across all other species is still poorly understood.
Cancer May Be Closely Associated with Lifespan
Researchers at the Wellcome Sanger Institute report the first study to look at how mutation rates compare with animal lifespans.
Mutation rates are simply the speed at which species beget mutations. Mammals with shorter lifespans have average mutation rates that are very fast. A mouse undergoes nearly 800 mutations in each of its four short years on Earth. Mammals with longer lifespans have average mutation rates that are much slower. In humans (average lifespan of roughly 84 years), it comes to fewer than 50 mutations per year.
The study also compares the number of mutations at time of death with other traits, like body mass and lifespan. For example, a giraffe has roughly 40,000 times more cells than a mouse. Or a human lives 90 times longer than a mouse. What surprised researchers was that the number of mutations at time of death differed only by a factor of three.
Such small differentiation suggests there may be a total number of mutations a species can collect before it dies. Since the mammals reached this number at different speeds, finding ways to control the rate of mutations may help stall cancer development, set back aging, and prolong life.
The Future of Cancer Research
The findings in this study ignite new questions for understanding cancer.
Confirming that mutation rate and lifespan are strongly correlated needs comparison to lifeforms beyond mammals, like fishes, birds, and even plants.
It will also be necessary to understand what factors control mutation rates. The answer to this likely lies within the complexities of DNA. Geneticists and oncologists are continuing to investigate genetic curiosities like tumor-suppressing genes and how they might impact mutation rates.
Aging is likely to be a confluence of many issues, like epigenetic changes or telomere shortening, but if mutations are involved then there may be hopes of slowing genetic damage—or even reversing it.
While just a first step, linking mutation rates to lifespan is a reframing of our understanding of cancer development, and it may open doors to new strategies and therapies for treating cancer or taming the number of health-related concerns that come with aging.
Is it Possible to Bring Back Extinct Animal Species?
This graphic provides an introduction to de-extinction, a field of biology focused on reviving extinct animal species.
Is it Possible to Bring Back Extinct Animal Species?
View a higher resolution version of this infographic.
Humanity has been tinkering with natural life for thousands of years.
We've become remarkably good at it, too—to date, we've modified bacteria to produce drugs, created crops with built-in pesticides, and even made a glow-in-the-dark dog.
However, despite our many achievements in the realm of genetic engineering, one thing we're still working on is bringing extinct animals back to life.
But scientists are working on it. In fact, there's a whole field of biology that's focused on reviving extinct species.
This graphic provides a brief introduction to the fascinating field of science known as resurrection biology—or de-extinction.
The Benefits of De-Extinction
First thing's first—what is the point of bringing back extinct animals?
There are a number of research benefits that come with de-extinction. For instance, some scientists believe studying previously extinct animals and looking at how they function could help fill some gaps in our current theories around evolution.
De-extinction could also have a beneficial impact on the environment. That's because when an animal goes extinct, its absence has a ripple effect on all the flora and fauna involved in that animal's food web.
Because of this, reintroducing previously extinct species back into their old ecosystems could help rebalance and restore off-kilter environments.
There's even a possibility that de-extinction could slow down global warming. Scientist Sergey Zimov believes that, if we were to reintroduce an animal that's similar to the woolly mammoth back to the tundra, it could help repopulate the area, regrow ancient plains, and possibly slow the melting of the ice caps.
How Does it Work?
The key element that's needed to re-create a species is its DNA.
Unfortunately, DNA slowly degrades, and once it's gone completely, there's no way to recover it. Researchers believe DNA has a half-life of 521 years, so after 6.8 million years, it's believed to be completely gone.
That's why species like dinosaurs have virtually no chance of de-extinction. However, many organisms that went extinct more recently, like the dodo, could have a chance of conservation.
When it comes to de-extinction, there are three main techniques:
① Cloning
This is the only way to create an exact DNA replica of something.
However, a complete genome is needed for this, so this form of genetic rescue is most effective with recently-lost species, or species that are nearing extinction.
② Genome Editing
Genome editing is the manipulation of DNA to mimic extinct DNA.
There are several ways to do this, but in general, the process involves researchers manipulating the genomes of living species to make a new species that closely resembles an extinct one.
Because it's not an exact copy of the extinct species' DNA, this method will create a hybrid species that only resembles the extinct animal.
③ Back-Breeding
A form of breeding where a distinguishing trait from an extinct species (a horn or a color pattern) is bred back into living populations.
This requires the trait to still exist in some frequency in similar species, and the trait is selectively bred back into popularity.
Like genome editing, this method does not resurrect an extinct species, but resurrects the DNA and genetic diversity that gave the extinct species a distinguishing trait.
Is Bringing Back Extinct Animal Species Really Worth it?
While there's a ton of buzz and potential around the idea of bringing back extinct animal species, there are a few critics that believe our efforts would be better spent on other things.
Research on the economics of de-extinction found that the money would go farther if it was invested into conservation programs for living species—approximately two to eight times more species could be saved if invested in existing conversation programs.
In an article in Science, Joseph Bennett, a biologist at Carleton University in Ottawa, said "if [a] billionaire is only interested in bringing back a species from the dead, power to him or her."
Bennett added, "however, if that billionaire is couching it in terms of it being a biodiversity conservation, then that's disingenuous. There are plenty of species out there on the verge of extinction now that could be saved with the same resources."