How Big Tech Revenue and Profit Breaks Down, by Company
In the media and public discourse, companies like Alphabet, Apple, and Microsoft are often lumped together into the same "Big Tech" category. After all, they constitute the world's largest companies by market capitalization.
And because of this, it's easy to assume they're in direct competition with each other, fiercely battling for a bigger piece of the "Big Tech" pie. But while there is certainly competition between the world's tech giants, it's a lot less drastic than you might imagine.
This is apparent when you look into their various revenue streams, and this series of graphics by Truman Du provides a revenue breakdown of Alphabet, Amazon, Apple, and Microsoft.
How Big Tech Companies Generate Revenue
So how does each big tech firm make money? Let's explore using data from each company's June 2022 quarterly income statements.
Alphabet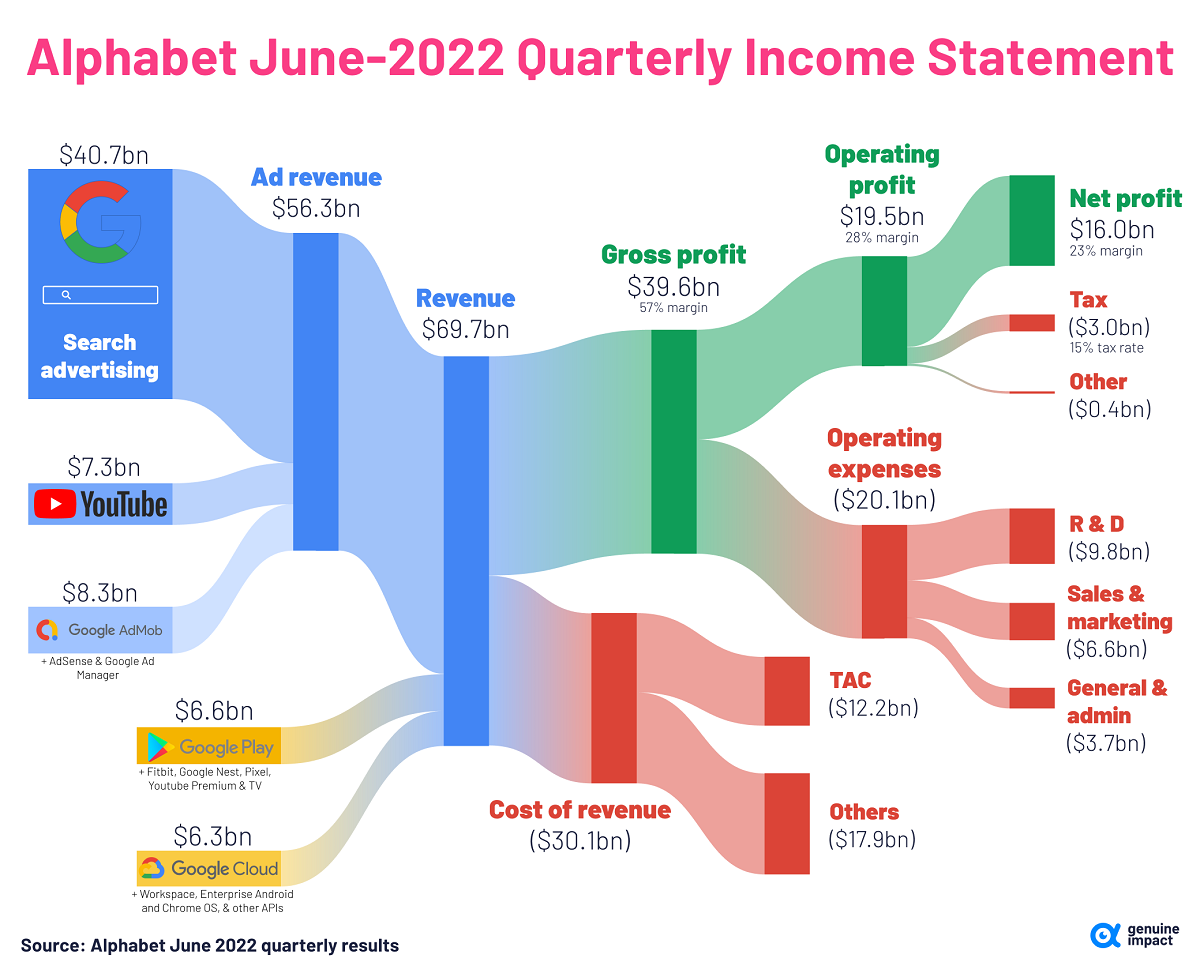 View the full-size infographic
In Q2 2022, about 72% of Alphabet's revenue came from search advertising. This makes sense considering Google and YouTube get a lot of eyeballs. Google dominates the search market—about 90% of all internet searches are done on Google platforms.
Amazon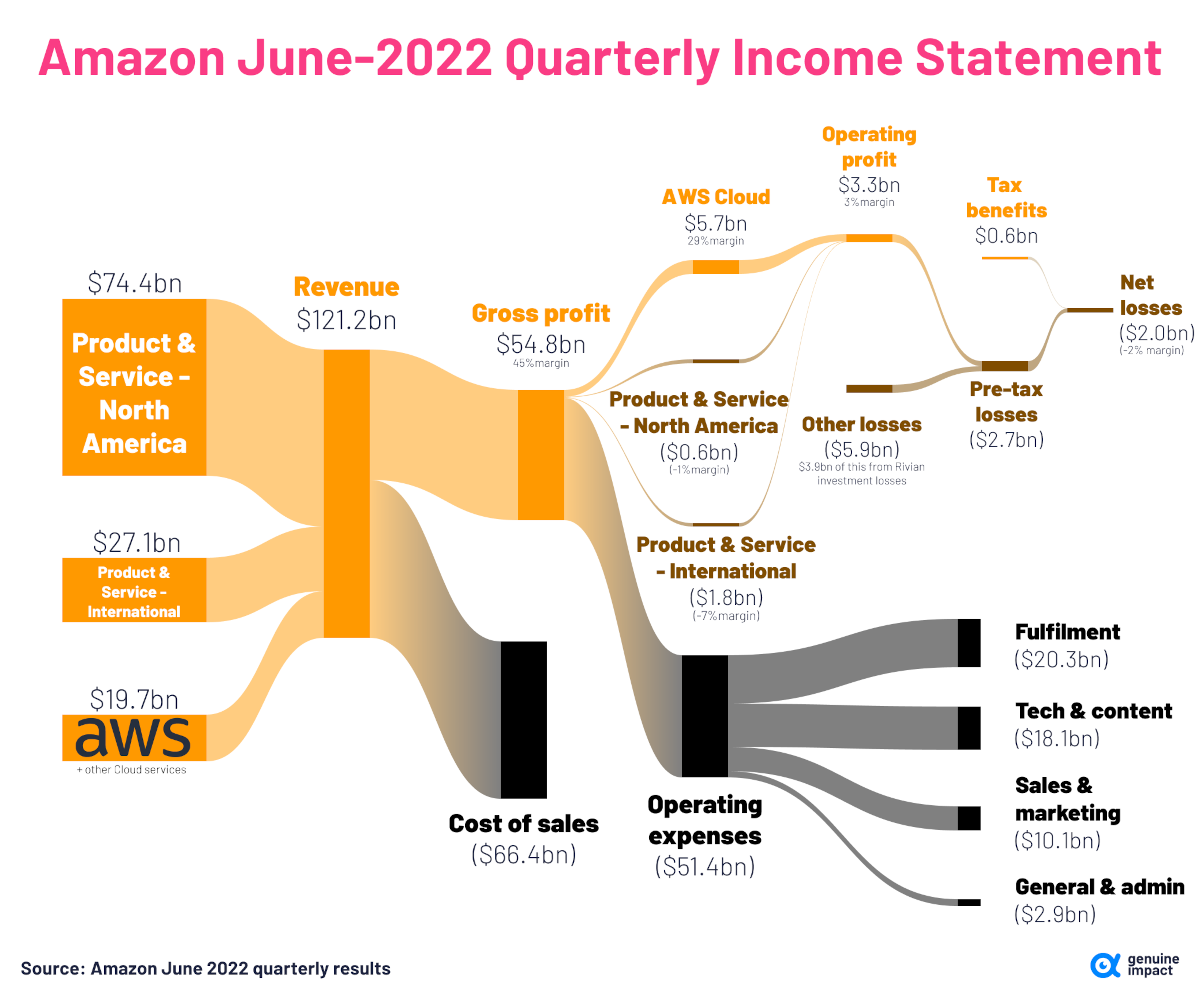 View the full-size infographic
Perhaps unsurprisingly, Amazon's biggest revenue driver is e-commerce. However, as the graphic above shows, the costs of e-commerce are so steep, that it actually reported a net loss in Q2 2022.
As it often is, Amazon Web Services (AWS) was the company's main profit-earner this quarter.
Apple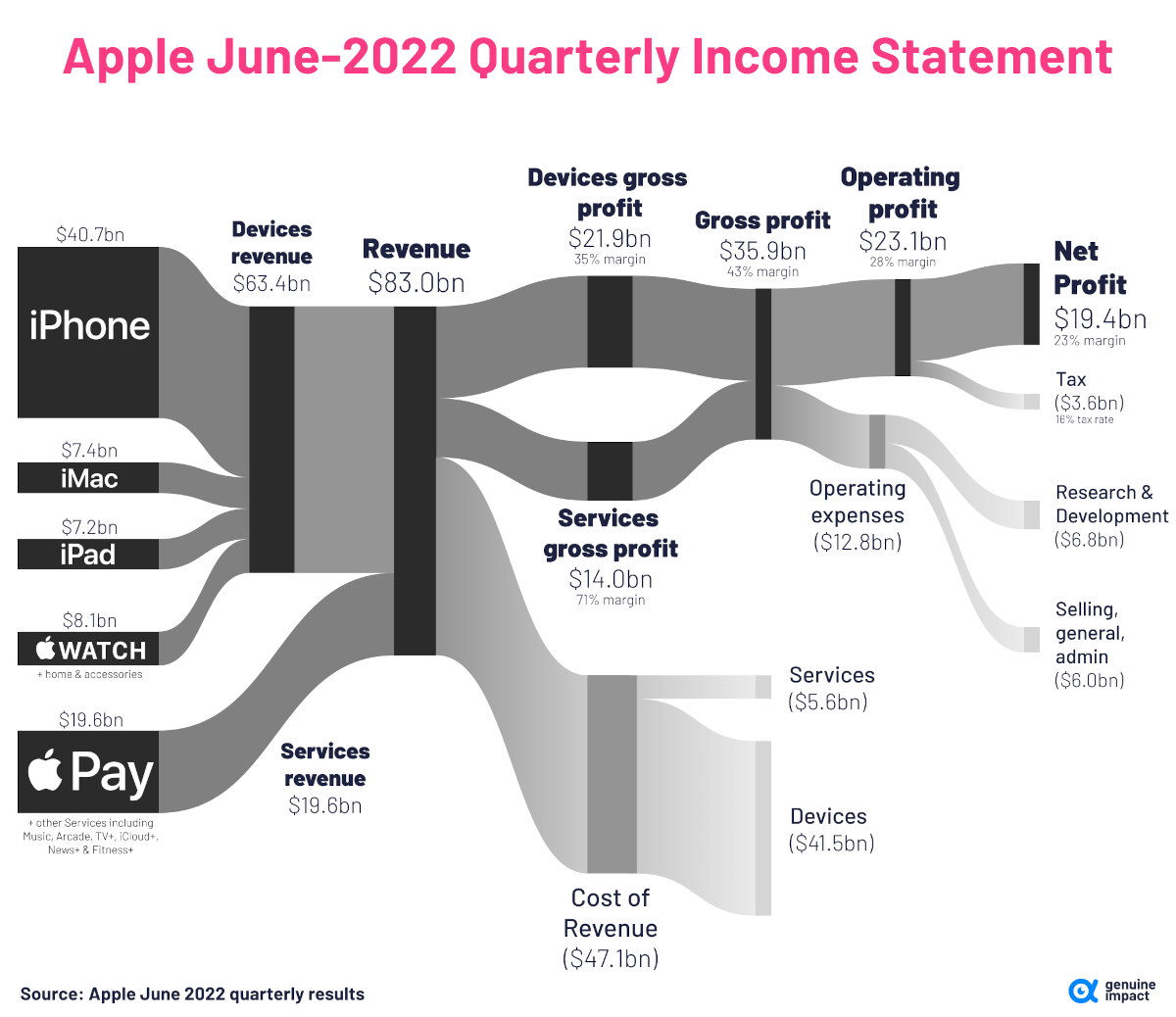 View the full-size infographic
Apple's biggest revenue driver is consumer electronics sales, particularly from the iPhone which accounts for nearly half of overall revenue. iPhones are particularly popular in the U.S., where they make up around 50% of smartphone sales across the country.
Besides devices, services like Apple Music, Apple Pay, and Apple TV+ also generate revenue for the company. But in Q2 2022, Apple's services branch accounted for only 24% of the company's overall revenue.
Microsoft
View the full-size infographic
Microsoft has a fairly even split between its various revenue sources, but similarly to Amazon its biggest revenue driver is its cloud services platform, Azure.
After AWS, Azure is the second largest cloud server in the world, capturing 21% of the global cloud infrastructure market.

This article was published as a part of Visual Capitalist's Creator Program, which features data-driven visuals from some of our favorite Creators around the world.
Ranked: America's Largest Semiconductor Companies
This graphic visualizes the market capitalizations of America's 15 largest semiconductor companies.
Ranking America's Largest Semiconductor Companies
As our world moves further into an era of widespread digitization, few industries can be considered as important as semiconductors.
These components are found in almost everything we use on a daily basis, and the ability to produce them domestically has become a topic of national security. For example, in 2022 the Biden administration announced the CHIPS and Science Act, which aims to strengthen America's position in everything from clean energy to artificial intelligence.
With this in mind, we've ranked the top 15 U.S. semiconductor companies by their market capitalizations.
Data and Highlights
The data we used to create this infographic is listed in the table below. Year-to-date (YTD) returns were included for additional context. Both metrics are as of May 30, 2023.
| Rank | Company | Ticker | Market Cap (USD billions) | YTD Return |
| --- | --- | --- | --- | --- |
| 1 | Nvidia | NVDA | $992 | 180.2% |
| 2 | Broadcom | AVGO | $335 | 45.1% |
| 3 | AMD | AMD | $202 | 95.7% |
| 4 | Texas Instruments | TXN | $160 | 8.2% |
| 5 | Qualcomm | QCOM | $129 | 8.2% |
| 6 | Intel | INTC | $125 | 12.2% |
| 7 | Applied Materials | AMAT | $115 | 41.2% |
| 8 | Analog Devices | ADI | $89 | 9.2% |
| 9 | Lam Research | LRCX | $85 | 52.1% |
| 10 | Micron Technology | MU | $78 | 42.3% |
| 11 | Snyopsys | SNPS | $71 | 45.4% |
| 12 | KLA | KLAC | $63 | 21.8% |
| 13 | Marvell Technology Group | MRVL | $54 | 76.2% |
| 14 | Microchip Technology | MCHP | $42 | 11.2% |
| 15 | ON Semiconductor | ON | $36 | 36.3% |
At the top is Nvidia, which became America's newest $1 trillion company on Tuesday, May 30th. Shares pulled back slightly over the day and Nvidia closed at $992 billion. Over the past decade, Nvidia has transformed from a gaming-focused graphics card producer to a global leader in AI and data center chips.
In third and sixth place are two of America's most well known chipmakers, AMD and Intel. These longtime rivals are moving in opposite trajectories, with AMD shares climbing 770% over the past five years, and Intel shares falling 47%. One reason for this is the data center segment, in which AMD appears to be stealing market share from Intel.
Further down the list we see Applied Materials in seventh, and Lam Research in ninth. Both firms specialize in semiconductor manufacturing equipment and thus play an important role in the industry's supply chain.
Trade War Impacts
As tensions between the U.S. and China escalate, chipmakers are becoming increasingly entangled in geopolitical conflict.
In October 2022, the Biden administration introduced new export controls aimed at blocking China's access to semiconductors produced with U.S. equipment. This impacted several companies in our top 15 list, including Lam Research and Applied Materials.
Shortly after the export controls were announced, Lam Research said it expected to lose upwards of $2.5 billion in annual revenues.
We lost some very profitable customers in the China region, and that's going to persist, obviously.
– Doug Bettinger, CFO, Lam Research
In response, China announced in May 2023 that it would no longer allow America's largest memory chipmaker, Micron, to sell its products to "critical national infrastructure operators".
This is not the first time Micron has been involved in a controversy with China. In 2018, the firm alleged that Fujian Jinhua Integrated Circuit, a Chinese state-owned company, had solicited a Micron employee to steal specifications for memory chips. The U.S. Department of Commerce imposed export restrictions on Fujian Jinhua as a result.
Chipmakers on both sides of the Pacific will be closely watching as competition between these two countries heats up.