Companies Gone Public in 2021: Visualizing IPO Valuations
Companies Gone Public in 2021: Visualizing Valuations
Despite its many tumultuous turns, last year was a productive year for global markets, and companies going public in 2021 benefited.
From much-hyped tech initial public offerings (IPOs) to food and healthcare services, many companies with already large followings have gone public this year. Some were supposed to go public in 2020 but got delayed due to the pandemic, and others saw the opportunity to take advantage of a strong current market.
This graphic measures 68 companies that have gone public in 2021 — including IPOs, SPACs, and Direct Listings—as well as their subsequent valuations after listing.
Who's Gone Public in 2021?
Historically, companies that wanted to go public employed one main method above others: the initial public offering (IPO).
But companies going public today readily choose from one of three different options, depending on market situations, associated costs, and shareholder preference:
Initial Public Offering (IPO): A private company creates new shares which are underwritten by a financial organization and sold to the public.
Special Purpose Acquisition Company (SPAC): A separate company with no operations is created strictly to raise capital to acquire the company going public. SPACs are the fastest method of going public, and have become popular in recent years.
Direct Listing: A private company enters a market with only existing, outstanding shares being traded and no new shares created. The cost is lower than that of an IPO, since no fees need to be paid for underwriting.
The majority of companies going public in 2021 chose the IPO route, but some of the biggest valuations resulted from direct listings.
| Listing Date | Company | Valuation ($B) | Listing Type |
| --- | --- | --- | --- |
| 08-Jan-21 | Clover Health | $7.0 | SPAC |
| 13-Jan-21 | Affirm | $11.9 | IPO |
| 13-Jan-21 | Billtrust | $1.3 | SPAC |
| 14-Jan-21 | Poshmark | $3.0 | IPO |
| 15-Jan-21 | Playtika | $11.0 | IPO |
| 21-Jan-21 | Hims and Hers Health | $1.6 | SPAC |
| 28-Jan-21 | Qualtrics | $15.0 | IPO |
| 09-Feb-21 | Metromile | - | SPAC |
| 11-Feb-21 | Bumble | $8.2 | IPO |
| 26-Feb-21 | ChargePoint Holdings | - | SPAC |
| 03-Mar-21 | Oscar Health | $7.9 | IPO |
| 10-Mar-21 | Roblox | $30.0 | Direct Listing |
| 11-Mar-21 | Coupang | $60.0 | IPO |
| 23-Mar-21 | DigitalOcean | $5.0 | IPO |
| 25-Mar-21 | VIZIO | $3.9 | IPO |
| 26-Mar-21 | ThredUp | $1.3 | IPO |
| 31-Mar-21 | Coursera | $4.3 | IPO |
| 01-Apr-21 | Compass | $8.0 | IPO |
| 14-Apr-21 | Coinbase | $86.0 | Direct Listing |
| 15-Apr-21 | AppLovin | $28.6 | IPO |
| 21-Apr-21 | UiPath | $35.0 | IPO |
| 21-Apr-21 | DoubleVerify | $4.2 | IPO |
| 05-May-21 | The Honest Company | $1.4 | IPO |
| 07-May-21 | Lightning eMotors | $0.82 | SPAC |
| 07-May-21 | Blade Air Mobility | $0.83 | SPAC |
| 19-May-21 | Squarespace | $7.4 | Direct Listing |
| 19-May-21 | Procore | $9.6 | IPO |
| 19-May-21 | Oatly | $10.0 | IPO |
| 26-May-21 | ZipRecruiter | $2.4 | Direct Listing |
| 26-May-21 | FIGS | $4.4 | IPO |
| 01-Jun-21 | SoFi | $8.7 | SPAC |
| 02-Jun-21 | BarkBox | $1.6 | SPAC |
| 08-Jun-21 | Marqueta | $15.0 | IPO |
| 10-Jun-21 | Monday.com | $7.5 | IPO |
| 16-Jun-21 | WalkMe | $2.5 | IPO |
| 22-Jun-21 | Sprinklr | $3.7 | IPO |
| 24-Jun-21 | Confluent | $9.1 | IPO |
| 29-Jun-21 | Clear | $4.5 | IPO |
| 30-Jun-21 | SentinelOne | $10.0 | IPO |
| 30-Jun-21 | LegalZoom | $7.0 | IPO |
| 30-Jun-21 | Didi Chuxing | $73.0 | IPO |
| 16-Jul-21 | Blend | $4 | IPO |
| 21-Jul-21 | Kaltura | $1.24 | IPO |
| 21-Jul-21 | DISCO | $2.5 | IPO |
| 21-Jul-21 | Couchbase | $1.4 | IPO |
| 23-Jul-21 | Vtex | $3.5 | IPO |
| 23-Jul-21 | Outbrain | $1.1 | IPO |
| 28-Jul-21 | Duolingo | $3.7 | IPO |
| 28-Jul-21 | Riskified | $3.3 | IPO |
| 29-Jul-21 | Robinhood | $32.0 | IPO |
| 22-Sep-21 | Toast | $22.0 | IPO |
| 22-Sep-21 | Freshworks | $10.1 | IPO |
| 23-Sep-21 | Remitly | $6.9 | IPO |
| 28-Sep-21 | Amplitude | $6.4 | Direct Listing |
| 29-Sep-21 | Warby Parker | $6.0 | Direct Listing |
| 14-Oct-21 | GitLab | $11.0 | IPO |
| 27-Oct-21 | Rent the Runway | $1.7 | IPO |
| 29-Oct-21 | Udemy | $4.0 | IPO |
| 03-Nov-21 | Allbirds | $2.2 | IPO |
| 04-Nov-21 | NerdWallet | $1.2 | IPO |
| 10-Nov-21 | Rivian | $66.5 | IPO |
| 10-Nov-21 | Expensify | $2.2 | IPO |
| 11-Nov-21 | Winc | - | IPO |
| 11-Nov-21 | Weave | - | IPO |
| 17-Nov-21 | UserTesting | - | IPO |
| 17-Nov-21 | Braze | $6.0 | IPO |
| 18-Nov-21 | Sweetgreen | $3.0 | IPO |
| 09-Dec-21 | Nubank | $41.0 | IPO |
Though there are many well-known names in the list, one of the biggest through lines continues to be the importance of tech.
A majority of 2021's newly public companies have been in tech, including multiple mobile apps, websites, and online services. The two biggest IPOs so far were South Korea's Coupang, an online marketplace valued at $60 billion after going public, and China's ride-hailing app Didi Chuxing, the year's largest post-IPO valuation at $73 billion.
And there were many apps and services going public through other means as well. Gaming company Roblox went public through a direct listing, earning a valuation of $30 billion, and cryptocurrency platform Coinbase has earned the year's largest valuation so far, with an $86 billion valuation following its direct listing.
Big Companies Going Public in 2022
As with every year, some of the biggest companies going public were lined up for the later half.
Tech will continue to be the talk of the markets. Payment processing firm Stripe was setting up to be the year's biggest IPO with an estimated valuation of $95 billion, but got delayed. Likewise, online grocery delivery platform InstaCart, which saw a big upswing in traction due to the pandemic, has been looking to go public at a valuation of at least $39 billion.
Of course, it's common that potential public listings and offerings fall through. Whether they get delayed due to weak market conditions or cancelled at the last minute, anything can happen when it comes to public markets.
This post has been updated as of January 1, 2022.
Support the Future of Data Storytelling
Sorry to interrupt your reading, but we have a favor to ask. At Visual Capitalist we believe in a world where data can be understood by everyone. That's why we want to build the VC App - the first app of its kind combining verifiable and transparent data with beautiful, memorable visuals. All available for free.
As a small, independent media company we don't have the expertise in-house or the funds to build an app like this. So we're asking our community to help us raise funds on Kickstarter.
If you believe in data-driven storytelling, join the movement and back us on Kickstarter!
Thank you.
33 Problems With Media in One Chart
In this infographic, we catalog 33 problems with the social and mass media ecosystem.
33 Problems With Media in One Chart
One of the hallmarks of democratic society is a healthy, free-flowing media ecosystem.
In times past, that media ecosystem would include various mass media outlets, from newspapers to cable TV networks. Today, the internet and social media platforms have greatly expanded the scope and reach of communication within society.
Of course, journalism plays a key role within that ecosystem. High quality journalism and the unprecedented transparency of social media keeps power structures in check—and sometimes, these forces can drive genuine societal change. Reporters bring us news from the front lines of conflict, and uncover hard truths through investigative journalism.
That said, these positive impacts are sometimes overshadowed by harmful practices and negative externalities occurring in the media ecosystem.
The graphic above is an attempt to catalog problems within the media ecosystem as a basis for discussion. Many of the problems are easy to understand once they're identified. However, in some cases, there is an interplay between these issues that is worth digging into. Below are a few of those instances.
Editor's note: For a full list of sources, please go to the end of this article. If we missed a problem, let us know!
Explicit Bias vs. Implicit Bias
Broadly speaking, bias in media breaks down into two types: explicit and implicit.
Publishers with explicit biases will overtly dictate the types of stories that are covered in their publications and control the framing of those stories. They usually have a political or ideological leaning, and these outlets will use narrative fallacies or false balance in an effort to push their own agenda.
Unintentional filtering or skewing of information is referred to as implicit bias, and this can manifest in a few different ways. For example, a publication may turn a blind eye to a topic or issue because it would paint an advertiser in a bad light. These are called no fly zones, and given the financial struggles of the news industry, these no fly zones are becoming increasingly treacherous territory.
Misinformation vs. Disinformation
Both of these terms imply that information being shared is not factually sound. The key difference is that misinformation is unintentional, and disinformation is deliberately created to deceive people.
Fake news stories, and concepts like deepfakes, fall into the latter category. We broke down the entire spectrum of fake news and how to spot it, in a previous infographic.
Simplify, Simplify
Mass media and social feeds are the ultimate Darwinistic scenario for ideas.
Through social media, stories are shared widely by many participants, and the most compelling framing usually wins out. More often than not, it's the pithy, provocative posts that spread the furthest. This process strips context away from an idea, potentially warping its meaning.
Video clips shared on social platforms are a prime example of context stripping in action. An (often shocking) event occurs, and it generates a massive amount of discussion despite the complete lack of context.
This unintentionally encourages viewers to stereotype the persons in the video and bring our own preconceived ideas to the table to help fill in the gaps.
Members of the media are also looking for punchy story angles to capture attention and prove the point they're making in an article. This can lead to cherrypicking facts and ideas. Cherrypicking is especially problematic because the facts are often correct, so they make sense at face value, however, they lack important context.
Simplified models of the world make for compelling narratives, like good-vs-evil, but situations are often far more complex than what meets the eye.
The News Media Squeeze
It's no secret that journalism is facing lean times. Newsrooms are operating with much smaller teams and budgets, and one result is 'churnalism'. This term refers to the practice of publishing articles directly from wire services and public relations releases.
Churnalism not only replaces more rigorous forms of reporting—but also acts as an avenue for advertising and propaganda that is harder to distinguish from the news.
The increased sense of urgency to drive revenue is causing other problems as well. High-quality content is increasingly being hidden behind paywalls.
The end result is a two-tiered system, with subscribers receiving thoughtful, high-quality news, and everyone else accessing shallow or sensationalized content. That everyone else isn't just people with lower incomes, it also largely includes younger people. The average age of today's paid news subscriber is 50 years old, raising questions about the future of the subscription business model.
For outlets that rely on advertising, desperate times have called for desperate measures. User experience has taken a backseat to ad impressions, with ad clutter (e.g. auto-play videos, pop-ups, and prompts) interrupting content at every turn. Meanwhile, in the background, third-party trackers are still watching your every digital move, despite all the privacy opt-in prompts.
How Can We Fix the Problems with Media?
With great influence comes great responsibility. There is no easy fix to the issues that plague news and social media. But the first step is identifying these issues, and talking about them.
The more media literate we collectively become, the better equipped we will be to reform these broken systems, and push for accuracy and transparency in the communication channels that bind society together.
Sources and further reading:
Veils of Distortion: How the News Media Warps our Minds by John Zada
Hate Inc. by Matt Taibbi
The Truth Matters: A Citizen's Guide to Separating Facts from Lies and Stopping Fake News in its Tracks by Bruce Bartlett
Active Measures: The Secret History of Disinformation and Political Warfare by Thomas Rid
The Twittering Machine by Richard Seymour
After the Fact by Nathan Bomey
Ten Arguments for Deleting Your Social Media Accounts Right Now by Jaron Lanier
Zucked by Roger McNamee
Antisocial: Online Extremists, Techno-Utopians, and the Highjacking of the American Conversation by Andrew Marantz
Social media is broken by Sara Brown
The U.S. Media's Problems Are Much Bigger than Fake News and Filter Bubbles by Bharat N. Anand
What's Wrong With the News? by FAIR
Is the Media Doomed? by Politico
The Implied Truth Effect by Gordon Pennycook, Adam Bear, Evan T. Collins, David G. Rand
Ranked: The Best-Selling Video Game Consoles of All Time
Video game consoles have changed drastically over the last 50 years. Here are some of the best-selling ones across the globe.

Creator Program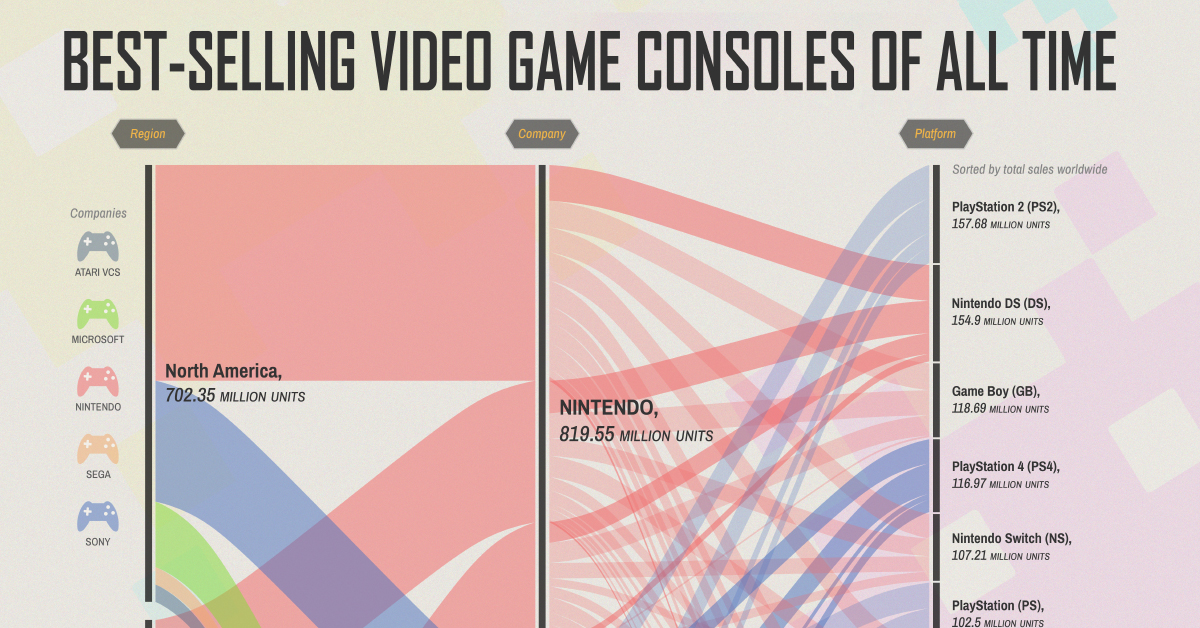 Ranked: The Best-Selling Video Game Consoles of All Time
In 1972, the first-ever commercially available home video game console hit the market—the Magnavox Odyssey. Players of the Odyssey had a choice between two built-in games that were stored directly in the device, and would use a joystick and dials as a controller.
Video game consoles have come a long way since then, and the console market has grown into a multi-billion dollar industry that's expected to reach $72.67 billion in value by the end of 2022.
This graphic by Enrique Mendoza uses data from VGChartz to show the market leaders in the industry, by highlighting the top-selling video consoles of all time, as of May 8, 2022.
Nine Generations of Video Game Consoles
Before diving into the top-selling consoles, it's worth taking a step back to touch on the evolution of home consoles to show how they've changed over the years.
We dug into the literature on the history of video game consoles, and found that most articles and blog posts on the topic cite nine different generations of devices.
Here's a breakdown of each generation, and some of their most noteworthy systems:
1972: Gen One, Where it Began
Consoles in the first generation had pre-built games that were stored directly on the device. They include the Magnavox Odyssey and Atari's Pong.
1976: Gen Two Emerges
In this generation, games were sold separately, rather than programmed into the device. Consoles of this gen include the Fairchild Channel F and the Atari 2600.
1983: Gen Three, the "8-bit Generation"
This era's consoles typically had 8-bit processes which allowed for more advanced graphics for the time. A few notable consoles during this gen were ​​the Sega SG-1000 and the Nintendo Famicom, released outside Japan as the Nintendo Entertainment System (NES).
1987: Gen Four Elevates Handheld Gaming
Home consoles were released with 16-bit systems, meaning that audio and graphics improved even more in this era. But an arguably bigger moment for this gen was the emergence of the Nintendo Game Boy.
1993: The 3D Start of Gen Five
This generation saw the move away from pixels and towards 3D polygons. Some consoles like the Sony PlayStation started using CD-ROMs instead of cartridges, which stored more data at a cheaper cost and changed the industry.
1998: Gen Six and the Internet
At the start of this generation, the three major players in the console space were Sony, Sega, and Nintendo. By the end, Sega would be replaced with Microsoft as it launched the Xbox and helped popularize online console gaming.
2005: HD Graphics and Motion Controls of Gen Seven
On one side of the market, Microsoft and Sony were competing with high-definition graphics, faster processers, and different forms (Blu-rays or DVDs). But Nintendo's motion-sensing Nintendo Wii arguably defined this generation, and the handheld Nintendo DS swept the market as well.
2012: Gen Eight's Modern Consoles
Consoles of this era started having increased connectivity and processing power, with full HD an expectation. It was also an extremely long generation, starting with Nintendo's unsuccessful Wii U and ending with the ultra-successful Nintendo Switch, widely considered the first hybrid console with three different ways to play: TV mode, handheld mode, or tabletop mode.
2020: Gen Nine and Beyond
So far, this generation has brought upgraded graphics (up to 8K resolution), larger games, and game-streaming capabilities. Devices in this gen include the Xbox Series X/S and PlayStation 5, which both use solid state drives to increase speed and performance, while Nintendo has yet to introduce a 9th generation device.
The Best-Selling Game Consoles
The best-selling video game console of all time is Sony's PlayStation 2 (PS2). More than 157 million systems have been sold around the world since its launch in March 2000.
| Rank | Console | Manufacturer | Global lifetime sales (millions) |
| --- | --- | --- | --- |
| 1 | PlayStation 2 (PS2) | Sony | 157.68 |
| 2 | Nintendo DS (DS) | Nintendo | 154.90 |
| 3 | Game Boy (GB) | Nintendo | 118.69 |
| 4 | PlayStation 4 (PS4) | Sony | 116.97 |
| 5 | Nintendo Switch (NS) | Nintendo | 107.21 |
| 6 | PlayStation (PS) | Sony | 102.50 |
| 7 | Nintendo Wii (Wii) | Nintendo | 101.64 |
| 8 | PlayStation 3 (PS3) | Sony | 87.41 |
| 9 | Xbox 360 (X360) | Microsoft | 85.8 |
| 10 | Game Boy Advance (GBA) | Nintendo | 81.51 |
| 11 | PlayStation Portable (PSP) | Sony | 81.09 |
| 12 | Nintendo 3DS (3DS) | Nintendo | 75.95 |
| 13 | Nintendo Entertainment System (NES) | Nintendo | 61.91 |
| 14 | Xbox One (XOne) | Microsoft | 50.57 |
| 15 | Super Nintendo Entertainment System (SNES) | Nintendo | 49.10 |
| 16 | Nintendo 64 (N64) | Nintendo | 32.93 |
| 17 | Sega Genesis (GEN) | Sega | 29.54 |
| 18 | Atari 2600 (2600) | Atari | 27.64 |
| 19 | Xbox (XB) | Microsoft | 24.65 |
| 20 | GameCube (GC) | Nintendo | 21.74 |
| 21 | PlayStation 5 (PS5) | Sony | 19.32 |
| 22 | PlayStation Vita (PSV) | Sony | 16.21 |
| 23 | Xbox Series X/S (XS) | Microsoft | 14.32 |
| 24 | Nintendo Wii U (WiiU) | Nintendo | 13.97 |
| 25 | GameGear (GG) | Sega | 10.62 |
| 26 | Sega Saturn (SAT) | Sega | 8.82 |
| 27 | Dreamcast (DC) | Sega | 8.20 |
| 28 | Atari 7800 (7800) | Atari | 4.30 |
Despite the fact the PS2's been discontinued since 2013, no other gaming console has managed to top it—in fact, the next closest actively-sold consoles, the PS4 and Nintendo Switch, are each more than 40 million units behind.
One major factor for the PS2's success was its built-in DVD player. At the time, DVD players were very expensive, and in many places a PS2 was a cheaper and effective alternative. It was also one of the first devices to be "backward compatible," meaning users could play most of their PS1 games on the PS2. This meant players didn't have to buy a whole new library of games when they made the switch to a PS2, and Sony could tap into its existing customer base.
But while Sony's PS2 is the top-selling console on the list, Nintendo has more top-selling consoles on the list—almost half of the consoles on the list are manufactured by Nintendo (11), while only seven are made by Sony.
What Will it Take to Out-Sell the PS2?
As the PS4 has started taking a backseat to the PS5 in sales and promotion, the current most-likely contender for the best-selling console crown is the Nintendo Switch. Early in 2022, it was the fastest console to sell 100 million units.
With lots of hype around the possibilities of AR and VR, it'll be interesting to see what new features come with the next generation of gaming consoles.
Will future devices ever beat the PS2's record-breaking sales? Time will tell. But for now, the 22-year-old console continues to hold its well-earned spot at the top.