Visualizing China's Dominance in Battery Manufacturing (2022-2027P)

Subscribe to the Elements free mailing list for more like this
Visualizing China's Dominance in Battery Manufacturing
This was originally posted on Elements. Sign up to the free mailing list to get beautiful visualizations on natural resource megatrends in your email every week.
With the world gearing up for the electric vehicle era, battery manufacturing has become a priority for many nations, including the United States.
However, having entered the race for batteries early, China is far and away in the lead.
Using the data and projections behind BloombergNEF's lithium-ion supply chain rankings, this infographic visualizes battery manufacturing capacity by country in 2022 and 2027p, highlighting the extent of China's battery dominance.
Battery Manufacturing Capacity by Country in 2022
In 2022, China had more battery production capacity than the rest of the world combined.
Rank
Country
2022 Battery Cell
Manufacturing Capacity, GWh
% of Total
#1
🇨🇳 China
893
77%
#2
🇵🇱 Poland
73
6%
#3
🇺🇸 U.S.
70
6%
#4
🇭🇺 Hungary
38
3%
#5
🇩🇪 Germany
31
3%
#6
🇸🇪 Sweden
16
1%
#7
🇰🇷 South Korea
15
1%
#8
🇯🇵 Japan
12
1%
#9
🇫🇷 France
6
1%
#10
🇮🇳 India
3
0.2%
🌍 Other
7
1%
Total
1,163
100%
With nearly 900 gigawatt-hours of manufacturing capacity or 77% of the global total, China is home to six of the world's 10 biggest battery makers. Behind China's battery dominance is its vertical integration across the rest of the EV supply chain, from mining the metals to producing the EVs. It's also the largest EV market, accounting for 52% of global sales in 2021.
Poland ranks second with less than one-tenth of China's capacity. In addition, it hosts LG Energy Solution's Wroclaw gigafactory, the largest of its kind in Europe and one of the largest in the world. Overall, European countries (including non-EU members) made up just 14% of global battery manufacturing capacity in 2022.
Although it lives in China's shadow when it comes to batteries, the U.S. is also among the world's lithium-ion powerhouses. As of 2022, it had eight major operational battery factories, concentrated in the Midwest and the South.
China's Near-Monopoly Continues Through 2027
Global lithium-ion manufacturing capacity is projected to increase eightfold in the next five years. Here are the top 10 countries by projected battery production capacity in 2027:
Rank
Country
2027P Battery Cell
Manufacturing Capacity, GWh
% of Total
#1
🇨🇳 China
6,197
69%
#2
🇺🇸 U.S.
908
10%
#3
🇩🇪 Germany
503
6%
#4
🇭🇺 Hungary
194
2%
#5
🇸🇪 Sweden
135
2%
#6
🇵🇱 Poland
112
1%
#7
🇨🇦 Canada
106
1%
#8
🇪🇸 Spain
98
1%
#9
🇫🇷 France
89
1%
#10
🇲🇽 Mexico
80
1%
🌍 Other
523
6%
Total
8,945
100%
China's well-established advantage is set to continue through 2027, with 69% of the world's battery manufacturing capacity.
Meanwhile, the U.S. is projected to increase its capacity by more than 10-fold in the next five years. EV tax credits in the Inflation Reduction Act are likely to incentivize battery manufacturing by rewarding EVs made with domestic materials. Alongside Ford and General Motors, Asian companies including Toyota, SK Innovation, and LG Energy Solution have all announced investments in U.S. battery manufacturing in recent months.
Europe will host six of the projected top 10 countries for battery production in 2027. Europe's current and future battery plants come from a mix of domestic and foreign firms, including Germany's Volkswagen, China's CATL, and South Korea's SK Innovation.
Can Countries Cut Ties With China?
Regardless of the growth in North America and Europe, China's dominance is unmatched.
Battery manufacturing is just one piece of the puzzle, albeit a major one. Most of the parts and metals that make up a battery—like battery-grade lithium, electrolytes, separators, cathodes, and anodes—are primarily made in China.
Therefore, combating China's dominance will be expensive. According to Bloomberg, the U.S. and Europe will have to invest $87 billion and $102 billion, respectively, to meet domestic battery demand with fully local supply chains by 2030.
Ranked: The World's Top Cobalt Producing Countries
Cobalt, an essential component for certain types of EV batteries, has seen a significant shift in its global production landscape.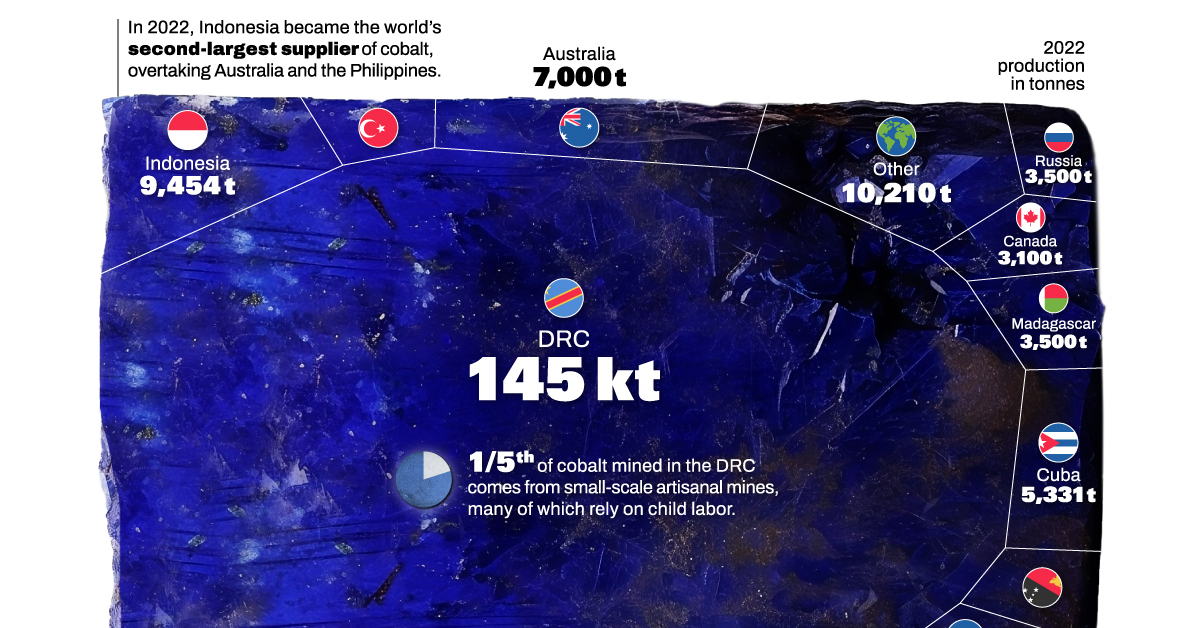 Ranked: The World's Top Cobalt Producing Countries
This was originally posted on Elements. Sign up to the free mailing list to get beautiful visualizations on real assets and resource megatrends each week.
Cobalt, an essential component of key chemistries of the rechargeable lithium-ion batteries used in EVs, has seen a significant shift in its global production landscape.
The Democratic Republic of Congo (DRC) has long been the world's largest cobalt producer, accounting for 73% of global output in 2022.
However, according to the Cobalt Institute, the DRC's dominance is projected to decrease to 57% by 2030 as Indonesia ramps up its cobalt production as a byproduct from its rapidly expanding nickel industry.
Indonesia Became Second Largest Cobalt Producer in 2022
Indonesia accounts for nearly 5% of global cobalt production today, surpassing established producers like Australia and the Philippines.
In 2022, Indonesia's cobalt production surged to almost 9,500 tonnes from 2,700 tonnes in 2021, with the potential to increase production by tenfold by 2030.

| Country | 2022 Production (tonnes) | % of Total Production |
| --- | --- | --- |
| 🇨🇩 DRC | 144,936 | 73.3% |
| 🇮🇩 Indonesia | 9,454 | 4.8% |
| 🇦🇺 Australia | 7,000 | 3.5% |
| 🇵🇭 Philippines | 5,400 | 2.7% |
| 🇨🇺 Cuba | 5,331 | 2.7% |
| 🇷🇺 Russia | 3,500 | 1.8% |
| 🇲🇬 Madagascar | 3,500 | 1.8% |
| 🇨🇦 Canada | 3,100 | 1.6% |
| 🇵🇬 Papua New Guinea | 3,060 | 1.5% |
| 🇹🇷 Türkiye | 2,300 | 1.2% |
| 🌐 Other | 10,210 | 5.2% |
| Total | 197,791 | 100.0% |
Percentages may not add to 100 due to rounding.
In total, global cobalt production reached 197,791 tonnes, with the DRC contributing just under 145,000 tonnes of that mix.
The EV industry is the largest consumer of cobalt, accounting for approximately 40% of total demand. The exponential growth of the EV sector is expected to drive a doubling of global cobalt demand by 2030.
While the shift in cobalt production is notable, it is not without challenges. Plummeting cobalt prices, which fell almost 30% this year to $13.90 a pound, have severely impacted the DRC.
Furthermore, the longer-term prospects of cobalt could face hurdles due to efforts to reduce its use in batteries, partly driven by human rights concerns associated with artisanal cobalt mining in the DRC and related child labor and human rights abuses.
In a 2021 ruling by a federal court in Washington, Google parent Alphabet, Apple, Dell, Microsoft, and Tesla were relieved from a class action suit claiming their responsibility for alleged child labor in Congolese cobalt mines.
The Future of Cobalt
Despite ongoing efforts to substitute cobalt in battery applications, cobalt is expected to remain a vital raw material for the entire battery supply chain in the near future.
The demand for cobalt is forecasted to more than double by 2030 to 388,000 tonnes.