Chart: One Reason a Brexit Makes Sense
Chart: One Reason a Brexit Makes Sense
The UK escapes a swath of troubled loans and fiscal problems.
The Chart of the Week is a weekly Visual Capitalist feature on Fridays.
Economic authorities and pundits have been vocal about the potential economic consequences of a Brexit.
The Bank of England said a "Leave" vote would increase unemployment, stoke inflation, slow economic growth, and prompt consumers and businesses to delay spending. The results would be recessionary.
The IMF warned that leaving the EU would cause "severe regional and global damage" for years to come.
The main argument here is that a lack of access to the single market will hurt the UK economy, and this could prove to be very true in time.
Market, Schmarket
While keeping economic ties to the single market is an important point to consider, the UK also gains a distinct advantage from maintaining a further distance from parts of the EU ecosystem.
Why? Because parts of Europe are still an economic mess, and things aren't getting better. Just look to the recent banking mess in Italy and non-performing loans (NPLs) as an example.
Historical NPLs (Data from IMF)

Italian banks are currently being crushed by €360 billion in non-performing loans. According to the European Banking Authority, they make up 16.9% of all lending as of March 2016, and are unlikely to be paid in full. As a result, bank stock prices in Italy have plummeted.
Banca Monte dei Paschi di Siena, Italy's third-largest bank by assets, is now trading for €0.31, which is a mere 15% of its 52-week highs at €2.04. UniCredit, the country's largest bank with just under €1 trillion in assets, is trading at one-third of what it was worth a year ago.
To help solve the disaster, the ECB's Mario Draghi is now backing a public bailout of Italy's banking sector.
Outside of Italy
Portugal has a similar banking crisis brewing. Non-performing loans have mounted to 18.5%, and Prime Minister Antonio Costa is also publicly looking for a solution to help Portuguese banks.
Even Germany, which is typically rock-solid, has its own banking issues. As we covered a couple of weeks ago, the country's largest bank, Deutsche Bank, has seen its value collapse as it has been engulfed by scandals, record losses, missed stress tests, and poor planning.
While access to markets is important for the UK, keeping a distance from flailing European banks also seems like it could be a wise choice in the long run as well.
Which Companies Make Up the "Magnificent Seven" Stocks?
FAANG is dead… meet the 'Magnificent Seven' stocks that now make up over 25% of the S&P 500.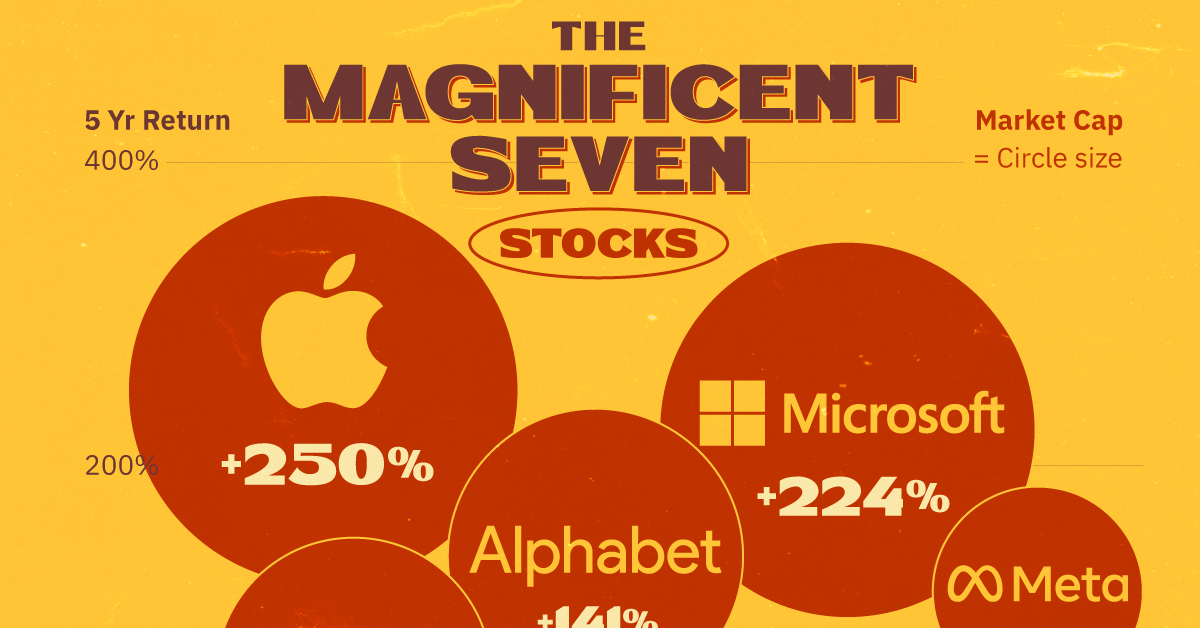 Which Companies Make Up the "Magnificent Seven" Stocks?
In 2013 CNBC analyst Jim Cramer popularized "FANG," comprised of Facebook (now Meta), Amazon, Netflix, and Google (now Alphabet), as a shorthand for the best performing technology stocks on the market. Apple, added in 2017, made it FAANG.
However, over the last year a new moniker given by Bank of America analyst Michael Hartnett highlights the most valuable and popularly-owned companies on the American stock market: the "Magnificent Seven" stocks.
We visualize the Magnificent Seven's market capitalization and 5-year stock performance as of November 2023 using data from Google Finance and CompaniesMarketCap.
The Magnificent Seven Stocks by Market Cap and 5-Year Return
The Magnificent Seven stocks are megacap companies focused and capitalizing on tech growth trends including AI, cloud computing, and cutting-edge hardware and software.
Four of the five FAANG stocks retain their place amongst the Magnificent Seven, with newcomers Nvidia, Tesla, and Microsoft joining the group. Following a poor 2022 performance and having more difficulty capitalizing on tech trends, Netflix is the sole FAANG company not included.
Here's a look at the companies ranked by their market capitalization on November 6, 2023, alongside their 5-year stock performance:
| Rank | Company | Market Cap | 5 Year Performance |
| --- | --- | --- | --- |
| 1 | Apple | $2.8 trillion | +250% |
| 2 | Microsoft | $2.6 trillion | +224% |
| 3 | Alphabet | $1.6 trillion | +141% |
| 4 | Amazon | $1.4 trillion | +63% |
| 5 | Nvidia | $1.1 trillion | +783% |
| 6 | Meta | $811 billion | +118% |
| 7 | Tesla | $690 billion | +829% |
The Magnificent Seven make up more than one-quarter of the S&P 500 and more than half of the Nasdaq 100.
Meanwhile, five of the seven are part of the rare trillion dollar club, with Nvidia being the most recent entry.
A common theme among the Magnificent Seven is their ability to collect vast amounts of customer data, create cutting-edge hardware and software, as well as harness the power of AI.
However, if Netflix gets back on track—recently announcing its new ad-supported membership tier has 15 million subscribers—we could soon see a "Magnificent Eight."