Chart: Fintech Investment in 2016
Chart: Fintech Investment in 2016
Overall numbers are down, but banks step up their game
The Chart of the Week is a weekly Visual Capitalist feature on Fridays.
According to a new report by Singapore-based venture capital firm Life.SREDA, last year was a mixed bag for fintech.
On the one hand, the Money of the Future Report pegs 2016 as the first year to have an overall decrease in fintech funding after taking into account any outliers. By their calculations, dealflow slowed in the last couple of quarters of the year, while the amount of funding flowing into fintech fell 6% to $19.1 billion.
On the other hand, the one deal that was considered an outlier was a big one: Alibaba affiliate Ant Financial, the world's second-largest unicorn (behind Uber), raised a Series B of $4.5 billion in early 2016. That's the largest ever fundraising round for a private tech company.
Further, for the deals that were done in 2016, one could say there was an element of quality over quantity. Established financial institutions are no longer sitting on the sidelines for fintech – in fact, banks have increased the number of investments in VC-backed fintech companies by 61% since the previous year.
Who's Banking on Fintech?
Some banks are more active than others.
JP Morgan, at one end of the spectrum, only booked three fintech deals last year, which is the same as they did for 2015.
Companies like Barclays and Goldman Sachs have more of a shotgun approach: get in on as many fintech companies as possible. Barclays invested in 23 deals in 2016 for a 53% increase in activity, while Goldman got in on 17 deals for a 31% bump in activity.
Partnerships and product integrations, accelerators and innovative labs, direct investments and venture debts, corporate VCs and fund-of-fund investments — banks started to use all available mechanisms in order not too lose in the digital war with the new hungry players.
Even though Barclays and Goldman Sachs are both heavy investors in the space, each has a different rationale behind their tactics. Goldman Sachs invests in fintech startups solely with expectations of a financial return, while Barclays and banks such as BBVA are looking for more strategic investments that can also enhance their core businesses.
Regardless of the differing tactics and rationales, it looks like banks are officially in the tech game for good. The question is: can hulking, conservative institutions like banks be agile enough to make use of these upcoming investments – and will they pay off?
Visualized: Real Interest Rates by Country
What countries have the highest real interest rates? We look at 40 economies to analyze nominal and real rates after projected inflation.
Visualized: Real Interest Rates of Major World Economies
This was originally posted on Elements. Sign up to the free mailing list to get beautiful visualizations on real assets and resource megatrends each week.
Interest rates play a crucial role in the economy because they affect consumers, businesses, and investors alike.
They can have significant implications for people's ability to access credit, manage debts, and buy more expensive goods such as cars and houses.
This graphic uses data from Infinity Asset Management to visualize the real interest rates (ex ante) of 40 major world economies, by subtracting projected inflation over the next 12 months from current nominal rates.
ℹ️ Ex ante is Latin for "before the event", and in this case refers to the fact that this data uses projected inflation rates to calculate real interest rates.
Nominal Interest Rates vs. Real Interest Rates
Nominal interest rates refer to the rate at which money can be borrowed or lent at face value, without considering any other factors like inflation.
Meanwhile, the real interest rate is the nominal interest rate after taking into account inflation, reflecting the true cost of borrowing or lending. Real interest rates can fluctuate over time and are influenced by various factors such as inflation, central bank policies, and economic growth. They can also influence economic growth by affecting investment and consumption decisions.
According to the International Monetary Fund (IMF), since the mid-1980s, real interest rates across several advanced economies have declined steadily.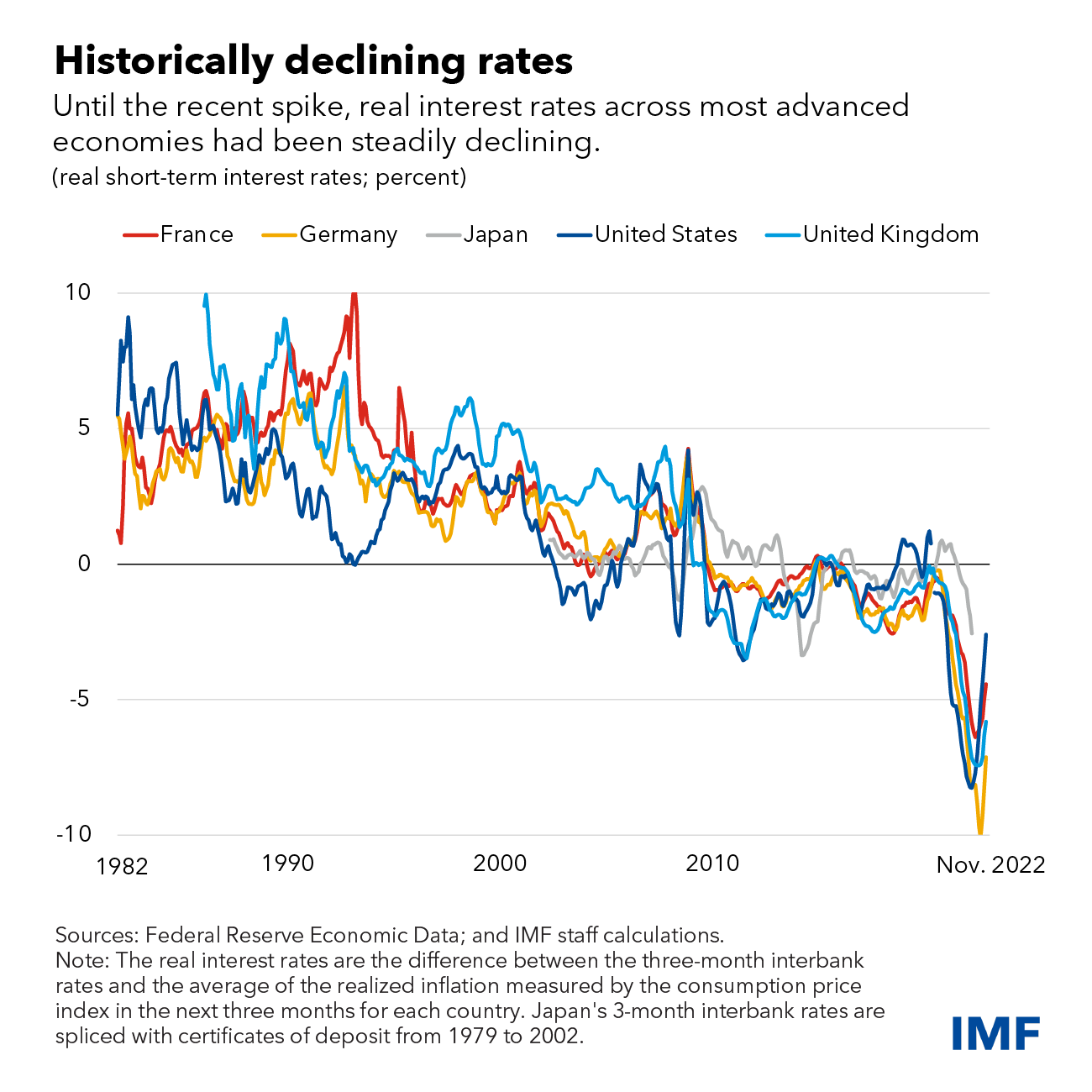 As of March 2023, Brazil has the highest real interest rate among the 40 major economies shown in this dataset.
Below we look at Brazil's situation, along with the data of the four other major economies with the highest real rates in the dataset:
| | Nominal Interest Rate | Real Interest Rate |
| --- | --- | --- |
| 🇧🇷 Brazil | 13.75% | 6.94% |
| 🇲🇽 Mexico | 11.00% | 6.05% |
| 🇨🇱 Chile | 11.25% | 4.92% |
| 🇵🇭 Philippines | 6.00% | 2.62% |
| 🇮🇩 Indonesia | 5.75% | 2.45% |
In general, countries with high interest rates offer investors higher yields on their investments but also come with higher risks due to volatile economies and political instability.
Below are the five countries in the dataset with the lowest real rates:
| | Nominal Interest Rate | Real Interest Rate |
| --- | --- | --- |
| 🇦🇷 Argentina | 78.00% | -19.61% |
| 🇳🇱 Netherlands | 3.50% | -7.42% |
| 🇨🇿 Czech Republic | 7.00% | -7.17% |
| 🇵🇱 Poland | 6.75% | -6.68% |
| 🇧🇪 Belgium | 3.50% | -6.42% |
Hyperinflation, as seen in Argentina, can lead to anomalies in both real and nominal rates, causing problems for the country's broader economy and financial system.
As you can see above, with a 78% nominal interest rate, Argentina's real interest rates remain the lowest on the planet due to a staggering annual inflation rate of over 100%.
Interest Rate Outlook
Increasing inflation and tighter monetary policy have resulted in rapid increases in nominal interest rates recently in many countries.
However, IMF analysis suggests that recent increases could be temporary.
Central banks in advanced economies are likely to ease monetary policy and bring interest rates back to pre-pandemic levels when inflation is brought under control, according to the fund.