Chart: Fintech is in the Eye of the Beholder
Fintech is in the Eye of the Beholder
Finance professionals have very different perspectives
The Chart of the Week is a weekly Visual Capitalist feature on Fridays.
The development of new technology in the financial sector is happening at a breakneck speed.
Between the emergence of the blockchain, AI, robo-advisors, regtech, payment and loan services, and many other examples of technological progress, there are many ideas to keep track of at once.
It would appear that these changes are happening so fast, in fact, that people don't even have a uniform idea of what fintech really is.
Varying Interpretations
According to the results of LinkedIn's survey of financial services professionals, how fintech is perceived greatly depends on a person's role within the financial industry.
Wealth managers, for example, are very much aware of the robo-advisor arms race happening now, and how it may impact their future business especially with millennials. As a result, it's likely no surprise that 68% of wealth managers rank robo-advisors as an important development within the fintech sector. Meanwhile, other developments like the blockchain (21%), regtech (24%) and digital lending (16%) are perceived as less important by this group.
For investment bankers and fintech professionals, the tables are turned.
Interestingly, these two groups seem to see more eye-to-eye regarding the technologies at play in the finance sector. Both fintech professionals (63%) and investment bankers (55%) saw AI-based investing as an important development, and both saw the blockchain (44% and 35%) as a key development as well.
Blockchain, Schmlockchain
Retail bankers had a very different perspective on the blockchain. They ranked both insurtech and chatbots (which we didn't even show in our chart) as more important than the new distributed ledger technology, putting it in last place out of the options given.
This could be an oversight, considering that cryptocurrencies alone are already worth more than $80 billion, and that doesn't even include the many other potential applications of the blockchain.
Retail bankers had other contrarian opinions as well – they were the only subgroup where the majority chose digital lending (54%) as the most important development in the industry as a whole.
Living in Alternate Realities?
While the jury is still out on what aspect of fintech will have the biggest impact on financial services overall, there is an even deeper question at hand: will fintech make a real impact on traditional financial services at all?
It's a question that's very divisive, with very different answers depending on your side of the spectrum:
42% of fintech professionals see fintech as being a direct threat to traditional finance
13% of traditional finance professionals see fintech as being a direct threat to traditional finance
Who's right, and who's wrong?
Surely, at least one group is going to end up disappointed with their lack of foresight.
Which Companies Make Up the "Magnificent Seven" Stocks?
FAANG is dead… meet the 'Magnificent Seven' stocks that now make up over 25% of the S&P 500.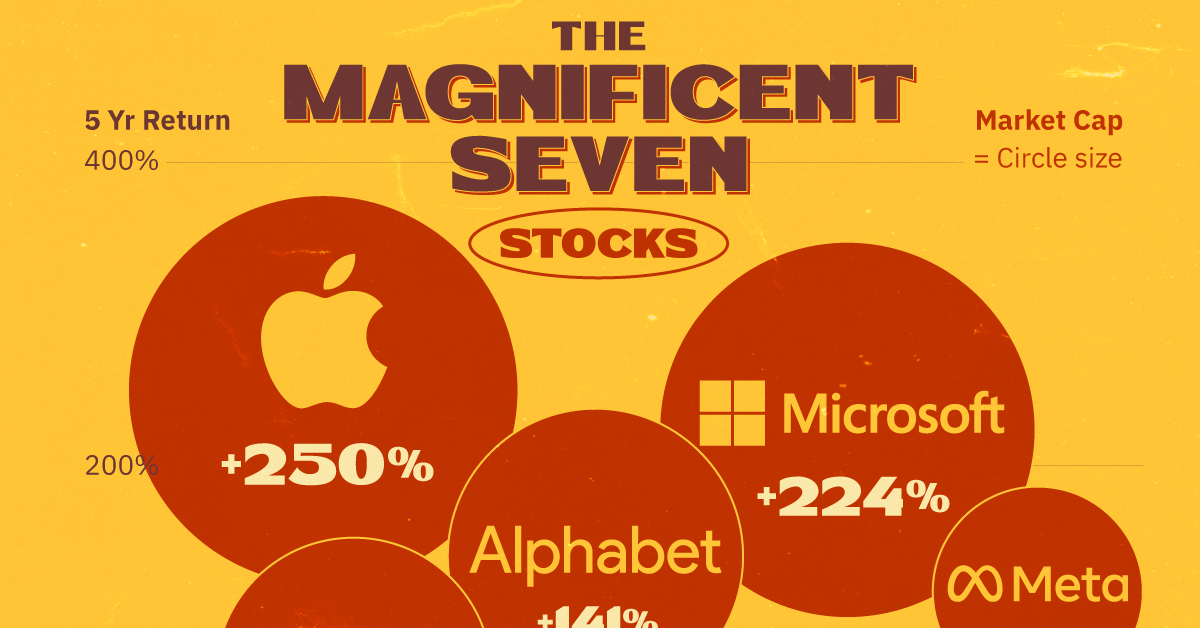 Which Companies Make Up the "Magnificent Seven" Stocks?
In 2013 CNBC analyst Jim Cramer popularized "FANG," comprised of Facebook (now Meta), Amazon, Netflix, and Google (now Alphabet), as a shorthand for the best performing technology stocks on the market. Apple, added in 2017, made it FAANG.
However, over the last year a new moniker given by Bank of America analyst Michael Hartnett highlights the most valuable and popularly-owned companies on the American stock market: the "Magnificent Seven" stocks.
We visualize the Magnificent Seven's market capitalization and 5-year stock performance as of November 2023 using data from Google Finance and CompaniesMarketCap.
The Magnificent Seven Stocks by Market Cap and 5-Year Return
The Magnificent Seven stocks are megacap companies focused and capitalizing on tech growth trends including AI, cloud computing, and cutting-edge hardware and software.
Four of the five FAANG stocks retain their place amongst the Magnificent Seven, with newcomers Nvidia, Tesla, and Microsoft joining the group. Following a poor 2022 performance and having more difficulty capitalizing on tech trends, Netflix is the sole FAANG company not included.
Here's a look at the companies ranked by their market capitalization on November 6, 2023, alongside their 5-year stock performance:
| Rank | Company | Market Cap | 5 Year Performance |
| --- | --- | --- | --- |
| 1 | Apple | $2.8 trillion | +250% |
| 2 | Microsoft | $2.6 trillion | +224% |
| 3 | Alphabet | $1.6 trillion | +141% |
| 4 | Amazon | $1.4 trillion | +63% |
| 5 | Nvidia | $1.1 trillion | +783% |
| 6 | Meta | $811 billion | +118% |
| 7 | Tesla | $690 billion | +829% |
The Magnificent Seven make up more than one-quarter of the S&P 500 and more than half of the Nasdaq 100.
Meanwhile, five of the seven are part of the rare trillion dollar club, with Nvidia being the most recent entry.
A common theme among the Magnificent Seven is their ability to collect vast amounts of customer data, create cutting-edge hardware and software, as well as harness the power of AI.
However, if Netflix gets back on track—recently announcing its new ad-supported membership tier has 15 million subscribers—we could soon see a "Magnificent Eight."