Is Brexit the First of Many Dominoes? [Chart]
Is Brexit the First of Many Dominoes? [Chart]
UK and the Rest of Europe Brace for an Uncertain Future
The Chart of the Week is a weekly Visual Capitalist feature on Fridays.
Markets have been turned upside down by a surprise Brexit result and the resignation of David Cameron. While there is looming uncertainty around how this will affect the United Kingdom and Europe from an economic perspective, it might be just the tip of the iceberg in terms of long-run consequences.
A Brexit opens the door for future events that would be previously unfathomable by popular opinion, and it gives vital ammunition to groups that are seeking their own referendums for independence.
Unwilling Passengers?
As the UK ship distances itself from European docks, there are two passengers that may have been more comfortable remaining on shore.
While England and Wales voted to "Leave" with 53.4% and 52.5% respectively, Scotland and Northern Ireland were both firmly in "Remain" territory. Scotland, which previously held its own independence referendum in 2014, voted overwhelmingly to have the UK remain in the EU with a 62% vote. Northern Ireland had a similar sentiment with 55.8% voting "Remain".
Scotland's First Minister, Nicola Sturgeon, said today that a second independence referendum for Scotland is "highly likely". She feels Scotland was taken out of the EU against its own will, and that Scottish independence is worth revisiting.
Meanwhile, Northern Ireland has echoed these calls, instead potentially looking at voting on a united Ireland. Northern Ireland is the only country in the UK that shares a land border with a country in the EU.
Other Dominoes
The Brexit result has energized other populist movements across the European Union. Anti-immigration leaders such as Geert Wilders and Marine Le Pen have ratcheted up cries for their own independence votes:
Hurrah for the British! Now it is our turn. Time for a Dutch referendum! #ByeByeEUhttps://t.co/kXZ0aQtgmx

— Geert Wilders (@geertwilderspvv) June 24, 2016
Victoire de la liberté ! Comme je le demande depuis des années, il faut maintenant le même référendum en France et dans les pays de l'UE MLP

— Marine Le Pen (@MLP_officiel) June 24, 2016
However, it is not just people on the fringe that are interested in revisiting EU membership. Even before the Brexit result, a poll by Ipsos Mori showed that the majority of people in France in Italy want to at least have a referendum on leaving:
Who else wants out? #uhoh pic.twitter.com/UwDESY3wQx

— ian bremmer (@ianbremmer) June 24, 2016
Meanwhile, over 40% of Swedes, Poles, and Belgians are in the same boat.
Now that Brexit is a thing, will these numbers trend higher? What will be the next domino to fall?
Charted: What are Retail Investors Interested in Buying in 2023?
What key themes and strategies are retail investors looking at for the rest of 2023? Preview: AI is a popular choice.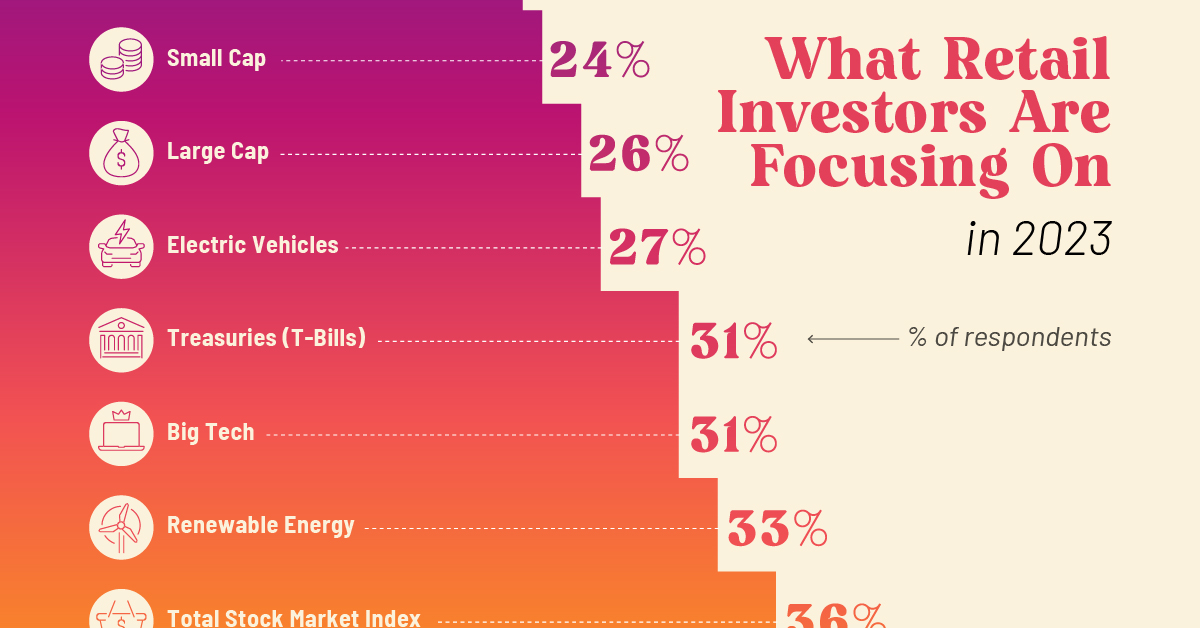 Charted: Retail Investors' Top Picks for 2023
U.S. retail investors, enticed by a brief pause in the interest rate cycle, came roaring back in the early summer. But what are their investment priorities for the second half of 2023?
We visualized the data from Public's 2023 Retail Investor Report, which surveyed 1,005 retail investors on their platform, asking "which investment strategy or themes are you interested in as part of your overall investment strategy?"
Survey respondents ticked all the options that applied to them, thus their response percentages do not sum to 100%.
Where Are Retail Investors Putting Their Money?
By far the most popular strategy for retail investors is dividend investing with 50% of the respondents selecting it as something they're interested in.
Dividends can help supplement incomes and come with tax benefits (especially for lower income investors or if the dividend is paid out into a tax-deferred account), and can be a popular choice during more inflationary times.
| Investment Strategy | Percent of Respondents |
| --- | --- |
| Dividend Investing | 50% |
| Artificial Intelligence | 36% |
| Total Stock Market Index | 36% |
| Renewable Energy | 33% |
| Big Tech | 31% |
| Treasuries (T-Bills) | 31% |
| Electric Vehicles | 27% |
| Large Cap | 26% |
| Small Cap | 24% |
| Emerging Markets | 23% |
| Real Estate | 23% |
| Gold & Precious Metals | 23% |
| Mid Cap | 19% |
| Inflation Protection | 13% |
| Commodities | 12% |
Meanwhile, the hype around AI hasn't faded, with 36% of the respondents saying they'd be interested in investing in the theme—including juggernaut chipmaker Nvidia. This is tied for second place with Total Stock Market Index investing.
Treasury Bills (30%) represent the safety anchoring of the portfolio but the ongoing climate crisis is also on investors' minds with Renewable Energy (33%) and EVs (27%) scoring fairly high on the interest list.
Commodities and Inflation-Protection stocks on the other hand have fallen out of favor.
Come on Barbie, Let's Go Party…
Another interesting takeaway pulled from the survey is how conversations about prevailing companies—or the buzz around them—are influencing trades. The platform found that public investors in Mattel increased 6.6 times after the success of the 'Barbie' movie.
Bud Light also saw a 1.5x increase in retail investors, despite receiving negative attention from their fans after the company did a beer promotion campaign with trans influencer Dylan Mulvaney.
Given the origin story of a large chunk of American retail investors revolves around GameStop and AMC, these insights aren't new, but they do reveal a persisting trend.