How Bill Gates Went From Childhood Nerd to Multi-Billionaire
Today, we know Bill Gates for his philanthropy and a massive $84.9 billion fortune.
However, fewer people remember his younger days. From hacking early computers at the age of 13 to his love-hate relationship with Steve Jobs, here is how Gates went from childhood nerd to a multi-billionaire.
The Bill Gates Story
Today's infographic is from Adioma, and it visualizes the career of Bill Gates from his earliest days until his latest philanthropy efforts.
Image courtesy of: Adioma
The story of Bill Gates is loaded with examples of hard work, controversy, money, bravado, and even accusations of betrayal.
Key Moments
Here is the lowdown on some of the key moments of his life so far.
Love-Hate Relationships
Bill Gates and Steve Jobs are a classic example of "frenemies". At times they were friends, and at other times they were fierce rivals that said some pretty nasty things.
One of the most memorable moments? In 1997, Microsoft invested money in Apple to keep the struggling company afloat. Gates appeared on the screen during Jobs' keynote talk at the MacWorld conference, and the audience booed.
See a great summary of the key moments of the complex Gates-Jobs relationship here.
The Microsoft Antitrust Case
Initiated in 1998, Microsoft was accused of becoming a monopoly and engaging in anti-competitive practices by the U.S. government and 20 states.
The ruling from 2000 called for a split of Microsoft, creating two separate companies. One half would house the Windows operating system, and the second half would produce other software. However, Microsoft appealed – and in the end, it didn't really matter, as other companies like Apple started to eat away at Windows' market share anyways.
Becomes Richest Man
At age 31, Gates took the title of the world's youngest billionaire – and at 39, he became the world's richest person with a fortune of $12.9 billion.
Today, of course, that fortune sits closer to $84.9 billion.
Launches "The Giving Pledge"
In 2010, Bill Gates and Warren Buffett announced "The Giving Pledge", a campaign to get billionaires to contribute the majority of their wealth to philanthropic causes. Today, there are 158 signers to the pledge, with pledges totaling $365 billion.
Charted: What are Retail Investors Interested in Buying in 2023?
What key themes and strategies are retail investors looking at for the rest of 2023? Preview: AI is a popular choice.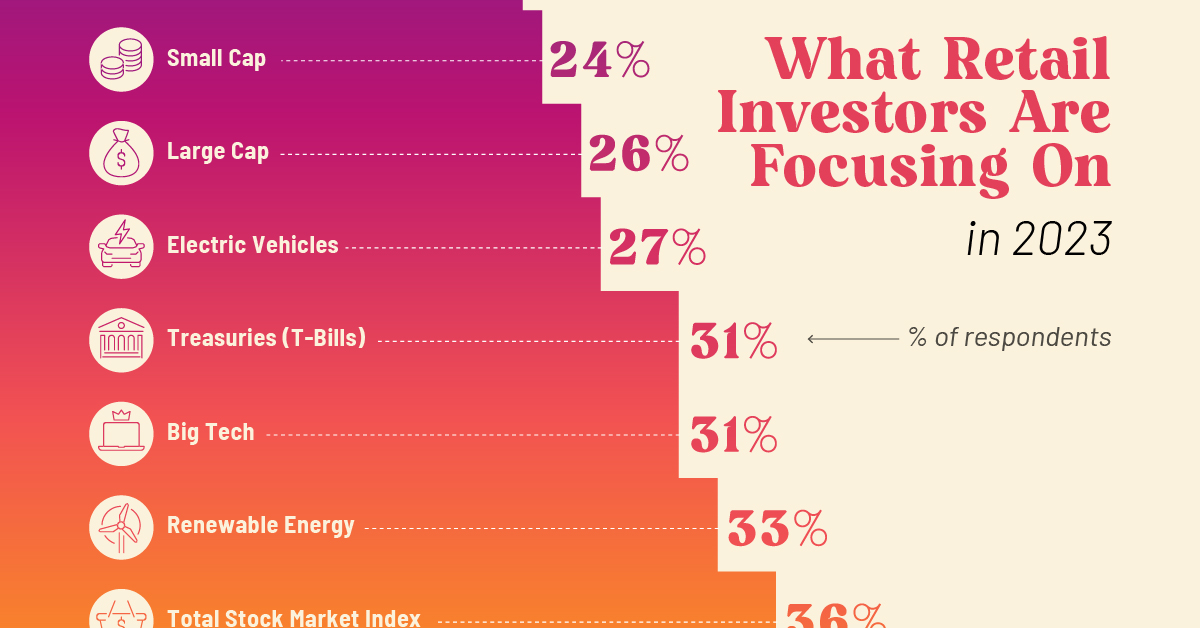 Charted: Retail Investors' Top Picks for 2023
U.S. retail investors, enticed by a brief pause in the interest rate cycle, came roaring back in the early summer. But what are their investment priorities for the second half of 2023?
We visualized the data from Public's 2023 Retail Investor Report, which surveyed 1,005 retail investors on their platform, asking "which investment strategy or themes are you interested in as part of your overall investment strategy?"
Survey respondents ticked all the options that applied to them, thus their response percentages do not sum to 100%.
Where Are Retail Investors Putting Their Money?
By far the most popular strategy for retail investors is dividend investing with 50% of the respondents selecting it as something they're interested in.
Dividends can help supplement incomes and come with tax benefits (especially for lower income investors or if the dividend is paid out into a tax-deferred account), and can be a popular choice during more inflationary times.
| Investment Strategy | Percent of Respondents |
| --- | --- |
| Dividend Investing | 50% |
| Artificial Intelligence | 36% |
| Total Stock Market Index | 36% |
| Renewable Energy | 33% |
| Big Tech | 31% |
| Treasuries (T-Bills) | 31% |
| Electric Vehicles | 27% |
| Large Cap | 26% |
| Small Cap | 24% |
| Emerging Markets | 23% |
| Real Estate | 23% |
| Gold & Precious Metals | 23% |
| Mid Cap | 19% |
| Inflation Protection | 13% |
| Commodities | 12% |
Meanwhile, the hype around AI hasn't faded, with 36% of the respondents saying they'd be interested in investing in the theme—including juggernaut chipmaker Nvidia. This is tied for second place with Total Stock Market Index investing.
Treasury Bills (30%) represent the safety anchoring of the portfolio but the ongoing climate crisis is also on investors' minds with Renewable Energy (33%) and EVs (27%) scoring fairly high on the interest list.
Commodities and Inflation-Protection stocks on the other hand have fallen out of favor.
Come on Barbie, Let's Go Party…
Another interesting takeaway pulled from the survey is how conversations about prevailing companies—or the buzz around them—are influencing trades. The platform found that public investors in Mattel increased 6.6 times after the success of the 'Barbie' movie.
Bud Light also saw a 1.5x increase in retail investors, despite receiving negative attention from their fans after the company did a beer promotion campaign with trans influencer Dylan Mulvaney.
Given the origin story of a large chunk of American retail investors revolves around GameStop and AMC, these insights aren't new, but they do reveal a persisting trend.