What is Big Tech Contributing to Help Fight COVID-19?
What is Big Tech Contributing to Fight COVID-19?
In the ongoing global crusade against COVID-19, everyone has a part to play. As the situation intensifies, the private sector has also been rallying to help governments and healthcare organizations cope with the situation, and U.S. tech companies are no exception.
With a combined market capitalization of over $4.7 trillion, the "FAAMG" Five—Facebook, Amazon, Apple, Microsoft, and Alphabet (Google)—wield immense influence on the economy, as well as the potential to impact lives during this challenging time.
The Biggest Moves by Big Tech
In today's data visualization, we look at the financial contributions being made by Big Tech giants in response to the pandemic. The main categories that these actions fall into are:
Small businesses: Grants and ad credits
Media/News: Fact-checking and grants for local news
Healthcare: COVID-19 research and frontline support
Relief Efforts: Public safety and non-profit donations
What is each company pledging in financial efforts to relieve the strain on those affected most by the ongoing crisis?
Alphabet (Google)
Many people rely on Google to find reliable news and resources during the pandemic. Google's parent company, Alphabet, has focused its financial support towards small businesses and healthcare researchers, mainly through offering millions of dollars in advertising credits.
| Category | Amount | Details |
| --- | --- | --- |
| Small Businesses | $340M | Google ad credits for small businesses |
| | $200M | Investment fund for NGOs and financial institutions to help small businesses |
| | $20M | Ad credits for NGOs and financial institutions to help small businesses |
| | $15M | Cash grants to non-profits to help small businesses |
| Media/News | $6.5M | Funding offered to Google News Initiative to support media outlets and fact-checkers |
| Healthcare | $250M | Ad grants for WHO and 100+ global government agencies |
| | $20M | Google Cloud credits for researchers and academic institutions |
| Relief Efforts | $5M | Donations matched for COVID-19 Solidarity Response Fund, co-created by the UN Foundation and the WHO |
| Total: | $856.5M | |
Google has also promised to ramp up the production of 3 million masks for the CDC Foundation. In addition, Google has partnered with Apple to create a secure and private contact-tracing tool to aid public health authorities.
Facebook
Facebook is another massive platform through which information—and misinformation—spreads quickly and easily. Especially in times of crisis, the spread of poorly-vetted information can have a severe impact on our health and well-being.
To try and combat this, the company is allocating funds towards fact-checking, as well as supporting local media outlets.
| Category | Amount | Details |
| --- | --- | --- |
| Small Businesses | $100M | Small Business Grants Program, for up to 30,000 businesses in over 30 countries |
| Media/News | $75M | Marketing to help publishers worldwide with declining ad revenues |
| | $25M | Facebook Journalism Project towards emergency grant funding for local news |
| | $2M | Grants and donations to fact-checking organizations e.g. International Fact-Checking Network (IFCN) |
| | $1M | Grants for local news |
| Healthcare | $25M | Support for front line healthcare workers |
| Relief Efforts | $10M | Donations matched to the CDC Foundation |
| | $10M | Donations matched for COVID-19 Solidarity Response Fund, co-created by the UN Foundation and the WHO |
| Total: | $248M | |
Facebook and Alphabet will together match up to $15 million in donations to the COVID-19 Solidarity Response Fund, which has raised over $127 million to date.
Amazon
During this unprecedented era of social distancing and lockdowns, the online retailer has become almost indispensable as ecommerce shoots up. Amazon has several initiatives on the go, including help to Seattle businesses and citizens, where its operations all started.
| Category | Amount | Details |
| --- | --- | --- |
| Small Businesses | $5.5M | Neighborhood Small Business Relief Fund for over 400 Seattle small businesses |
| | $1M | COVID-19 Response Fund, providing rapid-response grants to local businesses and vulnerable communities |
| Healthcare | $20M | Amazon Web Services (AWS) Diagnostic Development Initiative to speed up COVID-19 research |
| Relief Efforts | $30M | £24.5M (US$30M) provided to European non-profit and Red Cross organizations |
| | $25M | Amazon Relief Fund, dedicated to support independent delivery service partners and drivers |
| | $10M | Amazon Literary Partnership, an emergency initiative for artists and writers |
| | $5M | Total donated in devices globally for healthcare workers and education efforts |
| | $1M | Donations matched to the non-profit Mary's Place |
| | $1M | Towards emergency response efforts in Washington, D.C. |
| Total: | $72M | |
In addition, Amazon donated 800 laptops to public schools in the Seattle area, and has raised workers' hourly and overtime pay. In early April, CEO Jeff Bezos also donated $100 million to Feeding America, a non-profit food bank.
Microsoft
Technology is playing an immense role in tracking COVID-19 and the progress we're making to end it. As a result, Microsoft is directing its financial efforts towards its AI for Health program.
| Category | Amount | Details |
| --- | --- | --- |
| Healthcare | $20M | AI for Health initiative commitment to focus on front-lines of research |
| China-specific Relief | $6.5M | ¥46M (US$6.5M) donated in cash and tech support for China's fight against the virus |
| Relief Efforts | $1M | COVID-19 Response Fund, providing rapid-response grants to local businesses and vulnerable communities |
| Total: | $27.5M | |
On top of these, Bill Gates officially stepped off the board of Microsoft in mid-March to focus on philanthropic efforts. The Gates Foundation has poured $100 million into funding for coronavirus research, and plans to pump billions more dollars into research in the coming weeks, to speed up vaccine development and manufacturing.
Apple
Finally, Apple is putting all its donations towards supporting public relief efforts, both in China and other affected parts of the world.
| Category | Amount | Details |
| --- | --- | --- |
| Relief Efforts | $15M | Donations committed to global response efforts |
| China-specific Relief | $7M | ¥50M (US$7M) donated to China's long-term public health recovery efforts |
| Total: | $22M | |
Further, Apple has donated 20 million masks to health workers, and aims to manufacture 1 million face shields per week.
Together, Microsoft and Apple contributed $2 million to the Seattle-based COVID-19 Response Fund, which has racked up $15.7 million in total donations to-date.
How the $1.25B Breaks Down
Looking at the information another way, how much money is flowing towards the various contribution categories?
Small businesses are the biggest beneficiaries of Big Tech's economic relief, and understandably so—they are one of the most affected entities in the crisis. Healthcare research is also getting a boost, with funds focused on advancing potential treatments and vaccines in the pipeline, and supporting healthcare workers in the trenches of the pandemic.
Category
Company Breakdown
Total Amount
Small Business
Alphabet: $575M
Facebook: $100M
Amazon: $6.5M
$681.5M
Media/ News
Facebook: $103M
Alphabet: $6.5M
$109.5M
Healthcare
Alphabet: $270M
Facebook: $25M
Microsoft: $20M
Amazon: $20M
$335M
Relief Efforts
Amazon: $72M
Facebook: $20M
Apple: $15M
Alphabet: $5M
Microsoft: $1M
$113M
China-specific Relief
Apple: $7M
Microsoft: $6.5M
$13.5M
Total:
$1,252.5M
As a majority of work and socializing migrates online, Big Tech has the most to benefit from the current situation. Their positive efforts to lend a helping hand may well be a strategy for uplifting their poor reputation in the media—but is it enough?
Some might argue that for these Big Tech companies, $1.25 billion is just a drop in the bucket. In fact, other Silicon Valley players are single-handedly matching these contributions, such as Twitter's CEO Jack Dorsey who pledged $1 billion of his own equity towards relief efforts and education.
However, that's also not to imply that these financial efforts are the only actions taken by the five companies in question. Many of them are building critical educational and data-driven technological solutions to help mitigate the COVID-19 situation as it unfolds.
It also goes without saying that the applications they've created are helping us remain connected and supported—making life in lockdown a little bit easier.
All data as of Apr 12, 2020. Many thanks to our community who sent in requests for this content.
How Big Tech Revenue and Profit Breaks Down, by Company
How do the big tech giants make their money? This series of graphics shows a breakdown of big tech revenue, using Q2 2022 income statements.

Creator Program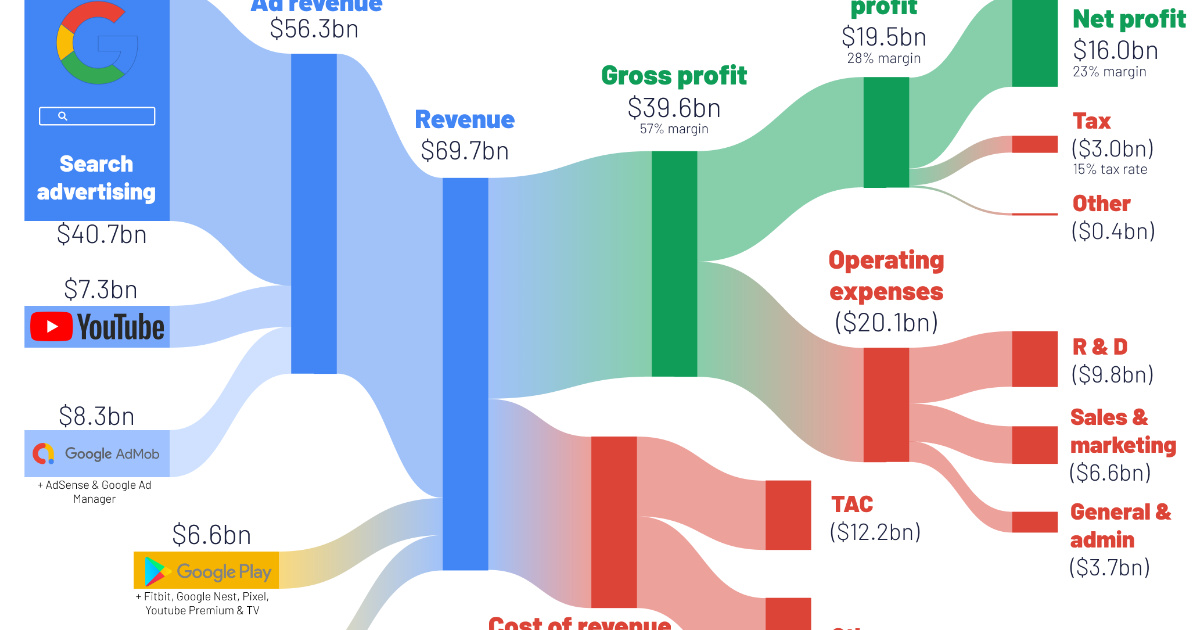 In the media and public discourse, companies like Alphabet, Apple, and Microsoft are often lumped together into the same "Big Tech" category. After all, they constitute the world's largest companies by market capitalization.
And because of this, it's easy to assume they're in direct competition with each other, fiercely battling for a bigger piece of the "Big Tech" pie. But while there is certainly competition between the world's tech giants, it's a lot less drastic than you might imagine.
This is apparent when you look into their various revenue streams, and this series of graphics by Truman Du provides a revenue breakdown of Alphabet, Amazon, Apple, and Microsoft.
How Big Tech Companies Generate Revenue
So how does each big tech firm make money? Let's explore using data from each company's June 2022 quarterly income statements.
Alphabet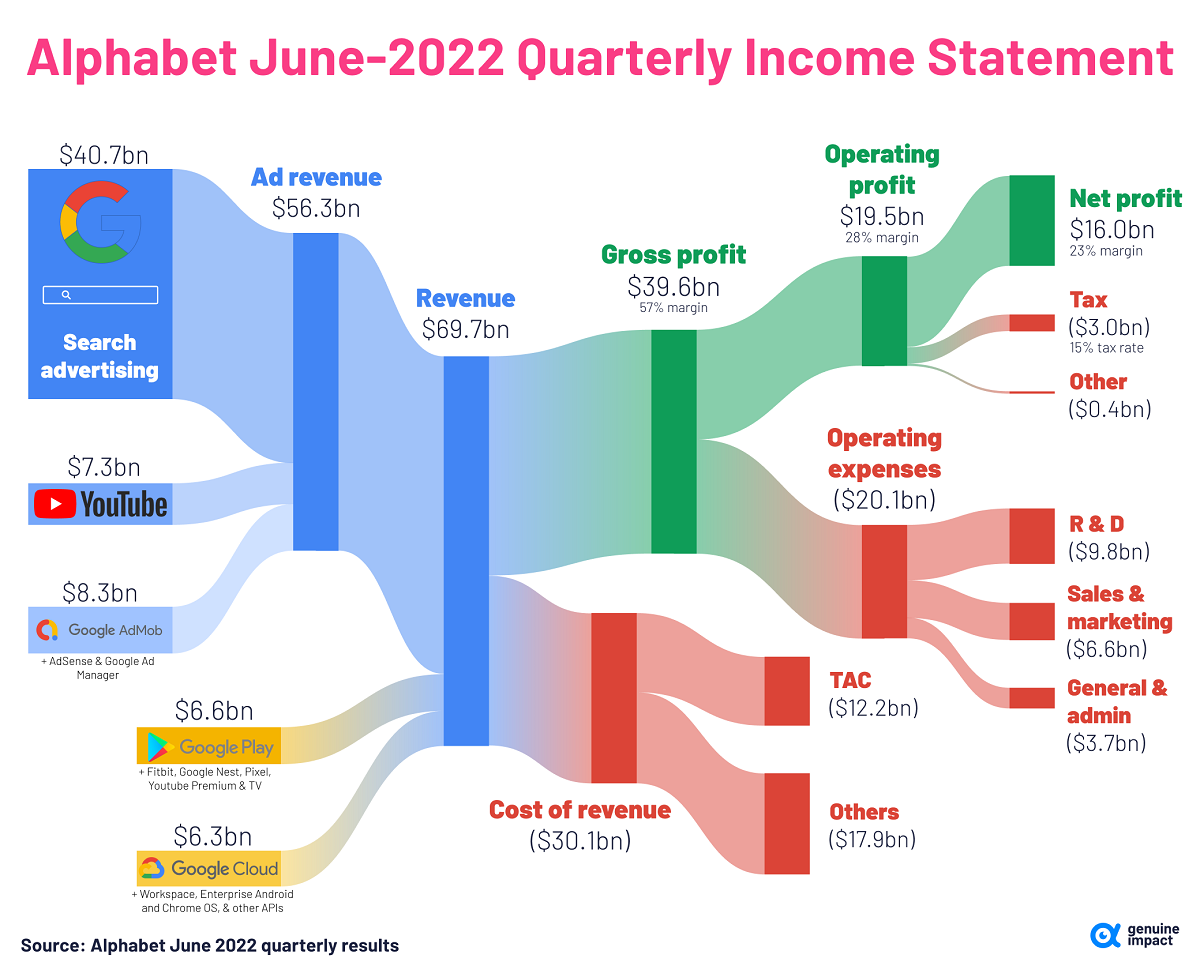 View the full-size infographic
In Q2 2022, about 72% of Alphabet's revenue came from search advertising. This makes sense considering Google and YouTube get a lot of eyeballs. Google dominates the search market—about 90% of all internet searches are done on Google platforms.
Amazon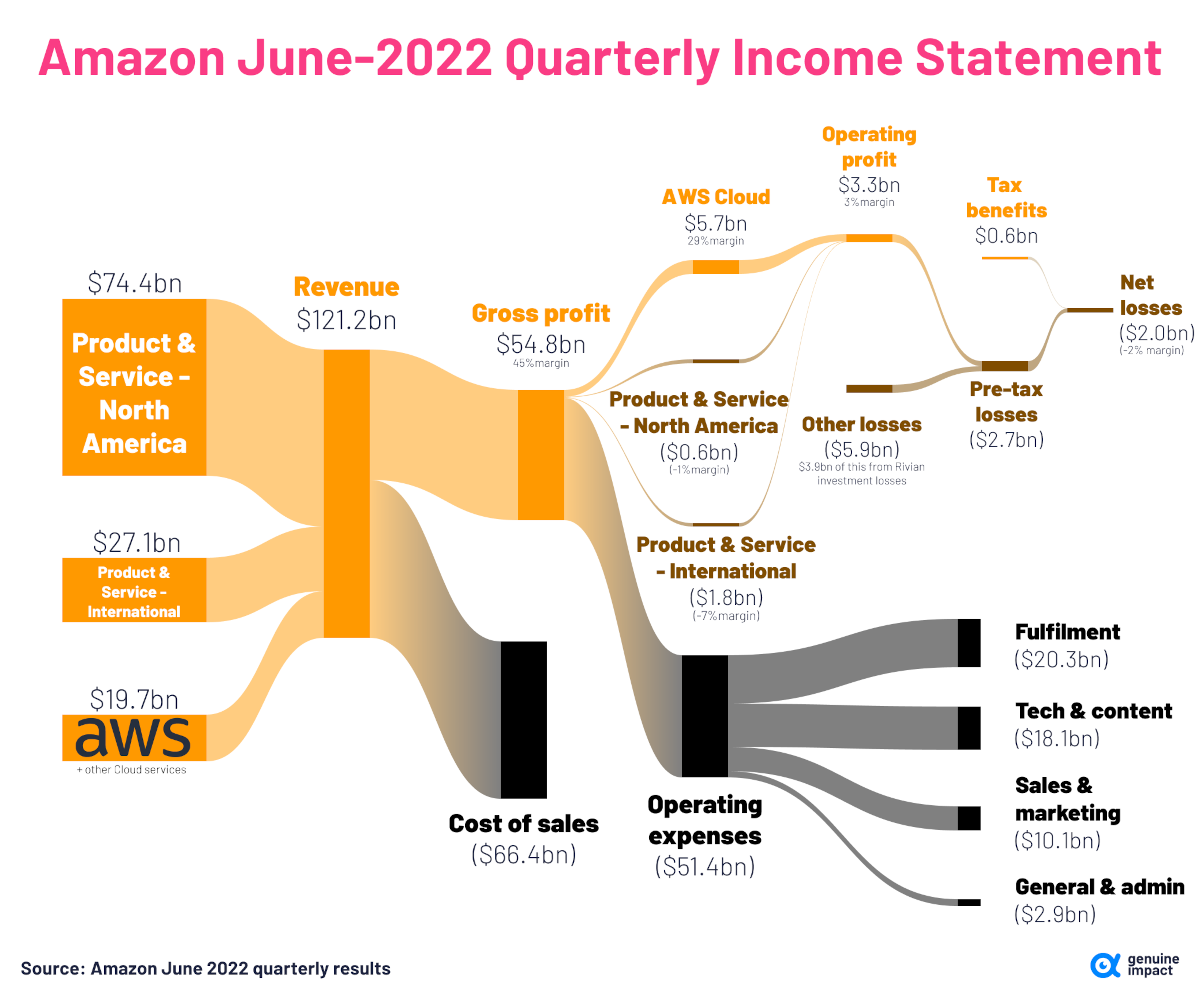 View the full-size infographic
Perhaps unsurprisingly, Amazon's biggest revenue driver is e-commerce. However, as the graphic above shows, the costs of e-commerce are so steep, that it actually reported a net loss in Q2 2022.
As it often is, Amazon Web Services (AWS) was the company's main profit-earner this quarter.
Apple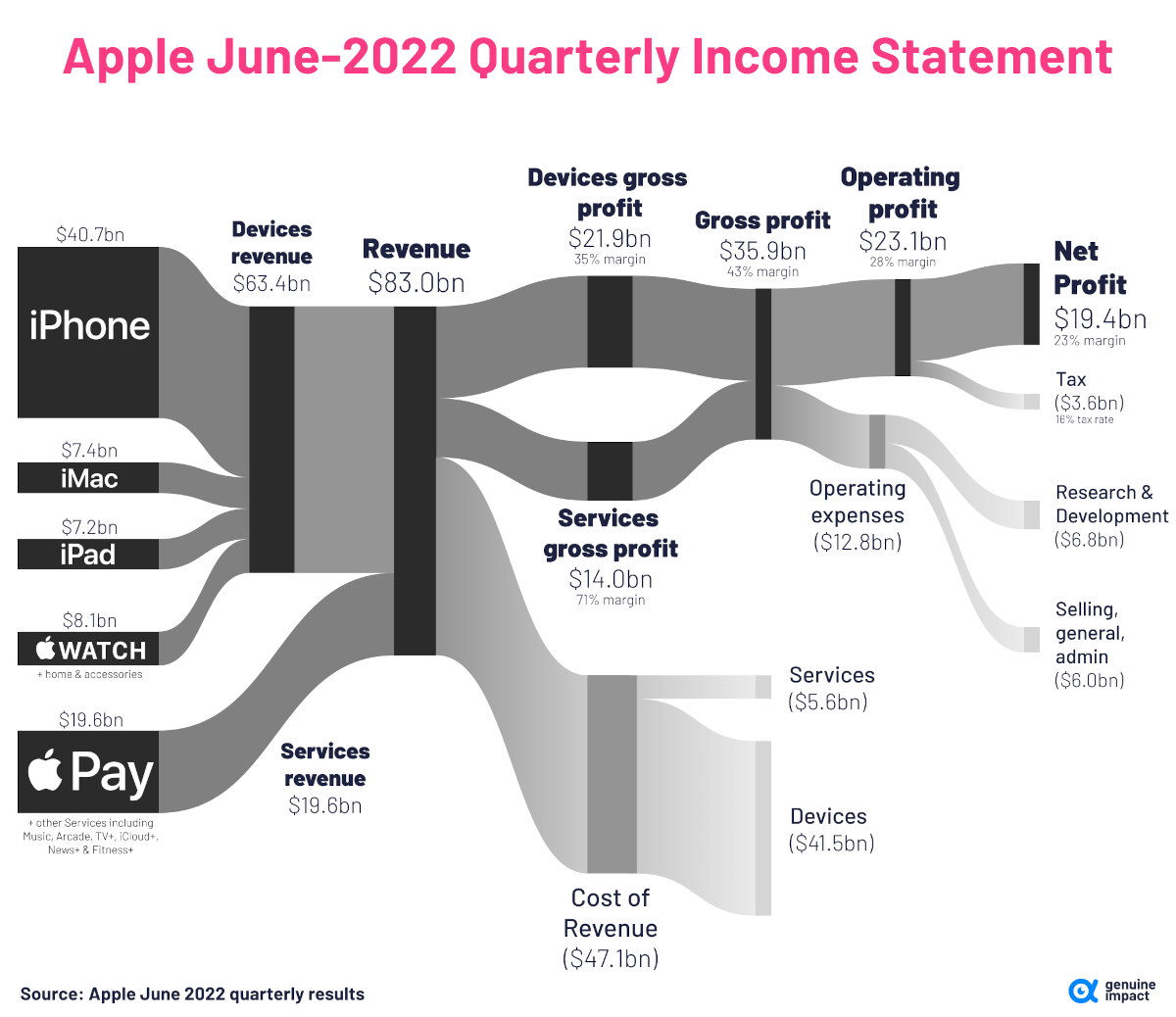 View the full-size infographic
Apple's biggest revenue driver is consumer electronics sales, particularly from the iPhone which accounts for nearly half of overall revenue. iPhones are particularly popular in the U.S., where they make up around 50% of smartphone sales across the country.
Besides devices, services like Apple Music, Apple Pay, and Apple TV+ also generate revenue for the company. But in Q2 2022, Apple's services branch accounted for only 24% of the company's overall revenue.
Microsoft
View the full-size infographic
Microsoft has a fairly even split between its various revenue sources, but similarly to Amazon its biggest revenue driver is its cloud services platform, Azure.
After AWS, Azure is the second largest cloud server in the world, capturing 21% of the global cloud infrastructure market.
Animation: The Most Popular Websites by Web Traffic (1993-2022)
This video shows the evolution of the internet, highlighting the most popular websites from 1993 until 2022.

Creator Program
The Most Popular Websites Since 1993
Over the last three decades, the internet has grown at a mind-bending pace.
In 1993, there were fewer than 200 websites available on the World Wide Web. Fast forward to 2022, and that figure has grown to 2 billion.
This animated graphic by James Eagle provides a historical look at the evolution of the internet, showing the most popular websites over the years from 1993 to 2022.
The 90s to Early 2000s: Dial-Up Internet
It was possible to go on the proto-internet as early as the 1970s, but the more user-centric and widely accessible version we think of today didn't really materialize until the early 1990s using dial-up modems.
Dial-up gave users access to the web through a modem that was connected to an active telephone line. There were several different portals in the 1990s for internet use, such as Prodigy and CompuServe, but AOL quickly became the most popular.
AOL held its top spot as the most visited website for nearly a decade. By June 2000, the online portal was getting over 400 million monthly visits. For context, there were about 413 million internet users around the world at that time.
| Rank | Website | Monthly Visits (May 2000) |
| --- | --- | --- |
| 1 | AOL | 400,891,812 |
| 2 | Yahoo | 387,573,587 |
| 3 | MSN | 354,239,803 |
| 4 | eBay | 116,101,785 |
| 5 | Lycos | 116,064,930 |
But when broadband internet hit the market and made dial-up obsolete, AOL lost its footing, and a new website took the top spot—Yahoo.
The Mid 2000s: Yahoo vs. Google
Founded in 1994, Yahoo started off as a web directory that was originally called "Jerry and David's Guide to the World Wide Web."
When the company started to pick up steam, its name changed to Yahoo, which became a backronym that stands for "Yet Another Hierarchical Officious Oracle."
Yahoo grew fast and by the early 2000s, it became the most popular website on the internet. It held its top spot for several years—by April 2004, Yahoo was receiving 5.6 billion monthly visits.
| Rank | Website | Monthly Visits (April 2004) |
| --- | --- | --- |
| 1 | Yahoo | 5,658,032,268 |
| 2 | MSN | 1,838,700,057 |
| 3 | Google | 1,318,276,780 |
| 4 | AOL | 905,009,947 |
| 5 | eBay | 805,474,705 |
But Google was close on its heels. Founded in 1998, Google started out as a simpler and more efficient search engine, and the website quickly gained traction.
Funny enough, Google was actually Yahoo's default search engine in the early 2000s until Yahoo dropped Google so it could use its own search engine technology in 2004.
For the next few years, Google and Yahoo competed fiercely, and both names took turns at the top of the most popular websites list. Then, in the 2010s, Yahoo's trajectory started to head south after a series of missed opportunities and unsuccessful moves.
This cemented Google's place at the top, and the website is still the most popular website as of January 2022.
The Late 2000s, Early 2010s: Social Media Enters the Chat
While Google has held its spot at the top for nearly two decades, it's worth highlighting the emergence of social media platforms like YouTube and Facebook.
YouTube and Facebook certainly weren't the first social media platforms to gain traction. MySpace had a successful run back in 2007—at one point, it was the third most popular website on the World Wide Web.
| Rank | Website | Monthly Visits (Jan 2007) |
| --- | --- | --- |
| 1 | Google | 7,349,521,929 |
| 2 | Yahoo | 5,169,762,311 |
| 3 | MySpace | 1,276,515,128 |
| 4 | MSN | 1,259,467,102 |
| 5 | eBay | 957,928,554 |
But YouTube and Facebook marked a new era for social media platforms, partly because of their ​​impeccable timing. Both platforms entered the scene around the same time that smartphone innovations were turning the mobile phone industry on its head. The iPhone's design, and the introduction of the App store in 2008, made it easier than ever to access the internet via your mobile device.
As of January 2022, YouTube and Facebook are still the second and third most visited websites on the internet.
The 2020s: Google is Now Synonymous With the Internet
Google is the leading search engine by far, making up about 90% of all web, mobile, and in-app searches.
What will the most popular websites be in a few years? Will Google continue to hold the top spot? There are no signs of the internet giant slowing down anytime soon, but if history has taught us anything, it's that things change. And no one should get too comfortable at the top.