The Ballooning Valuations In Private Equity Deals
The Briefing
Private equity (PE) deal valuations by EV/EBITDA are increasingly rich and are hitting higher double-digit figures
2021 is expected to be another home run year for PE, with 20% of buyouts estimated to be priced above 20x EV/EBITDA
The Ballooning Valuations In Private Equity Deals
Private equity is getting increasingly expensive. As a result, the pricing of an average deal today, by the EV/EBITDA metric, is expected to be at a premium relative to the last decade.
The EV/EBIDTA ratio breaks down into two parts:
Enterprise Value (EV): Adding debt to market capitalization, while subtracting cash gives us the enterprise value. This gives us the total value of a company.
EBITDA: Earnings before interest, tax, depreciation, and amortization or, EBITDA, provides a popular way to look at earnings. By removing these expenses, we obtain a clearer look at operating performance.
Overall, EV/EBITDA shows the relationship between a company's total value and its earnings, and is often seen as the price-to-earnings ratio's sophisticated sibling, used to view companies the way acquirers would.
However, the EV component is not necessarily intuitive, so let's expand a little on it:
Why is Debt Added Back to Enterprise Value?
To acquire a company completely, one must pay out all stakeholders in order to reach the final cost of the acquisition. This includes the stock (equity holders) and the debt holders, subsequently, adding back the market value debt to market cap does just this.
Why is Cash Subtracted from Enterprise Value?
Subtracting cash can also be seen as arriving at net debt. That is, the remaining debt after using the cash and equivalents on a company's balance sheet to pay it down. In other words, if cash exceeds debt, enterprise value shrinks, and the cost of acquiring the company becomes cheaper. Whereas if debt exceeds cash, the acquirer would have to pay off more debt holders, thus making the acquisition more expensive.
What's Driving Higher Valuations in Private Equity?
1. The Link Between All Equities
First, the public markets are often used as a starting point to derive valuations for deals. Generally, companies with similar business models and operations should be assigned similar valuation multiples. For instance, Lowes and Home Depot, or alternatively, Pepsi and Coca-Cola. Therefore, a company under consideration in private equity often has peers trading publicly.
Furthermore, the average multiple assigned to businesses in the stock market fluctuates through peaks and troughs. Today, they're trading at a premium to historic averages, a result of a rallying prices and elevated investor risk appetite. Naturally, these public valuations spills over into the private equity space.
2. A World of Cheap Money
Second, asset markets move based on relativity and opportunity cost. A low interest rate environment pairing with the trillions in money printing is placing debt securities at unattractive levels. Hence, low rates of return on debt is resulting in money moving elsewhere.
For private equity though, debt is considered fuel. And in this industry firms use high levels of leverage to acquire companies. For this reason, low rates and cheap debt are a private equity manager's dream.
But what's true for one private equity firm can be true for all. Because access to cheap debt means more money chasing deals, and this heightened level of competition is reflecting in the higher multiples and expensive deals today.
Where does this data come from?
Source: PitchBook
Notes: Data is as of November, 2020
Chart: 30 Years of Wildfires in America
Here's a look at the number of wildfires in America that have occurred each year since 1990, and the acres of forest land scorched during that period.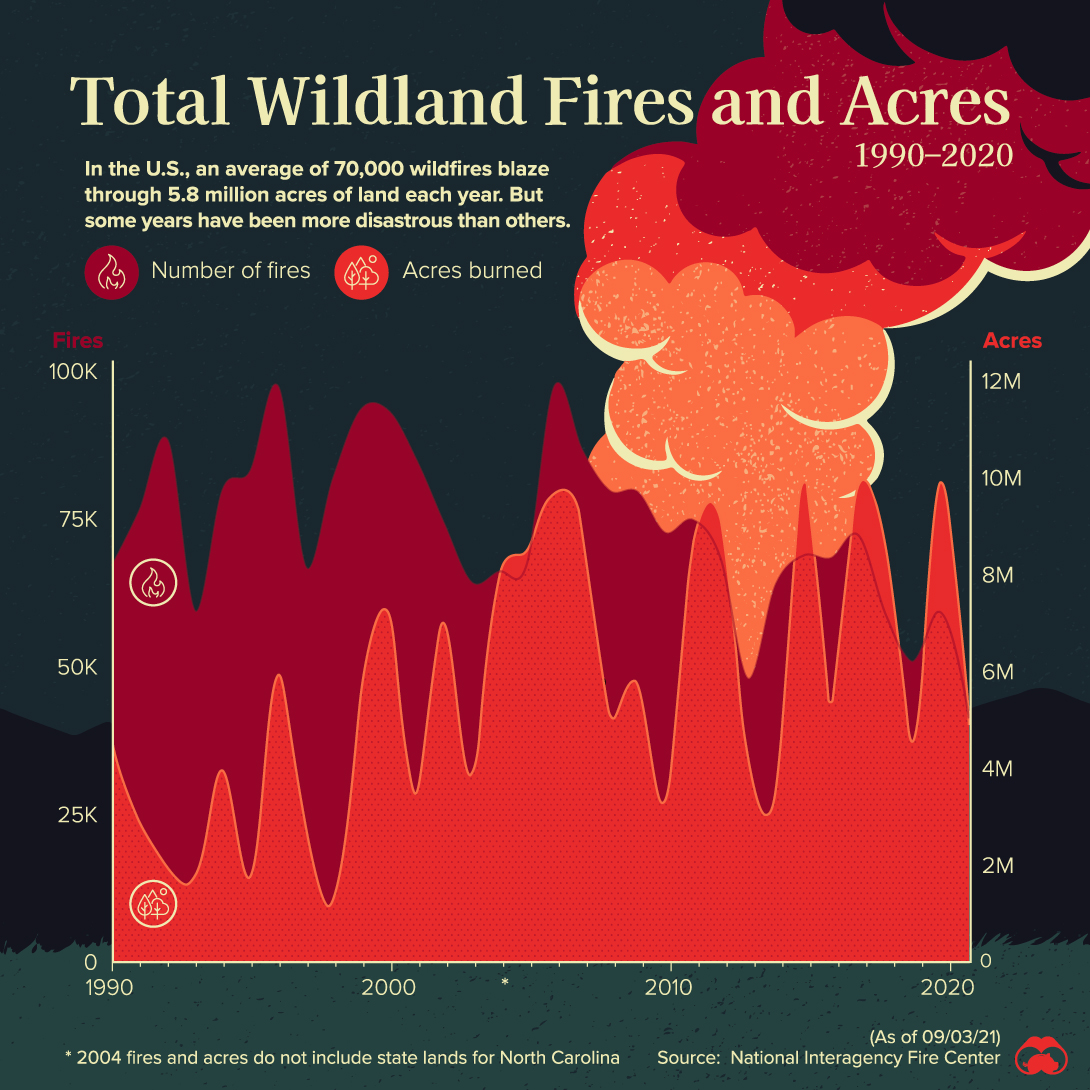 The Briefing
An average of 70,000 wildfires blaze through the U.S. each year
These fires destroy approximately 5.8 million acres of land on a yearly basis
Over 43,000 fires have started across the U.S., burning 5 million acres of land as of Sept 3, 2021
30 Years of Wildfires in America
This summer, record-breaking droughts and relentless heat waves have fueled disastrous wildfires across the United States. It's gotten so bad, the state of California has decided to shut down all national forests for two weeks to stop the spread.
But how disastrous has this year been compared to previous years? This graphic gives a historical look at the number of wildfires in America that have occurred each year since 1990, and the acres of forest land scorched during that period.
Total Wildland Fires and Acres from 1990 to 2020
In the U.S., an average of 70,000 wildfires burn through 5.8 million acres of land each year. But some years have been worse than others.
| Year | # of Fires | # of Acres Burned |
| --- | --- | --- |
| 1990 | 66,481 | 4,621,621 |
| 1991 | 75,754 | 2,953,578 |
| 1992 | 87,394 | 2,069,929 |
| 1993 | 58,810 | 1,797,574 |
| 1994 | 79,107 | 4,073,579 |
| 1995 | 82,234 | 1,840,546 |
| 1996 | 96,363 | 6,065,998 |
| 1997 | 66,196 | 2,856,959 |
| 1998 | 81,043 | 1,329,704 |
| 1999 | 92,487 | 5,626,093 |
| 2000 | 92,250 | 7,393,493 |
| 2001 | 84,079 | 3,570,911 |
| 2002 | 73,457 | 7,184,712 |
| 2003 | 63,629 | 3,960,842 |
| 2004 | 65,461 | *8,097,880 |
| 2005 | 66,753 | 8,689,389 |
| 2006 | 96,385 | 9,873,745 |
| 2007 | 85,705 | 9,328,045 |
| 2008 | 78,979 | 5,292,468 |
| 2009 | 78,792 | 5,921,786 |
| 2010 | 71,971 | 3,422,724 |
| 2011 | 74,126 | 8,711,367 |
| 2012 | 67,774 | 9,326,238 |
| 2013 | 47,579 | 4,319,546 |
| 2014 | 63,312 | 3,595,613 |
| 2015 | 68,151 | 10,125,149 |
| 2016 | 67,743 | 5,509,995 |
| 2017 | 71,499 | 10,026,086 |
| 2018 | 58,083 | 8,767,492 |
| 2019 | 50,477 | 4,664,364 |
| 2020 | 58,950 | 10,122,336 |
| 2021* | 43,250 | 5,024,744 |
*note: 2021 figures as of September 3, 2021
One particularly bad year was 2006, which had over 96,000 fires and destroyed 9.9 million acres of land across the country. It was the year of the Esperanza Fire in California, which burned 40,000 acres and cost $9 million in damages.
2015 was also a devastating year, with over 10.1 million acres destroyed across the country–the worst year on record, in terms of acres burned.
Climate Change's Role in Wildfires
Wildfires are only expected to worsen in the near future since warmer temperatures and drier climates allow the fires to grow quickly and intensely.
We're already starting to see climate change impact the wildfire season. For instance, autumn is usually peak wildfire season for California, but this year, one of the largest fires on record started in mid-July, and is still burning as of the date of publication.
Editor's note, September 20, 2021: In the post above, we said that California closed downed down all national parks for two weeks, starting August 31st. In fact, they closed down all national forests.
Visualizing the Typical Atlantic Hurricane Season
While the Atlantic hurricane season runs from June to late November, about 85% of activity happens between August, September, and October.
The Briefing
Storms are categorized by their wind speed. Any storm with winds stronger than 111 miles per hour (mph) is considered a major hurricane
This year's Hurricane Ida is one of the strongest hurricanes on record to hit the U.S. mainland, with winds reaching up to 150 mph
Explained: The Typical Atlantic Hurricane Season
On August 29, 2021, Hurricane Ida hurled into the state of Louisiana at rapid speed. With winds of 150 mph, preliminary reports believe it's the fifth strongest hurricane to ever hit the U.S. mainland.
As research shows, Hurricane Ida's impact hit right at the peak of the Atlantic hurricane season. Here's a brief explainer on the basics of hurricanes, how storms are classified, and what a typical storm season looks like in the Atlantic Basin.
Let's dive in.
Classifying a Storm
Hurricanes are intense tropical storms that are classified by their wind speed. What's the difference between a hurricane, a typhoon, and a cyclone? They're essentially the same thing, but are named differently based on their location:
Hurricane is used for storms that formed in the North Atlantic, central North Pacific, and eastern North Pacific (impacting countries like the U.S.)
Typhoon is used for storms in the Northwest Pacific (impacting countries like Japan)
Tropical Cyclone is used for storms in the South Pacific and Indian Ocean (impacting countries like Fiji and India)
Since we're focusing on the Atlantic, we'll be using the term hurricane and/or storm throughout the rest of this article.
A storm needs to reach a certain wind speed before it gets classified as a hurricane. Storms with wind speeds of:
<73 mph are considered Tropical Storms
74-110 mph winds are considered Hurricanes
111 mph+ winds are considered Major Hurricanes
Breaking Down the Atlantic Hurricane Season
Generally, Hurricanes form in the warm ocean waters in the central Atlantic and Gulf of Mexico, following westward trade winds and curving up towards the North American mainland. Hurricanes are formed when these specific elements come into play:
A pre-existing weather disturbance such as a tropical wave
Water at least 80ºF (27ºC) with a depth of at least 50 meters
Thunderstorm activity
Low wind shear (too much wind can remove the heat and moisture hurricanes use for fuel)
The Atlantic hurricane season technically lasts six months, beginning on June 1st and ending in late November. However, 85% of activity happens between August, September, and October.
Each subregion in the Atlantic has its own unique climatology, which means peak seasons can vary from place to place—for example, south Florida sees the most hurricanes in October, while the entire Atlantic Basin's peak season is early-to-mid September.
Climate Change and Hurricanes
According to the Center of Climate Change and Energy Solutions, it's unclear whether climate change will increase the number of hurricanes per year.
However, research indicates that warmer weather and high ocean temperatures will most likely lead to more intense storms, ultimately causing more damage and devastation.
» Want to learn more about climate change? Here's an article on The Paris Agreement: Is The World's Climate Action Plan on Track?
Where does this data come from?
Source:Brian McNoldy, University of Miami Rosenstiel School of Marine and Atmospheric Science