Animated Map: The 20 Most Populous Cities in the World by 2100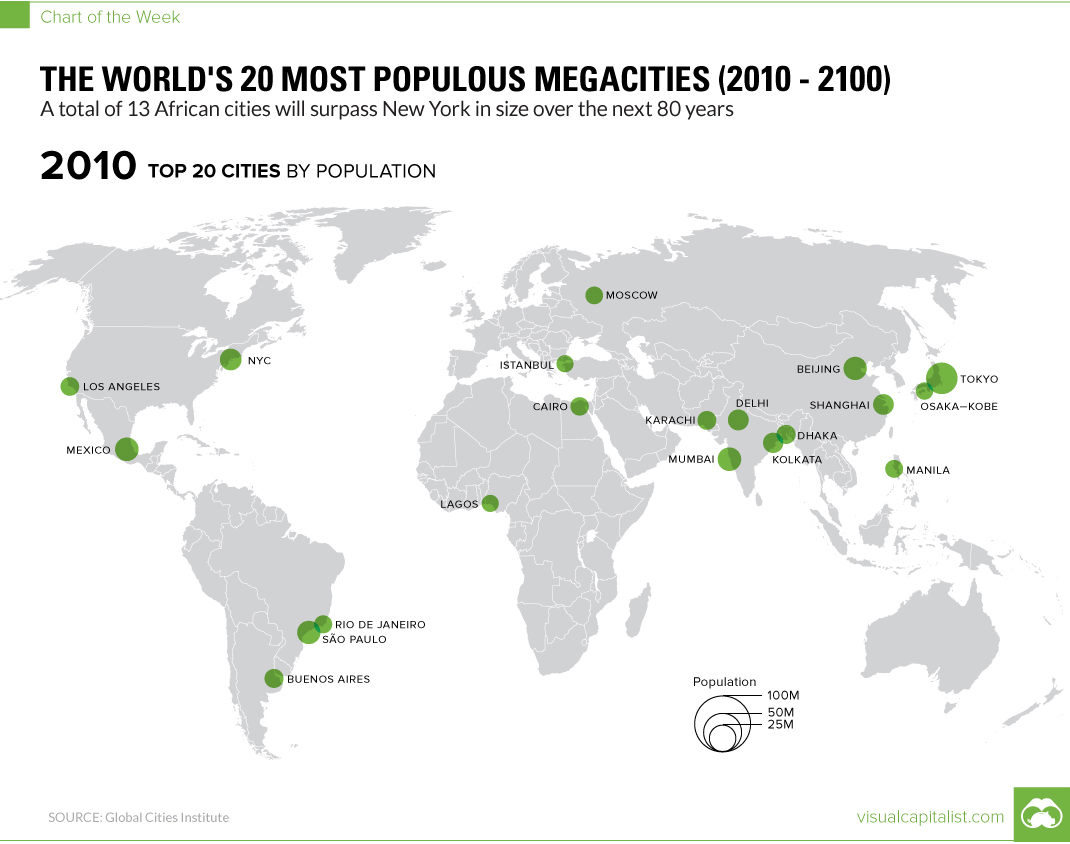 Animated Map: The Most Populous Cities in the World
In Africa Alone, 13 Cities Will Pass NYC in Size
The Chart of the Week is a weekly Visual Capitalist feature on Fridays.
If you look at a modern map of the world's most populous cities, you'll notice that they are quite evenly distributed around the globe.
Metropolises like Moscow, New York, Tokyo, Cairo, or Rio de Janeiro are spread apart with very different geographic and cultural settings, and practically every continent today can claim at least one of the world's 20 most populous cities.
In the future, things will be very different, according to projections from the Global Cities Institute. In fact, over the next 80 years or so, some cities will literally 10x or 20x in size – turning into giant megacities that have comparable populations to entire countries like modern-day Germany, France, or the United Kingdom.
The most interesting part? None of these cities will be in the Americas, Europe, China, or Australia.
The Top Four Megacities of the Future
According to predictions from the Global Cities Institute, these will be the biggest cities in the world in 2100:
Lagos is already one of the biggest metropolises in Africa, and we previously noted that it was one of the fastest growing cities in the world.
In fact, it's growing so fast, that no one knows how big it actually is. The U.N estimated it had 11.2 million people in 2011, and the year after The New York Times said it had at least 21 million inhabitants. In any case, this Nigerian metropolis is growing like a weed, and the Global Cities Institute estimates that the city's population will hit the 88.3 million mark by 2100 to make it the biggest city in the world.
The city is already a center of West African trade and finance – but Lagos has ambitious plans to up the ante even further. Right now, the city is building Eko Atlantic, a massive new residential and commercial development that is being pitched as the "Manhattan of Nigeria". It's just off of Victoria Island, and it is being built on reclaimed land with special measures in place to prevent flooding from global warming.
When people think of the DRC, sprawling metropolises generally aren't the first things that come to mind.
But Kinshasa, once the site of humble fishing villages, has already likely passed Paris as the largest French-speaking city in the world. And it's getting bigger – by 2100, it's projected to be the world's second largest city overall.
How Kinshasa develops will certainly be interesting. As it stands, approximately 60% of the 17 million people living there by 2025 will be younger than 18 years old. How the city deals with education will be paramount to the city's future progression.
Have you heard of Dar Es Salaam, the Tanzanian megacity that will hold 73.7 million inhabitants in 2100?
It's not on a lot of people's radars, but its population will explode 1,588% to become the third largest city in Africa, and in the world.
Interestingly, East Africa will be home to many of the world's biggest cities in the future – and many will be seemingly popping up out of nowhere. Consider Blantyre City, Lilongwe, and Lusaka, for example. Most Westerners will not likely have heard of these places, but these centers in Malawi and Zambia will each hold over 35 million people.
Finally, the last city to round out the top four is Mumbai, which is already one of the world's biggest megacities with over 20 million people.
As the entertainment capital of India, it will be interesting to see how Mumbai evolves – and how it ends up comparing to other Indian megacities like Delhi and Kolkata, which each will hold over 50 million residents themselves.
Visualizing the Recent Explosion in Lumber Prices
Lumber prices in the U.S. continue to break records as pressure from both the supply and demand sides of the market collide.
Visualizing the Recent Explosion in Lumber Prices
Lumber is an important commodity used in construction, and refers to wood that has been processed into beams or planks.
Fluctuations in its price, which is typically quoted in USD/1,000 board feet (bd ft), can significantly affect the housing industry and in turn, influence the broader U.S. economy.
To understand the impact that lumber prices can have, we've visualized the number of homes that can be built with $50,000 worth of lumber, one year apart.
A Story of Supply and Demand
Before discussing the infographic above, it's important to understand the market's current environment.
In just one year, the price of lumber has increased 377%—reaching a record high of $1,635 per 1,000 bd ft. For context, lumber has historically fluctuated between $200 to $400.
To understand what's driving lumber prices to new heights, let's look at two economic elements: supply and demand.
Shortened Supply
U.S. lumber supplies came under pressure in April 2017, when the Trump administration raised tariffs on Canadian lumber. Since then, lumber imports have fallen and prices have experienced significant volatility.
After a brief stint above $600 in April 2018, lumber quickly tumbled down to sub $250 levels, causing a number of sawmills to shut down. The resulting decreases in production capacity (supply) were estimated to be around 3 billion board feet.
Once COVID-19 emerged, labor shortages cut production even further, making the lumber market incredibly sensitive to demand shocks. The U.S. government has since reduced its tariffs on Canadian lumber, but these measures appear to be an example of too little, too late.
Pent-up Demand
Against expectations, COVID-19 has led to a significant boom in housing markets, greatly increasing the need for lumber.
Lockdowns in early 2020 delayed many home purchases until later in the year, while increased savings rates during the pandemic meant Americans had more cash on hand. The demand for homes was further amplified by record-low mortgage rates across the country.
Existing homeowners needed lumber too, as many Americans suddenly found themselves requiring upgrades and renovations to accommodate their new stay-at-home lifestyles.
How Many Homes Can You Build With $50K of Lumber?
To see how burgeoning lumber prices are impacting the U.S. housing market, we've calculated the number of single family homes that could be built with $50,000 worth of lumber. First, we established the following parameters:
Lumber requirements: 6.3 board feet (bd ft) per square foot (sq ft)
Median single family house size: 2,301 sq ft
Total lumber required per single family house: 14,496 bd ft
Based on these parameters, here's how many single family homes can be built with $50,000 worth of lumber:

| Date* | Lumber Price | Total Lumber Purchased | Total Homes Built |
| --- | --- | --- | --- |
| 2021-05-05 | $1,635 per 1,000 bd ft | 30,581 bd ft | 2.11 |
| 2020-05-04 | $343 per 1,000 bd ft | 145,773 bd ft | 10.05 |
| 2015-05-01 | $234 per 1,000 bd ft | 213,675 bd ft | 14.74 |
| 2010-05-01 | $270 per 1,000 bd ft | 185,185 bd ft | 12.77 |
*Exact matching dates were not available for past years.
Source: Insider
As lumber prices continue to set record highs, the National Association of Home Builders (NAHB) has reported that the cost to build a single family home has increased by $36,000. Most of this cost can be passed down to the consumer, but extremely tight supplies mean homebuilders are unable to start more projects.
The Clock is Ticking
Despite their best efforts to increase output, it's likely that sawmills across the U.S. will continue playing catch-up in 2021.
"There was a great fear among sawmills to prepare for a downturn. When home buying surged, they could not open up capacity quickly enough."
– Lawrence Yun, National Association of Realtors
Analysts are now warning that lumber prices could reach a flashpoint, where affordability becomes so limited that demand suddenly falls off. This has led the NAHB to ask the Biden administration for a temporary pause on Canadian lumber tariffs, which currently sit at 9%.
U.S. tariffs on Canadian lumber were first introduced in 1982, and represent one of the longest lasting trade wars between the two nations. The U.S. is currently appealing a World Trade Organization (WTO) ruling that states its 2017 tariff hike was a breach of global trading rules.
Mapped: The State of Small Business Recovery in America
Compared to January 2020, 34% of small businesses are currently closed. This map looks at the small business recovery rate in 50 metro areas.
Mapped: The State of Small Business Recovery in America
In the business news cycle, headlines are often dominated by large corporations, macroeconomic news, or government action.
While mom and pop might not always be in focus, collectively small businesses are a powerful and influential piece of the economy. In fact, 99.9% of all businesses in the U.S. qualify as small businesses, collectively employing almost half (47.3%) of the nation's private workforce.
Unfortunately, they've also been one of the hardest-hit sectors of the economy amid the pandemic. From the CARES Act to the new budget proposal, billions of dollars have been allocated towards helping small businesses to get back on their feet.
Small Business Recovery in 50 Metro Areas
During the pandemic, many small businesses have either swiftly pivoted to survive, or struggled to stay afloat. This map pulls data from Opportunity Insights to examine the small business recovery rate in 50 metro areas across America.
So, has the situation improved since the last time we examined this data? The short answer is no—on a national scale, 34% of small businesses are closed compared to January 2020.
San Francisco is one of the most affected metro areas, with a 48% closure rate of small businesses. New York City has spiralled the most since the end of September 2020.
U.S. Metro Area
% Change in # of
Small Businesses Open
(As of Sep 25, 2020)
% Change in # of
Small Businesses Open
(As of Apr 23, 2021)
7-month change (p.p.)
Albuquerque
-23%
-34%
-11
Atlanta
-26%
-35%
-9
Austin
-32%
-38%
-6
Bakersfield
-31%
-35%
-4
Baltimore
-28%
-35%
-7
Boston
-33%
-47%
-14
Charlotte
-18%
-28%
-10
Chicago
-27%
-38%
-11
Cleveland
-26%
-34%
-8
Colorado Springs
-23%
-28%
-5
Columbus
-21%
-28%
-7
Dallas-Fort Worth
-21%
-28%
-7
Denver
-25%
-29%
-4
Detroit
-28%
-38%
-10
El Paso
-25%
-26%
-1
Fresno
-26%
-30%
-4
Honolulu
-41%
-25%
+16
Houston
-30%
-34%
-4
Indianapolis
-25%
-34%
-9
Jacksonville
-18%
-28%
-10
Kansas City
-15%
-26%
-11
Las Vegas
-22%
-30%
-8
Los Angeles
-27%
-34%
-7
Louisville
-23%
-35%
-12
Memphis
-21%
-24%
-3
Miami
-23%
-34%
-11
Milwaukee
-22%
-27%
-5
Minneapolis
-21%
-29%
-8
Nashville
-21%
-26%
-5
New Orleans
-45%
-39%
+6
New York City
-21%
-42%
-21
Oakland
-32%
-35%
-3
Oklahoma City
-26%
-35%
-9
Philadelphia
-24%
-31%
-7
Phoenix
-19%
-31%
-12
Portland
-34%
-36%
-2
Raleigh
-16%
-29%
-13
Sacramento
-33%
-34%
-1
Salt Lake City
-18%
-23%
-5
San Antonio
-34%
-40%
-6
San Diego
-28%
-38%
-10
San Francisco
-49%
-48%
+2
San Jose
-35%
-44%
-9
Seattle
-28%
-30%
-2
Tampa
-22%
-40%
-18
Tucson
-27%
-28%
-1
Tulsa
-23%
-32%
-9
Virginia Beach
-
-36%
0
Washington DC
-37%
-47%
-10
Wichita
-15%
-28%
-13
Data as of Apr 23, 2021 and indexed to Jan 4-31, 2020.
On the flip side, Honolulu has seen the most improvement. As travel and tourism numbers into Hawaii have steadily risen up with lifted nationwide restrictions, there has been a 16 p.p. increase in open businesses compared to September 2020.
Road to a K-Shaped Recovery
As of April 25, 2021, nearly 42% of the U.S. population has received at least one dose of a COVID-19 vaccine. However, even with this rapid vaccine rollout, various segments of the economy aren't recovering at the same pace.
Take for instance the stark difference between professional services and the leisure and hospitality sector. Though small business revenues in both segments have yet to return to pre-pandemic levels, the latter has much more catching up to do:
This uneven phenomena is known as a K-shaped recovery, where some industries see more improvement compared to others that stagnate in the aftermath of a recession.
The Entrepreneurial Spirit Endures
Despite these continued hardships, it appears that many Americans have not been deterred from starting their own businesses.
Many small businesses require an Employer Identification Number (EIN) which makes EIN applications a good proxy for business formation activity. Despite an initial dip in the early months of the pandemic, there has been a dramatic spike in EIN business applications.
Even in the face of a global pandemic, the perseverance of such metrics prove that the innovative American spirit is unwavering, and spells better days to come for small business recovery.