Animated Map: The 20 Most Populous Cities in the World by 2100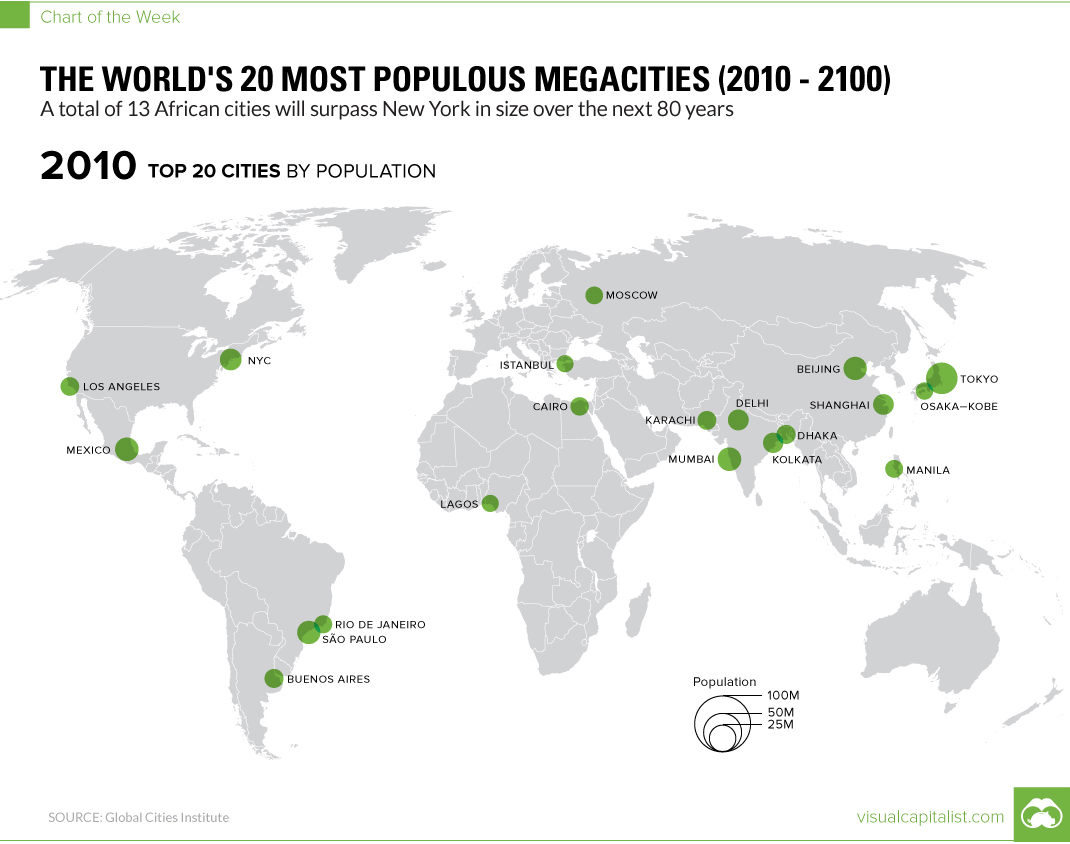 Animated Map: The Most Populous Cities in the World
In Africa Alone, 13 Cities Will Pass NYC in Size
The Chart of the Week is a weekly Visual Capitalist feature on Fridays.
If you look at a modern map of the world's most populous cities, you'll notice that they are quite evenly distributed around the globe.
Metropolises like Moscow, New York, Tokyo, Cairo, or Rio de Janeiro are spread apart with very different geographic and cultural settings, and practically every continent today can claim at least one of the world's 20 most populous cities.
In the future, things will be very different, according to projections from the Global Cities Institute. In fact, over the next 80 years or so, some cities will literally 10x or 20x in size – turning into giant megacities that have comparable populations to entire countries like modern-day Germany, France, or the United Kingdom.
The most interesting part? None of these cities will be in the Americas, Europe, China, or Australia.
The Top Four Megacities of the Future
According to predictions from the Global Cities Institute, these will be the biggest cities in the world in 2100:
Lagos is already one of the biggest metropolises in Africa, and we previously noted that it was one of the fastest growing cities in the world.
In fact, it's growing so fast, that no one knows how big it actually is. The U.N estimated it had 11.2 million people in 2011, and the year after The New York Times said it had at least 21 million inhabitants. In any case, this Nigerian metropolis is growing like a weed, and the Global Cities Institute estimates that the city's population will hit the 88.3 million mark by 2100 to make it the biggest city in the world.
The city is already a center of West African trade and finance – but Lagos has ambitious plans to up the ante even further. Right now, the city is building Eko Atlantic, a massive new residential and commercial development that is being pitched as the "Manhattan of Nigeria". It's just off of Victoria Island, and it is being built on reclaimed land with special measures in place to prevent flooding from global warming.
When people think of the DRC, sprawling metropolises generally aren't the first things that come to mind.
But Kinshasa, once the site of humble fishing villages, has already likely passed Paris as the largest French-speaking city in the world. And it's getting bigger – by 2100, it's projected to be the world's second largest city overall.
How Kinshasa develops will certainly be interesting. As it stands, approximately 60% of the 17 million people living there by 2025 will be younger than 18 years old. How the city deals with education will be paramount to the city's future progression.
Have you heard of Dar Es Salaam, the Tanzanian megacity that will hold 73.7 million inhabitants in 2100?
It's not on a lot of people's radars, but its population will explode 1,588% to become the third largest city in Africa, and in the world.
Interestingly, East Africa will be home to many of the world's biggest cities in the future – and many will be seemingly popping up out of nowhere. Consider Blantyre City, Lilongwe, and Lusaka, for example. Most Westerners will not likely have heard of these places, but these centers in Malawi and Zambia will each hold over 35 million people.
Finally, the last city to round out the top four is Mumbai, which is already one of the world's biggest megacities with over 20 million people.
As the entertainment capital of India, it will be interesting to see how Mumbai evolves – and how it ends up comparing to other Indian megacities like Delhi and Kolkata, which each will hold over 50 million residents themselves.
Saying Bye to Facebook: Why Companies Change Their Name
Facebook's impending rebrand will impact the company's future. Why do companies change their name, and what can we learn from past examples?
As anyone who's started a company knows, choosing a name is no easy task.
There are many considerations, such as:
Are the social handles and domain name available?
Is there a competitor already using a similar name?
Can people spell, pronounce, and remember the name?
Are there cultural or symbolic interpretations that could be problematic?
The list goes on. These considerations are amplified when a company is already established, and even more difficult when your company serves billions of users around the globe.
Facebook (the parent company, not the social network) has changed its name to Meta, and we'll examine some probable reasons for the rebrand. But first we'll look at historical corporate name changes in recent history, exploring the various motivations behind why a company might change its name. Below are some of the categories of rebranding that stand out the most.
Social Pressure
Societal perceptions can change fast, and companies do their best to anticipate these changes in advance. Or, if they don't change in time, their hands might get forced.
As time goes on, companies with more overt negative externalities have come under pressure—particularly in the era of ESG investing. Social pressure was behind the name changes at Total and Philip Morris. In the case of the former, the switch to TotalEnergies was meant to signal the company's shift beyond oil and gas to include renewable energy.
In some cases, the reason why companies change their name is more subtle. GMAC (General Motors Acceptance Corporation) didn't want to be associated with subprime lending and the subsequent multi-billion dollar bailout from the U.S. government, and a name change was one way of starting with a "clean slate". The financial services company rebranded to Ally in 2010.
Hitting the Reset Button
Brands can become unpopular over time because of scandals, a decline in quality, or countless other reasons. When this happens, a name change can be a way of getting customers to shed those old, negative connotations.
Internet and TV providers rank dead last in customer satisfaction ratings, so it's no surprise that many have changed their names in recent years.
We Do More
This is a very common scenario, particularly as companies go through a rapid expansion or find success with new product offerings. After a period of sustained growth and change, a company may find that the current name is too limiting or no longer accurately reflects what the company has become.
Both Apple and Starbucks have simplified their company names over the years. The former dropped "Computers" from its name in 2007, and Starbucks dropped "Coffee" from its name in 2011. In both these cases, the name change meant disassociating the company with what initially made them successful, but in both cases it was a gamble that paid off.
One of the biggest name changes in recent years is the switch from Google to Alphabet. This name change signaled the company's desire to expand beyond internet search and advertising.
The Start-Up Name Pivot
Another very common name change scenario is the early-stage name change.
In the world of music, there's speculation that limited melodies and subconscious plagiarism will make creating new music increasingly difficult in the future. Similarly, there are millions of companies in the world and only so many short and snappy names. (That's how we end up with companies called Quibi.)
Many of the popular digital services we use today started with very different names. The Google we know today was once called Backrub. Instagram began life as Bourbn, and Twitter began life as "Twittr" before finding a spare E in the scrabble pile.
Copyright Problems
As mentioned above, many companies start out as speculative experiments or passion projects, when a viable, well-vetted name isn't high on the priority list. As a result, new companies can run into problems with copyright.
This was the case when Picaboo, the precursor of Snapchat, was forced to change their name in 2011. The existing Picaboo—a photobook company—was not thrilled to share a name with an app that was primarily associated with sexting at the time.
The fight over the name WWF was a more unique scenario. In 1994, the World Wildlife Fund and the World Wrestling Federation had a mutual agreement that the latter would stop using the initials internationally, except for fleeting uses such as "WWF champion". In the end though, the agreement was largely ignored, and the issue became a sticking point when the wrestling company registered wwf.com. Eventually, the company rebranded as WWE (World Wrestling Entertainment) after losing a lawsuit.
Course Correction
To err is human, and rebranding exercises don't always hit the mark. When a name change is universally panned or, perhaps worse, not relevant, it's time to course correct.
Tribune Publishing was forced to backtrack after their name change to Tronc in 2016. The widely-panned name, which was stylized in all lower case, was seen as a clumsy attempt to become a digital-first publisher.
Why Is Facebook Changing Its Name?
Facebook undertook this name change for a number of reasons, but chief among them is that the brand is irrevocably associated with scandals, negative externalities, and Mark Zuckerberg.
Even before the most recent outage and whistle-blowing scandal, Facebook was already the least-trusted tech company by a long shot. Mark Zuckerberg was once the most admired CEO in Silicon Valley, but has since fallen from grace.
It's easy to focus on the negative triggers for the impending name change, but there is some substance behind the change as well. For one, Facebook recognizes that privacy issues have put their primary source of revenue at risk. The company's ad-driven model built upon its users' data is coming under increasing scrutiny with each passing year.
As well, there is substance behind the metaverse hype. Facebook first signaled their ambitions in 2014, when it acquired the virtual reality headset maker Oculus. A sizable portion of the company's workforce is already working on making the metaverse concept a reality, and there are plans to hire 10,000 more people in Europe over the next five years.
It remains to be seen whether this immense gamble pays off, but for the near future, Zuckerberg and Facebook's investors will be keeping a close eye on how the media and public react to the new Meta name and how the transition plays out. After all, there are billions of dollars at stake.
Visualizing Social Risk in the World's Top Investment Hubs
In a third of the world's top investment hubs, citizens face significant threats to their civil, political, and labor rights.
Visualizing the Social Risk of the World's Top Investment Hubs
As social responsibility becomes an important aspect of doing business, it's more crucial than ever for decision-makers to understand the risks associated with various global markets.
This graphic, using data from a report by Verisk Maplecroft, looks at the world's top cities for foreign direct investment (FDI) and assesses their relative levels of social risk.
In the article below, we'll take a look at the research methodology to explain how risk was assessed in the report and touch on some key markets that placed high on the ranking.
The Relationship Between FDI and Social Risk
To look at the relationship between FDI and social risk, the report identified the top 100 cities for FDI in 2020, using data from fDi Markets (the Financial Times' foreign investment monitor).
From there, social risk in the top 100 FDI cities was measured using data from Verisk Maplecroft's [email protected] Social Index​​. The index measures the social risk landscape of 575 different cities across the globe, using three key pillars:
Civil and political rights: the right to protest, security force abuses
Labor rights: child labor, modern slavery
Poverty: portion of population in extreme poverty
After calculating scores based on these three metrics, cities were then grouped into four categories to measure their level of social risk:
Low risk
Medium risk
High risk
Extreme risk
Based on this analysis, citizens in 33 of the top 100 cities for FDI (representing $71 billion of inward investment) are at 'high' or 'extreme' levels of social risk, meaning they face significant threats to their civil, political, and labor rights.
Of the top 100 places, Istanbul and Izmir rank the highest when it comes to overall human rights risks, largely because of labor rights violations and the exploitation of migrant and refugee workers. This is something manufacturers should take note of, especially those who outsource production to these Turkish cities.
In contrast, Beijing, which places third on the list, scores high due to China's various civil rights issues. Other major manufacturing and commercial hubs in China, like Guangzhou and Shanghai, place high on the list as well.
Overall Social Risk Index
While a third of the top FDI cities are at high or extreme social risk, this figure is even higher when looking at all 575 cities included in the [email protected] Social Index.
Of the 575 cities, 75% are classified as 'high' or 'extreme' risk. Mogadishu, Somalia is the highest risk city, followed by Damascus, Aleppo, and Homs in Syria, Pyongyang in North Korea, and Sanaa in Yemen.
While the high-risk cities are spread across the globe, it's worth noting that 240 of the high and extreme risk cities are located in Asia.
Civil and Political Risk Index
In addition to the overall ranking, the report provides insight into specific human rights violations, highlighting which cities are most at risk.
Perhaps unsurprisingly, Pyongyang, North Korea places first on the list when it comes to civil and political rights violations. Under the current North Korean regime, some significant civil rights violations include arbitrary arrests and detentions, the holding of political prisoners and detainees, and a lack of judicial independence.
In addition to North Korea, Syria places high on the civil rights risk index as well, with three of the top five cities located in the war-torn country.
Labor Rights Index
When focusing specifically on labor rights, almost half of the 'high' or 'extreme' risk cities are in Europe and Central Asia.
The biggest problems across a majority of 'high' risk cities include child labor, the exploitation of migrant workers, and modern slavery. Pakistan in particular struggles with child labor issues, with an estimated 3.3 million children in situations of forced labor.
What This Means for Foreign Investors
Understanding a country's social landscape can help organizations make decisions on where to conduct business, especially those that prioritize ESG efforts.
And, while organizations who invest in 'high' risk locations aren't directly involved in any human rights violations, being associated with a 'high' risk city could impact a corporation's reputation, or cause financial damage down the line.