Animated Map: The 20 Most Populous Cities in the World by 2100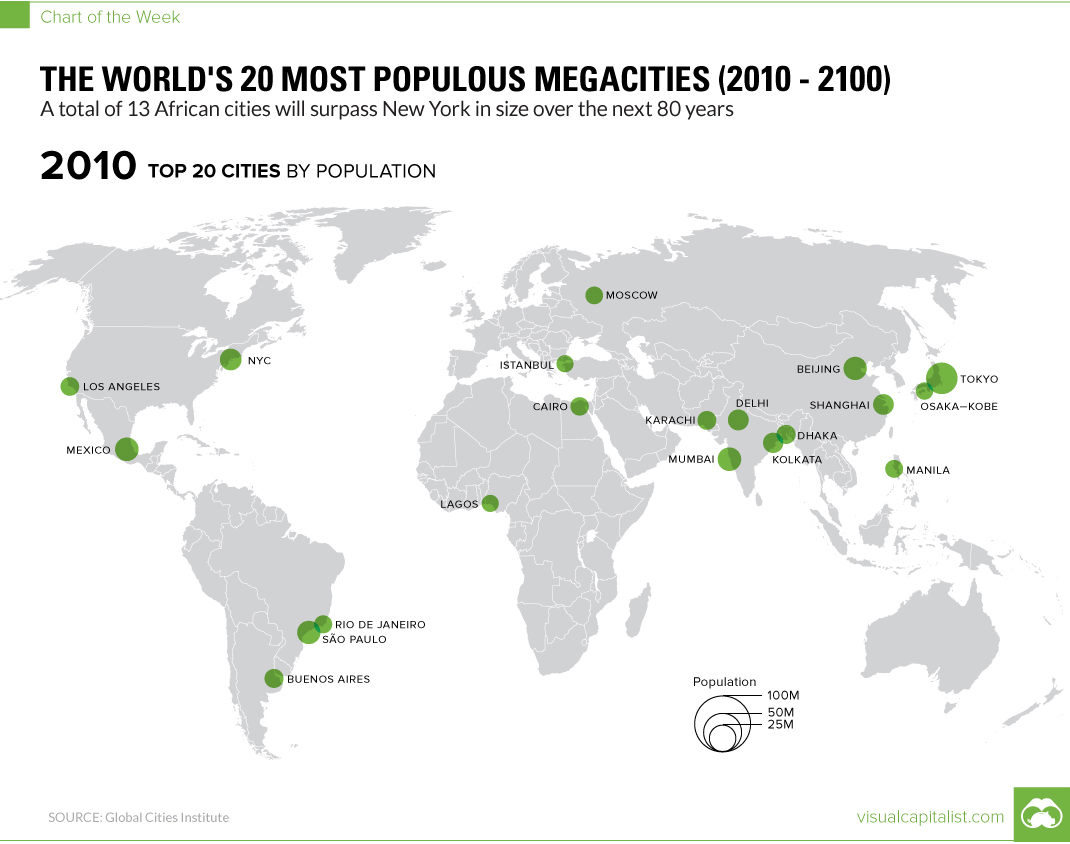 Animated Map: The Most Populous Cities in the World
In Africa Alone, 13 Cities Will Pass NYC in Size
The Chart of the Week is a weekly Visual Capitalist feature on Fridays.
If you look at a modern map of the world's most populous cities, you'll notice that they are quite evenly distributed around the globe.
Metropolises like Moscow, New York, Tokyo, Cairo, or Rio de Janeiro are spread apart with very different geographic and cultural settings, and practically every continent today can claim at least one of the world's 20 most populous cities.
In the future, things will be very different, according to projections from the Global Cities Institute. In fact, over the next 80 years or so, some cities will literally 10x or 20x in size – turning into giant megacities that have comparable populations to entire countries like modern-day Germany, France, or the United Kingdom.
The most interesting part? None of these cities will be in the Americas, Europe, China, or Australia.
The Top Four Megacities of the Future
According to predictions from the Global Cities Institute, these will be the biggest cities in the world in 2100:
Lagos is already one of the biggest metropolises in Africa, and we previously noted that it was one of the fastest growing cities in the world.
In fact, it's growing so fast, that no one knows how big it actually is. The U.N estimated it had 11.2 million people in 2011, and the year after The New York Times said it had at least 21 million inhabitants. In any case, this Nigerian metropolis is growing like a weed, and the Global Cities Institute estimates that the city's population will hit the 88.3 million mark by 2100 to make it the biggest city in the world.
The city is already a center of West African trade and finance – but Lagos has ambitious plans to up the ante even further. Right now, the city is building Eko Atlantic, a massive new residential and commercial development that is being pitched as the "Manhattan of Nigeria". It's just off of Victoria Island, and it is being built on reclaimed land with special measures in place to prevent flooding from global warming.
When people think of the DRC, sprawling metropolises generally aren't the first things that come to mind.
But Kinshasa, once the site of humble fishing villages, has already likely passed Paris as the largest French-speaking city in the world. And it's getting bigger – by 2100, it's projected to be the world's second largest city overall.
How Kinshasa develops will certainly be interesting. As it stands, approximately 60% of the 17 million people living there by 2025 will be younger than 18 years old. How the city deals with education will be paramount to the city's future progression.
Have you heard of Dar Es Salaam, the Tanzanian megacity that will hold 73.7 million inhabitants in 2100?
It's not on a lot of people's radars, but its population will explode 1,588% to become the third largest city in Africa, and in the world.
Interestingly, East Africa will be home to many of the world's biggest cities in the future – and many will be seemingly popping up out of nowhere. Consider Blantyre City, Lilongwe, and Lusaka, for example. Most Westerners will not likely have heard of these places, but these centers in Malawi and Zambia will each hold over 35 million people.
Finally, the last city to round out the top four is Mumbai, which is already one of the world's biggest megacities with over 20 million people.
As the entertainment capital of India, it will be interesting to see how Mumbai evolves – and how it ends up comparing to other Indian megacities like Delhi and Kolkata, which each will hold over 50 million residents themselves.
Made in America: Goods Exports by State
The U.S. exported $1.8 trillion worth of goods in 2021. This infographic looks at where that trade activity took place across the nation.
Made in America: Goods Exports by State
After China, the U.S. is the next largest exporter of goods in the world, shipping out $1.8 trillion worth of goods in 2021—an increase of 23% over the previous year.
Of course, that massive number doesn't tell the whole story. The U.S. economy is multifaceted, with varying levels of trade activity taking place all across the nation.
Using the latest data on international trade from the U.S. Census Bureau and the U.S. Bureau of Economic Analysis, we've visualized the value of America's goods exports by state.
Top 10 Exporter States
Here are the top 10 American states that exported the highest dollar value worth of goods during 2021. Combined, these export-leading states represent 59.4% of the nation's total exports.
| Rank | State | Total Exports Value | % share |
| --- | --- | --- | --- |
| #1 | Texas | $375.3 billion | 21.4% |
| #2 | California | $175.1 billion | 10.0% |
| #3 | New York | $84.9 billion | 4.8% |
| #4 | Louisiana | $76.8 billion | 4.4% |
| #5 | Illinois | $65.9 billion | 3.8% |
| #6 | Michigan | $55.5 billion | 3.2% |
| #7 | Florida | $55.5 billion | 3.2% |
| #8 | Washington | $53.6 billion | 3.1% |
| #9 | Ohio | $50.4 billion | 2.9% |
| #10 | New Jersey | $49.5 billion | 2.8% |
| | Top 10 States | $1.04 trillion | 59.4% |
Texas has been the top exporting state in the U.S. for an incredible 20 years in a row.
Last year, Texas exported $375 billion worth of goods, which is more than California ($175 billion), New York ($85 billion), and Louisiana ($77 billion) combined. The state's largest manufacturing export category is petroleum and coal products, but it's also important to mention that Texas led the nation in tech exports for the ninth straight year.
California was the second highest exporter of goods in 2021 with a total value of $175 billion, an increase of 12% from the previous year. The state's main export by value was computer and electronic product manufacturing, representing 17.8% of the total U.S. exports of that industry. California was also second among all states in exports of machinery manufacturing, accounting for 13.9% of the U.S. total.
What Type of Goods are Exported?
Here is a breakdown of the biggest U.S. export categories by value in 2021.
| Rank | Product Group | Annual Export Value (2021) | Share of Total Exports |
| --- | --- | --- | --- |
| 1 | Mineral fuels including oil | $239.8 billion | 13.7% |
| 2 | Machinery including computers | $209.3 billion | 11.9% |
| 3 | Electrical machinery, equipment | $185.4 billion | 10.6% |
| 4 | Vehicles | $122.2 billion | 7.0% |
| 5 | Optical, technical, medical apparatus | $91.7 billion | 5.2% |
| 6 | Aircraft, spacecraft | $89.1 billion | 5.1% |
| 7 | Gems, precious metals | $82.3 billion | 4.7% |
| 8 | Pharmaceuticals | $78 billion | 4.4% |
| 9 | Plastics, plastic articles | $74.3 billion | 4.2% |
| 10 | Organic chemicals | $42.9 billion | 2.4% |
These top 10 export categories alone represent almost 70% of America's total exports.
The biggest grower among this list is mineral fuels, up by 59% from last year. Pharmaceuticals saw the second biggest one-year increase (45%).
Top 10 U.S. Exports by Country of Destination
So who is buying "Made in America" products?
Unsurprisingly, neighboring countries Canada (17.5%) and Mexico (15.8%) are the two biggest buyers of American goods. Together, they purchase one-third of American exports.
| Rank | Destination Country | Share of U.S. Goods Exports |
| --- | --- | --- |
| 1 | 🇨🇦 Canada | 17.5% |
| 2 | 🇲🇽 Mexico | 15.8% |
| 3 | 🇨🇳 China | 8.6% |
| 4 | 🇯🇵 Japan | 4.3% |
| 5 | 🇰🇷 South Korea | 3.7% |
| 6 | 🇩🇪 Germany | 3.7% |
| 7 | 🇬🇧 United Kingdom | 3.5% |
| 8 | 🇳🇱 Netherlands | 3.1% |
| 9 | 🇧🇷 Brazil | 2.7% |
| 10 | 🇮🇳 India | 2.3% |
Three Asian countries round out the top five list: China (8.6%), Japan (4.3%), and South Korea (3.7%). Together, the top five countries account for around half of all goods exports.
Visualizing Global Income Distribution Over 200 Years
How has global income distribution changed over history? Below, we show three distinct periods since the Industrial Revolution.

Creator Program
Visualizing Global Income Distribution Over 200 Years
Has the world become more unequal?
With COVID-19 disrupting societies and lower-income countries in particular, social and economic progress made over the last decade is in danger of being reversed. And with rising living costs and inflation across much of the world, experts warn that global income inequality has been exacerbated.
But the good news is that absolute incomes across many poorer countries have significantly risen over the last century of time. And though work remains, poverty levels have fallen dramatically in spite of stark inequality.
To analyze historical trends in global income distribution, this infographic from Our World in Data looks at three periods over the last two centuries. It uses economic data from 1800, 1975, and 2015 compiled by Hans and Ola Rosling.
Methodology
For global income estimates, data was gathered by country across three key variables:
Population
Gini coefficient, which measures income inequality by statistical distribution
Daily incomes were measured in a hypothetical "international-$" currency, equal to what a U.S. dollar would buy in America in 2011, to allow for comparable incomes across time periods and countries.
Historical Patterns in Global Income Distribution
In 1800, over 80% of the world lived in what we consider extreme poverty today.
At the time, only a small number of countries—predominantly Western European countries, Australia, Canada and the U.S.—saw meaningful economic growth. In fact, research suggests that between 1 CE and 1800 CE the majority of places around the world saw miniscule economic growth (only 0.04% annually).
By 1975, global income distribution became bimodal. Most citizens in developing countries lived below the poverty line, while most in developed countries lived above it, with incomes nearly 10 times higher on average. Post-WWII growth was unusually rapid across developed countries.
Fast forward just 40 years to 2015 and world income distribution changed again. As incomes rose faster in poorer countries than developed ones, many people were lifted out of poverty. Between 1975 and 2015, poverty declined faster than at any other time. Still, steep inequality persisted.
A Tale of Different Economic Outputs
Even as global income distribution has started to even out, economic output has trended in the opposite direction.
As the above interactive chart shows, GDP per capita was much more equal across regions in the 19th century, when it sat around $1,100 per capita on a global basis. Despite many people living below the poverty line during these times, the world also had less wealth to go around.
Today, the global average GDP per capita sits at close to $15,212 or about 14 times higher, but it is not as equally distributed.
At the highest end of the spectrum are Western and European countries. Strong economic growth, greater industrial output, and sufficient legal institutions have helped underpin higher GDP per capita numbers. Meanwhile, countries with the lowest average incomes have not seen the same levels of growth.
This highlights that poverty, and economic prosperity, is heavily influenced by where one lives.