Who Came to America, and When?
The United States has a long-standing history of being a "nation of immigrants", and today the country is home to roughly 46.6 million residents that were born outside of the country.
Here are three maps and data visualizations that give us some history of who came to America, and when it all happened.
200 Years of Immigration
To begin, this video from Metrocosm shows immigration to the U.S. starting from 1820. Each dot represents 10,000 people.
At first, immigration is coming almost exclusively from Europe.
But by around 1900, immigration from Russia, China, Canada, Turkey and Japan picks up – but then WWII devastates global mobility, and immigration to the U.S. grinds to a halt.
After WWII, it is the Cold War era, but the rate of arrivals slowly picks up again. Immigration eventually peaks between 1990-2000 after the fall of the Iron Curtain. Asian and Mexican immigration is also particularly strong around this time.
Another Perspective
Here's another look – this time, it's a data visualization from Insightful Interaction using data from the Yearbook of Immigration Statistics from 1820 to 2015.
Similar peaks in immigration near 1900 and 2000 can be seen. The dip from WWII is even more pronounced when visualizing the data this way.
The boom in newcomers from Mexico is also evident in the 1990s, though it has tapered off significantly in recent years.
Made in America
Over time, more people start feeling like their roots are tied to America, rather than having ancestry from somewhere else.
This final visualization from Overflow Data that shows the percentage of people in each state that claim to have American ancestry:
People in the country's heartland and southern states are more likely to identify as having American ancestry, while folks along the coasts and northern states tend to see themselves as having ancestry from other parts of the world.
The highest rates of self-identification happen in Kentucky (17.6%), Tennessee (16.0%), and Alabama (16.4%). The lowest can be found in Hawaii (1.5%), D.C. (2.0%), and California (3.1%).
Map Explainer: Key Facts About Afghanistan
This map explainer looks at Afghanistan from a structural point of view, delving into geography and population patterns.
Map Explainer: Key Facts About Afghanistan
The country of Afghanistan has a long and complicated history of domination by foreign powers and conflict between factions within the country.
While Afghanistan is well covered in headlines and news stories, the lion's share of this coverage is directly related to conflict. As a result, Afghanistan is viewed by many in Western countries as a war-torn desert, with conflict, ideology, and geopolitical power obscuring more practical information about the country and its people.
In the Afghanistan map graphic above, we step back and examine Afghanistan from a structural point of view. How does its unique landscape influence population patterns? How does this geography influence the economy and relationships with neighboring nations? Let's dive in.
Mountain High, Valley Low
Afghanistan's rugged landscape is defined by towering snow-capped mountains, fertile valleys, and expansive deserts.
First, the country has a wide variety of climate extremes. There is more than 100ºC (180ºF) separating the record high and low temperatures.
The extremes don't stop at temperature though. Afghanistan has the sixth-highest elevation span in the world, with 7,234m (23,734 ft) between its highest and lowest point. Afghanistan is one of 44 landlocked nations in the world, which helps explain why its lowest point is so much higher than sea level.
For those living in North America, the country's terrain has been compared to Colorado, with Kabul sharing similarities with Denver.
Where Do People Live in Afghanistan?
Settlement patterns in Afghanistan are similar to other countries in the region; people cluster where there is access to fresh water.
As the cartogram below demonstrates, a large portion of the country's population is located around Kabul, and the region adjacent to the Kabul River.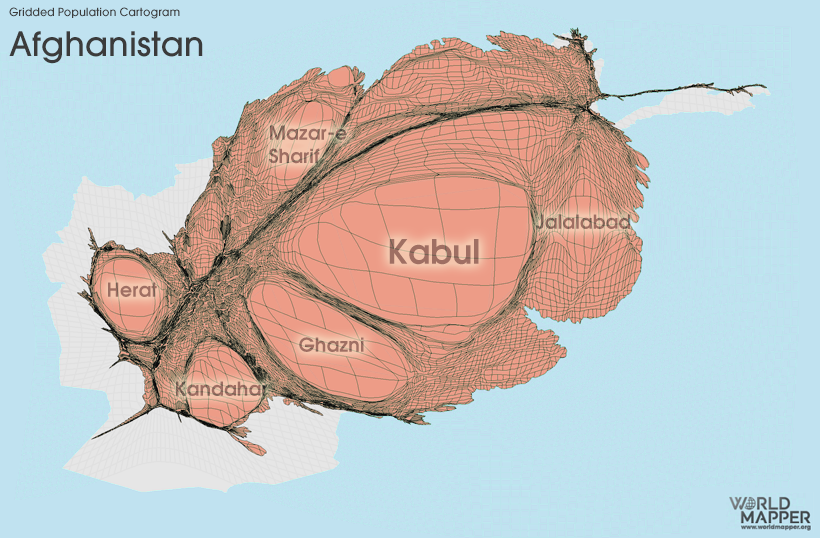 The southwestern province of Nimruz is the most sparsely populated area in the country. The Wakhan Corridor—which connects Afghanistan to China—is also very sparsely populated, with about 14,000 total residents.
Key Facts About Afghanistan's Demographics
Afghanistan has a very youthful population. The country's median age of 19 years is one of the youngest in the world, and is low compared to its neighbors Pakistan (24) and Iran (30).
Islam is the official state religion of Afghanistan. 99.7% of the Afghan population are Muslim, one of the highest proportions of the 49 Muslim-majority countries.
So far in 2021, the OCHA estimates that 550,000 people in Afghanistan are "internally displaced" due to conflict, and this number may rise still as new data tracks the final days of the Taliban's takeover of the country. The majority of those displaced persons are children.
Paving the Way
The Ring Road connecting Afghanistan's major cities began in the 1960s but was soon cut short by war. After the U.S. took control in 2001, new road construction began in earnest.
Between 2002 and 2016, USAID and the Department of Defense (DoD) spent approximately $2.8 billion building and maintaining Afghanistan's road infrastructure. This number doesn't include additional investment from other sources that poured in to improve the country's road network.
The result is a more comprehensive road network, but one that is difficult to maintain. A 2016 report found collapsed bridges and sections of road around the country that were washed out.
Resources and Relationships
Afghanistan is a critical source of fresh water for the arid region. Several major regional rivers flow from the country's mountainous eastern provinces into neighboring countries, so any new irrigation schemes and dam infrastructure will come with a geopolitical price tag as well.
Already in the recent past, tensions have increased with Iran and Pakistan over the flow of water crossing the border.
Outside countries are also very interested in Afghanistan's rich mineral resources. Decades of near-continuous conflict have made mining a tough proposition in the country, but with growing demand for resources such as lithium and rare earths, that may soon change.
Afghanistan is estimated to have over $1 trillion of untapped mineral reserves, and outside interests are taking notice.
China said it was ready for "friendly and cooperative relations" with the new Taliban regime, and it's possible that investment from China's Belt and Road Initiative (BRI) may step in to fill the vacuum left by departing Western powers.
Ranked: America's Most Searched and Visited News Sites by State
American states have some key differences for their favorite news sites. Here's how they rank by monthly visitors and state popularity.
Ranked: America's Most Searched News Sites by State
America is known to have significant distinctions at the state-by-state level, and data suggests this trend extends to popular news sources. To learn more, this infographic from SEMRush ranks U.S. news websites by search volume and popularity across U.S. states.
Here's how the top 15 news sites compare when ranked by monthly visitors, as well as the number of states the news source is most searched for in:
| | News Site | Monthly Visitors | State Search Popularity | Top Metro Area |
| --- | --- | --- | --- | --- |
| 1 | Yahoo! News | 175 million | 12 | Eureka, California (CA) |
| 2 | Google News | 150 million | 3 | Eureka, California (CA) |
| 3 | Huff Post | 110 million | 1 | Eureka, California (CA) |
| 4 | CNN | 95 million | 7 | Bend, Oregon (OR) |
| 5 | The New York Times | 70 million | 1 | Charlottesville, Virginia (VA) |
| 6 | Fox News | 65 million | 11 | Glendive, Montana (MT) |
| 7 | NBC News | 63 million | 3 | Charlottesville, Virginia (VA) |
| 8 | MailOnline | 53 million | 1 | West Palm Beach and Fort Pierce, Florida (FL) |
| 9 | The Washington Post | 47 million | 1 | Washington, DC and Hagerstown, Maryland (MD) |
| 10 | The Guardian | 42 million | 1 | Juneau, Alaska (AK) |
| 11 | The Wall Street Journal | 40 million | 1 | Charlottesville, Virginia (VA) |
| 12 | ABC News | 36 million | 5 | Columbia and Jefferson City, Missouri (MO) |
| 13 | BBC News | 35 million | 2 | Eureka, California (CA) |
| 14 | USA Today | 34 million | 10 | Wausau and Rhinelander, Wisconsin (WI) |
| 15 | Los Angeles Times | 32 million | 1 | Palm Springs, California (CA) |
Political affiliation plays a large role in determining each state's favored news sites. Blue states lean towards Google News and CNN, while red states overwhelmingly choose Fox News.
The Most Popular News Sites
Yahoo News is the most popular news website in America, bringing in a massive 175 million monthly visitors. In addition, they're the most searched for news site in 12 states—the highest of any website. The company's history has been a roller coaster ride and at different times Yahoo intended to acquire Google and Facebook. Both companies went on to be worth over $1 trillion each, while Yahoo shrank some 90% from when it was once worth $125 billion.
The New York Times has 60 million monthly visitors, but in recent years, has pivoted towards the coveted and trending paid subscription model. This decision is paying off well, as the site now has 6.1 million paid subscribers—more than any of its competitors. Consequently, the New York Times' share price hit a record high in December 2020.
HuffPost, and their audience of 110 million, were bought by BuzzFeed from Verizon in November of 2020. The two organizations have some history together, as BuzzFeed co-founder Jonah Peretti was also one of the early founders of HuffPost.
CNN is seeing a fall in ratings ever since Donald Trump left office. By some measures has witnessed a 36% decline in primetime viewers in the new year.
Google News experiences 125 million visitors a month, ranking second overall. That said, they stand tall relative to their competitors by overall visits to their main site. Here, Google hits 92.5 billion monthly visits, while Yahoo experiences a more modest 3.8 billion. Unlike legacy media news companies, Google has managed to increase their market share of U.S. advertising revenues, due to more ads going digital.
The Modern News Landscape
Overall, the modern news industry has been a tough landscape to operate in. Here are some of the reasons why:
First, the internet has removed barriers to where people obtain information, and revenue streams have been disrupted in the process. The advertising business model of news organizations is cutthroat to compete in, and there has been plenty of consolidation and layoffs.
Lastly, trust in traditional news and media organizations has been declining amongst Americans, from nearly 60% to 46% since 2019.

| Year | A lot of Trust (%) | Some Trust (%) | Very Little/ No Trust (%) |
| --- | --- | --- | --- |
| 1994 | 35 | 37 | 27 |
| 1996 | 36 | 39 | 24 |
| 1998 | 34 | 40 | 25 |
| 2000 | 36 | 40 | 23 |
| 2002 | 35 | 43 | 21 |
| 2004 | 30 | 40 | 29 |
| 2006 | 31 | 40 | 28 |
| 2008 | 24 | 43 | 31 |
| 2010 | 22 | 41 | 36 |
| 2012 | 21 | 39 | 38 |
| 2014 | 18 | 42 | 39 |
| 2016 | 21 | 38 | 40 |
| 2018 | 20 | 34 | 45 |
| 2020 | 18 | 33 | 49 |
To add to this, on a global basis, the U.S. ranks well below most major countries based on trust in news media.
Some organizations like The Washington Post and The New York Times have opted out of the advertising model, moving towards the direction of premium subscriptions. But only 20% of the Americans pay for their news, which could lead to stiff competition down the road.
The Future Of News
There are serious concerns about the future of news in the era of spreading misinformation. Up to 43% of Americans say the media are doing a very "poor/poor job" in supporting democracy. But despite this waning trust, 84% of Americans view news media as "critical" or "very important".
What will the future of media look like throughout the 21st century and how will this impact the most popular news sites of today?