Amazon's Biggest Acquisitions
Published in 2013, Brad Stone's book The Everything Store paints an ambitious and relentless portrait of Jeff Bezos, a man who is determined to create an online store that will someday be "everything to everyone".
As prescient as this characterization was at the time, the narrative is even more relevant now – and with Amazon's most recent acquisition of Whole Foods Market for $13.7 billion, it's clear that no market is safe from the sprawling Bezos Empire.
The Everything Store
Today's infographic comes to us from CB Insights and it shows how Amazon's strategy is unfolding, as well as which acquisitions are helping in the company's quest to become the fabled "everything" store.
While buying Zappos ($1.2B), Twitch ($970M), and Kiva Systems ($775M) were all essential to Amazon's strategy, the price paid for these companies is minuscule in comparison to the massive $13.7 billion acquisition of Whole Foods Market.
Amazon's Biggest Acquisitions
Here's how each of these acquisitions is helping to fuel Amazon's ambitions:
Whole Foods
Amazon's boldest move yet, buying Whole Foods signals Amazon's goal of becoming a transcendent brand that touches every aspect of daily life. Most people need to buy groceries every week – and that gives Amazon a new and more frequent window to interact with customers.
Zappos
Known for its obsessive customer service and company culture, Zappos was most likely bought by Amazon for its team.
Kiva Systems
Now re-branded as Amazon Robotics, this company specializes in manufacturing mobile robotic fulfillment systems for Amazon's array of warehouses.
Elemental Technologies
Amazon's AWS unit has integrated Elemental's unique mobile video technology into its cloud infrastructure services.
Lovefilm
Thought as the "Netflix of Europe", Lovefilm's streaming services were re-branded as Amazon Prime Instant Video in 2014.
Souq.com
Amazon bought this Dubai-based retailer to improve its footprint in the Middle East – and to prevent global competitors like Alibaba and Flipkart from making inroads in the market.
Quidsi
Bought by Amazon in 2011, Quidsi ran six shopping sites, including Diapers.com, Soap.com and Wag.com. After a brief stint at Amazon, Quidsi founder Marc Lore left to start Jet.com – which was sold to Walmart for $3.3 billion.
Audible
Owning the leader in audiobooks was a no-brainer for Amazon, and the Audible acquisition went down in 2008.
Annapurna Labs
This secretive Israeli semiconductor chip designer was snatched up by Amazon in 2015.
Twitch
Amazon bought Twitch, a video game live streaming company, in 2014 when the service was flush with 55 million subscribers. Today, Twitch.tv is the 40th most visited website worldwide, and is particularly known for its broadcasts of eSports competitions.
Charted: What are Retail Investors Interested in Buying in 2023?
What key themes and strategies are retail investors looking at for the rest of 2023? Preview: AI is a popular choice.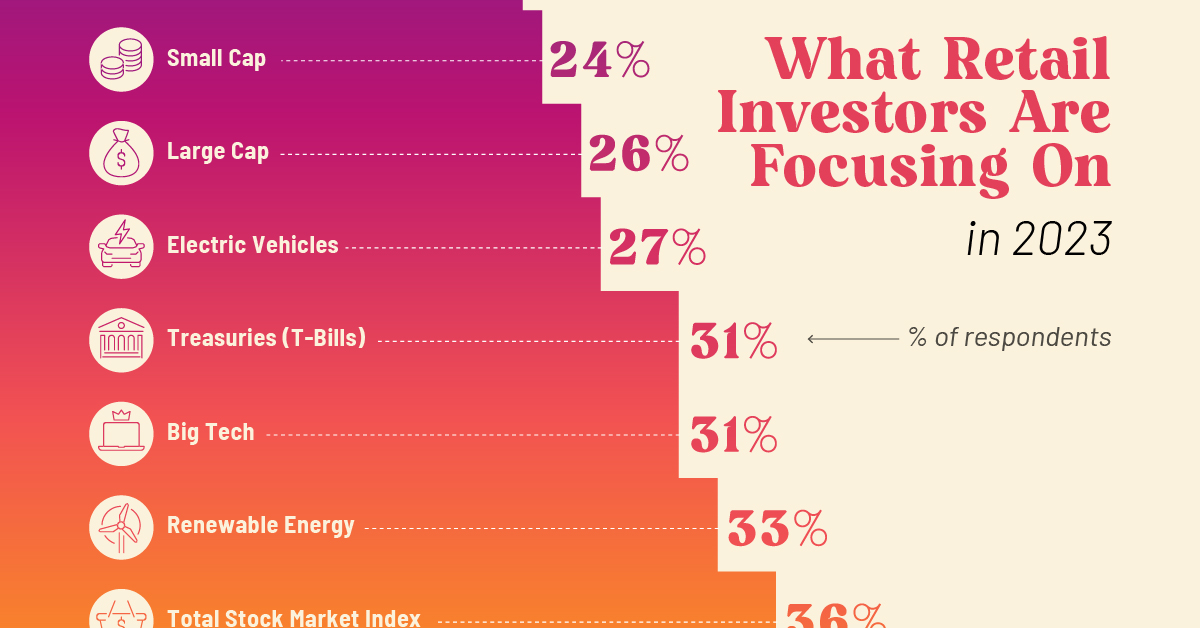 Charted: Retail Investors' Top Picks for 2023
U.S. retail investors, enticed by a brief pause in the interest rate cycle, came roaring back in the early summer. But what are their investment priorities for the second half of 2023?
We visualized the data from Public's 2023 Retail Investor Report, which surveyed 1,005 retail investors on their platform, asking "which investment strategy or themes are you interested in as part of your overall investment strategy?"
Survey respondents ticked all the options that applied to them, thus their response percentages do not sum to 100%.
Where Are Retail Investors Putting Their Money?
By far the most popular strategy for retail investors is dividend investing with 50% of the respondents selecting it as something they're interested in.
Dividends can help supplement incomes and come with tax benefits (especially for lower income investors or if the dividend is paid out into a tax-deferred account), and can be a popular choice during more inflationary times.
| Investment Strategy | Percent of Respondents |
| --- | --- |
| Dividend Investing | 50% |
| Artificial Intelligence | 36% |
| Total Stock Market Index | 36% |
| Renewable Energy | 33% |
| Big Tech | 31% |
| Treasuries (T-Bills) | 31% |
| Electric Vehicles | 27% |
| Large Cap | 26% |
| Small Cap | 24% |
| Emerging Markets | 23% |
| Real Estate | 23% |
| Gold & Precious Metals | 23% |
| Mid Cap | 19% |
| Inflation Protection | 13% |
| Commodities | 12% |
Meanwhile, the hype around AI hasn't faded, with 36% of the respondents saying they'd be interested in investing in the theme—including juggernaut chipmaker Nvidia. This is tied for second place with Total Stock Market Index investing.
Treasury Bills (30%) represent the safety anchoring of the portfolio but the ongoing climate crisis is also on investors' minds with Renewable Energy (33%) and EVs (27%) scoring fairly high on the interest list.
Commodities and Inflation-Protection stocks on the other hand have fallen out of favor.
Come on Barbie, Let's Go Party…
Another interesting takeaway pulled from the survey is how conversations about prevailing companies—or the buzz around them—are influencing trades. The platform found that public investors in Mattel increased 6.6 times after the success of the 'Barbie' movie.
Bud Light also saw a 1.5x increase in retail investors, despite receiving negative attention from their fans after the company did a beer promotion campaign with trans influencer Dylan Mulvaney.
Given the origin story of a large chunk of American retail investors revolves around GameStop and AMC, these insights aren't new, but they do reveal a persisting trend.