Visualized: A Breakdown of Amazon's Revenue Model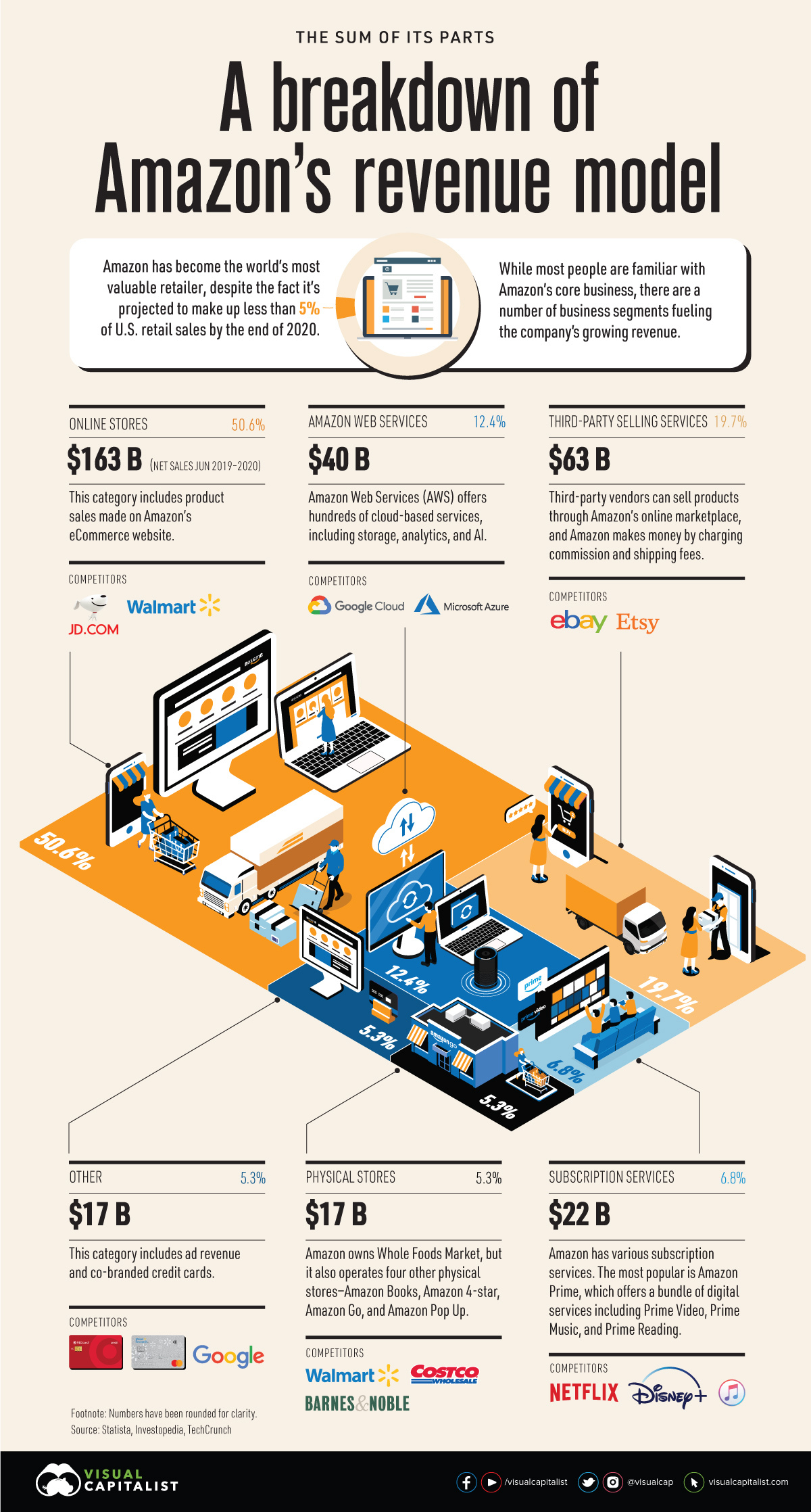 Visualized: A Breakdown of Amazon's Revenue Model
Amazon has evolved into more than just an online store. While ecommerce makes up a significant portion of the company's overall sales, its diverse revenue model generates billions through various business segments.
This visualization provides an overview of the different parts that make up Amazon, showing each business unit's net sales from June 2019 to 2020.
A Diverse Revenue Model
With a market cap of $1.7 trillion, Amazon is currently the most valuable retailer in the world. The company is expected to account for 4.6% of total U.S. retail sales by the end of 2020—but the tech giant is more than just a one-trick pony.
A key factor in the company's success is its diversification into other areas. Here's a breakdown of Amazon's revenue mix:

| Business Segment | Net Sales (June 2019 - 2020) |
| --- | --- |
| Online stores | $163 B |
| Third-party selling services | $63 B |
| Amazon Web Services | $40 B |
| Subscription services | $22 B |
| Physical stores | $17 B |
| Other | $17 B |
| Total Revenue | $322 billion |
While Amazon is truly more than an online store, it's worth noting that online sales account for a significant amount of the company's overall revenue mix. Over the period of June 2019 to 2020, product sales from Amazon's website generated $163 billion, which is more than the company's other business units combined.
A significant day for online sales is Prime Day, which has grown into a major shopping event comparable to Black Friday and Cyber Monday. In 2020, Prime Day is projected to generate almost $10 billion in global revenue.
While ecommerce makes up a large portion of Amazon's overall sales, there are many other segments that each generate billions in revenue to create immense value for the tech giant. For instance, enabling third-party sellers on the platform is the company's second-largest unit in terms of net sales, racking up $63 billion over the course of a year.
This segment has shown tremendous growth over the last two decades. In 2018, it accounted for 58% of gross merchandise sales on Amazon, compared to just 3% in 2000. While third-party sellers technically outsold Amazon itself, the company still makes money through commission and shipping fees.
Amazon is Not Alone: Diversification is Common
Amazon isn't the only major tech company to benefit from diverse revenue streams.
Other tech giants generate revenue through a range of products, services, and applications—for instance, while a healthy portion of Apple's revenue comes from iPhone sales, the company captures 17% of revenue from a mix of services, ranging from Apple Pay to Apple Music. Microsoft is another example of this, considering it owns a wide range of hardware, cloud services, and platforms.
While there are several reasons to build a diverse business portfolio, a key benefit that comes from diversification is having a buffer against market crashes. This has proven to be particularly important in 2020, given the economic devastation caused by the global pandemic.
The Sum of its Parts
Despite varying levels of sales, each business unit brings unique value to Amazon.
For instance, while Amazon Web Services (AWS) falls behind online sales and third-party sellers in net sales, it's one of the most profitable segments of the company. In the fourth quarter of 2019, more than half of Amazon's operating income came from AWS.
In short, when looking at the many segments of Amazon, one thing is clear—the company is truly the sum of its parts.
Charted: What are Retail Investors Interested in Buying in 2023?
What key themes and strategies are retail investors looking at for the rest of 2023? Preview: AI is a popular choice.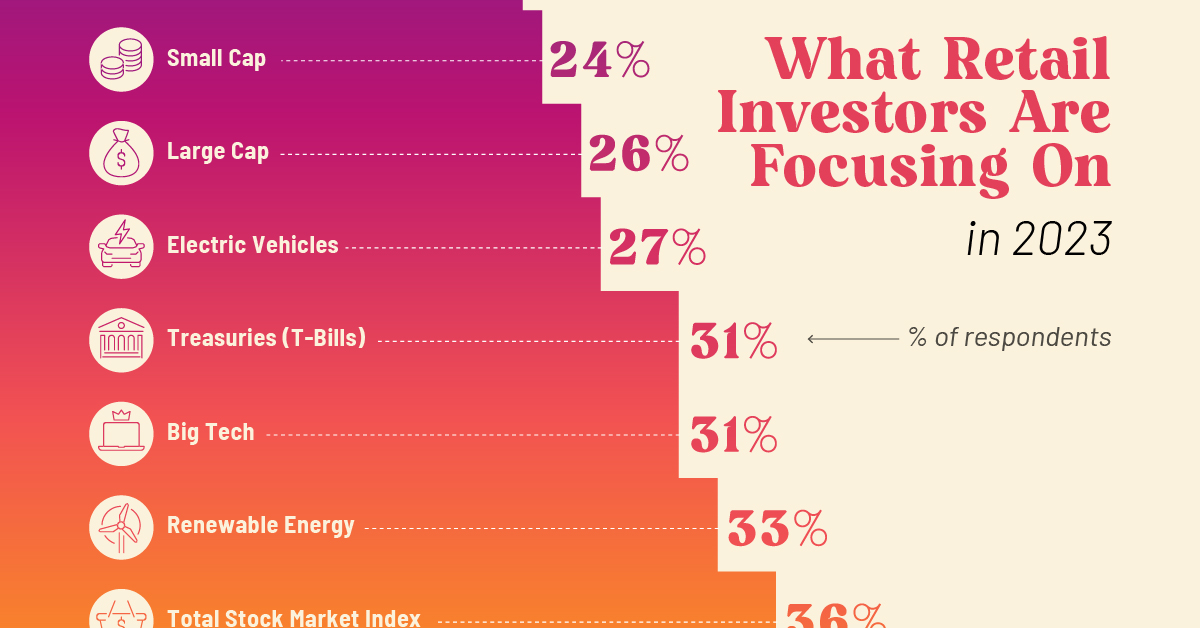 Charted: Retail Investors' Top Picks for 2023
U.S. retail investors, enticed by a brief pause in the interest rate cycle, came roaring back in the early summer. But what are their investment priorities for the second half of 2023?
We visualized the data from Public's 2023 Retail Investor Report, which surveyed 1,005 retail investors on their platform, asking "which investment strategy or themes are you interested in as part of your overall investment strategy?"
Survey respondents ticked all the options that applied to them, thus their response percentages do not sum to 100%.
Where Are Retail Investors Putting Their Money?
By far the most popular strategy for retail investors is dividend investing with 50% of the respondents selecting it as something they're interested in.
Dividends can help supplement incomes and come with tax benefits (especially for lower income investors or if the dividend is paid out into a tax-deferred account), and can be a popular choice during more inflationary times.
| Investment Strategy | Percent of Respondents |
| --- | --- |
| Dividend Investing | 50% |
| Artificial Intelligence | 36% |
| Total Stock Market Index | 36% |
| Renewable Energy | 33% |
| Big Tech | 31% |
| Treasuries (T-Bills) | 31% |
| Electric Vehicles | 27% |
| Large Cap | 26% |
| Small Cap | 24% |
| Emerging Markets | 23% |
| Real Estate | 23% |
| Gold & Precious Metals | 23% |
| Mid Cap | 19% |
| Inflation Protection | 13% |
| Commodities | 12% |
Meanwhile, the hype around AI hasn't faded, with 36% of the respondents saying they'd be interested in investing in the theme—including juggernaut chipmaker Nvidia. This is tied for second place with Total Stock Market Index investing.
Treasury Bills (30%) represent the safety anchoring of the portfolio but the ongoing climate crisis is also on investors' minds with Renewable Energy (33%) and EVs (27%) scoring fairly high on the interest list.
Commodities and Inflation-Protection stocks on the other hand have fallen out of favor.
Come on Barbie, Let's Go Party…
Another interesting takeaway pulled from the survey is how conversations about prevailing companies—or the buzz around them—are influencing trades. The platform found that public investors in Mattel increased 6.6 times after the success of the 'Barbie' movie.
Bud Light also saw a 1.5x increase in retail investors, despite receiving negative attention from their fans after the company did a beer promotion campaign with trans influencer Dylan Mulvaney.
Given the origin story of a large chunk of American retail investors revolves around GameStop and AMC, these insights aren't new, but they do reveal a persisting trend.