The Advertising Revolution: How Native Ads Have Changed the Game
The Advertising Revolution
Sponsored by: Market One Media Group
Many decades ago, the world was much simpler for advertisers.
Buying a ½ page newspaper ad or a 30-second television spot reached thousands of people, and consumers weren't oversaturated with ads.
Today, we are bombarded with over 5,000 brand exposures each day. Of those, 362 are advertisements with only 12 of them "making an impression" on us.
Here's a breakdown of average exposure per day:
Average number of advertisement and brand exposures per day per person: 5,000+
Average number of "ads only" exposures per day: 362
Average number of "ads only" noted per day: 153
Average number of "ads only" that we have some awareness of per day: 86
Average number of "ads only" that made an impression (engagement): 12
With this oversaturation of the traditional ad market, the concept of "native ads" has emerged.
Native Ads
Native advertising is paid content that is created to fit the same format as a publisher's organic content. In other words, it shows up to regular viewers as "sponsored" or "paid" posts in the same streams as regular content.
Native ad spending has exploded, and from 2013 to 2018, the industry is expected to quadruple in size.
There are compelling statistics for both the audience and advertisers on native ads:
Audience:
70% of individuals want to learn about products or content through content rather than traditional advertising.
32% of consumers said, when given a choice, that they would rather share a native ad with friends and family vs 19% for banner ads.
57% of publishers have a dedicated editorial team to create content readers will care about, leaving publishers in full control, not brands, which ultimately benefits readers.
Advertisers:
People view native ads 53% more than banner ads.
Native advertising generates up to an 82% increase in brand lift.
Native ads that include rich media boost conversion rates by up to 60%.
Purchase intent is 53% higher with native ads (vs. 34%)
49x higher clickthrough rate, 54% lower cost-per-click
New Media
Native ads are also being used by many of the "new media" and adtech companies that have had very successful fundraising rounds:
Vice
Latest raise: $250 million (2014)
Led by: A+E Networks
Valuation: $2.5 billion
AppNexus
Latest raise: $62.7 million (2015)
Valuation: $1.2 billion
Vox
Latest raise: $200 million (2015)
Led by: NBC Universal
Valuation: $850 million
Buzzfeed
Latest raise: $200 million (2015)
Led by: NBC Universal
Valuation: $1.5 billion
The Future of Native Advertising?
Right now 41% of brands use native advertising as part of their marketing mix, but the shift is only beginning. Here's what experts think the future of native holds:
Tessa Gould, Director of Native Ads Products, The Huffington Post
"Next for native is being able to use other ad technologies to make native smarter. At the moment everyone is creating content and talking about social actions. But how do you go about retargeting the people who view the native ad elsewhere with banner ads and actually converting them into customers?"
Audra Martin, VP of Advertising, The Economist Group
"As publishers start to educate brands more and agencies more, the content will just get better. Then distribution, in terms of getting more sophisticated, not in terms of fooling readers but making it relevant to readers in the right place at the right time."
Steve Edwards, Digital Sales Director, Hearst UK
"My main thing is about control. Native will continue to develop along the lines it has. Increasingly it's about publishers taking control of the message and advertisers and brands coming along with us. Getting distribution right and getting measurement metrics right, how we actually measure success. How we can create work that is as good as the editorial that surrounds it. Take the logo off it, does it still work? That's really interesting for us, and we've still got a way to get there."
Sebastian Tomich, VP of Advertising, The New York Times
"Brands are jumping into native because they feel like they should be."
Visualizing Population Density Patterns in Six Countries
These maps show the population density of several countries, using 3D spikes to denote where more people live.

Creator Program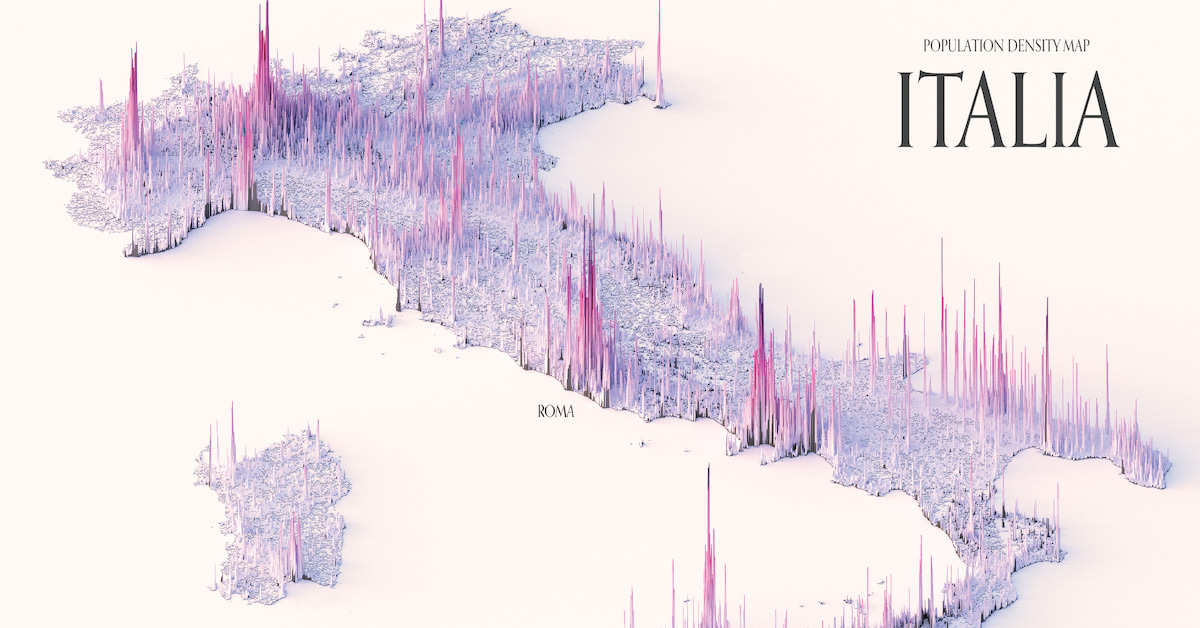 As of 2022, Earth has 8 billion humans. By 2050, the population is projected to grow to 10 billion.
In the last 100 years, the global population more than quadrupled. But none of this growth has been evenly spread out, including within countries.
This series of 3D maps from Terence Teo, an associate professor at Seton Hall University, renders the population density of six countries using open-source data from Kontur Population. He used popular programming language R and a path-tracing package, Rayshader, to create the maps.
France and Germany: Population Density Spikes and Troughs
Let's take a look at how the population spreads out in different countries around the world. Click the images to explore higher-resolution versions.
France is the world's 7th largest economy and second-most-populous country in the EU with 65 million people. But a staggering one-fifth of the French population lives in Paris and its surrounding metro—the most populous urban area in Europe.
Many residents in the Paris metropolitan area are employed in the service sector, which makes up one-third of France's $2.78 trillion gross domestic product.
Unlike France, Germany has many dense cities and regions, with Berlin, Munich, Stuttgart, and Cologne all having over a million residents. Berlin is the most populated at 3.5 million residents in the city proper, and 6 million in the wider urban area.
That said, the relatively recent reunification of West and East Germany in 1991 meant that post-WWII growth was mostly concentrated in West Germany (and West Berlin).
Italy and Chile: Coast to Coast
In Italy, another phenomenon affects population density and urban development—a sprawling coastline.
Despite having a large population of 59 million and large metropolitan areas throughout, Italy's population spikes are closer to the water.
The port cities of Genoa, Napoli, and Palermo all have large spikes relative to the rest of the country, as does the capital, Rome. Despite its city center located 15 miles inland from the sea, it extends to the shore through the district of Ostia, where the ancient port of Rome existed.
Meanwhile in Chile, stuck between the Andes to the east and the Pacific Ocean to the west, population spikes corroborate with its many port towns and cities.
However, the country is more concentrated than Italy, with 40% of its residents congregating around the capital of Santiago.
Turkey and Canada: Marred by Mountains and Climes
Though Chile has difficulties with terrain, it is relatively consistent. Other countries have to attempt to settle many different climes—regions defined by their climates.
Mountains to the south and east, a large, semi-arid plateau, and even a small desert leave few centers of urban growth in Türkiye.
Predictably, further west, as the elevation comes down to the Aegean and Mediterranean Seas, population spikes begin to heighten. The largest of course is the economic and cultural hub of Istanbul, though the capital Ankara is also prominent with more than 5 million residents.
In Canada, the Rocky Mountains to the west and freezing cold temperatures in the center and north account for the large country's relative emptiness.
Though population spikes in Western Canada are growing rapidly, highly populous urban centers are noticeably concentrated along the St. Lawrence River, with the Greater Toronto Area accounting for more than one-sixth of the country's 39 million people.
Increasing Urbanization
According to the World Bank, more than half of the world's population currently lives in cities, and that trend is only growing.
By 2050, 7 out of 10 people are projected to live in cities. This congregation makes cities a beehive of productivity and innovation—with more than 80% of the world's GDP being generated at these population centers.
It's in this context that mapping and studying urban development becomes all the more important, particularly as policymakers try their hand at sustainable urban planning.
As Teo puts it:
"By showing where people are (and are not), they show us where political and economic power is concentrated, and perhaps where and who our governments represent."