A Timeline of Failed Tech Predictions
A Timeline of Failed Tech Predictions
In the realm of technology, predictions about the future are famously hard to make.
Technology evolves at a logarithmic pace. Even small incremental changes over time can compound to create an entirely different business reality in the future. Entire industries can be created or changed out of nowhere, as companies go from "zero to one", as Peter Thiel might say.
Today's infographic celebrates those that were in positions of strength that were brave enough (or foolish enough) to make bold predictions about the future of technology. Failed predictions are made from a variety of people including economist Paul Krugman, the President of IBM, the co-founder of Youtube, a Roman Senator, and the co-founder of Warner Brothers.
We do note, however, that this infographic is missing our favorite failed tech prediction of all time made by Ken Olsen, the founder of Digital Equipment Corp., in a 1977 speech to the World Future Society:
There is no reason for any individual to have a computer in his home.
It's important to realize that this was made after the first personal computers were released. It was in 1975 that the original personal computer came out, and Apple released its Apple I computer in 1976. The following year, Apple released the now famous Apple II and Commodore put out the PET, a precursor to the Commodore 64.
The Apple II product line, by the way, sold close to six million computers by the time it was discontinued. Today, even the amount of "things" connected to the internet is predicted to reach 50 billion by 2020.
Original graphic by: SSLs
Which Companies Make Up the "Magnificent Seven" Stocks?
FAANG is dead… meet the 'Magnificent Seven' stocks that now make up over 25% of the S&P 500.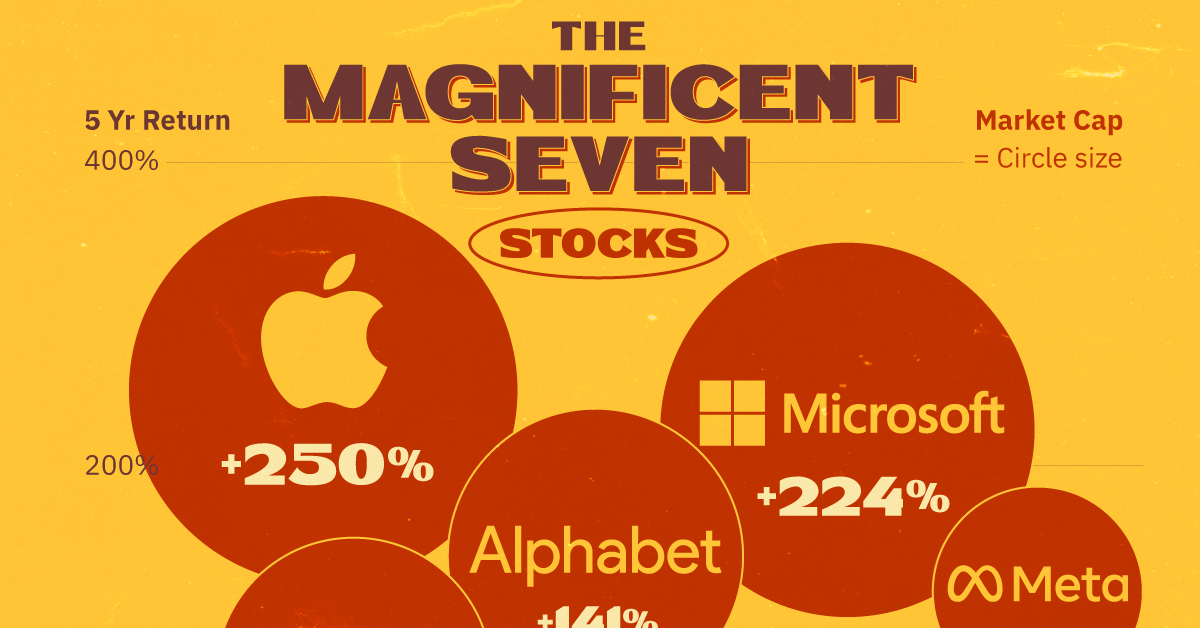 Which Companies Make Up the "Magnificent Seven" Stocks?
In 2013 CNBC analyst Jim Cramer popularized "FANG," comprised of Facebook (now Meta), Amazon, Netflix, and Google (now Alphabet), as a shorthand for the best performing technology stocks on the market. Apple, added in 2017, made it FAANG.
However, over the last year a new moniker given by Bank of America analyst Michael Hartnett highlights the most valuable and popularly-owned companies on the American stock market: the "Magnificent Seven" stocks.
We visualize the Magnificent Seven's market capitalization and 5-year stock performance as of November 2023 using data from Google Finance and CompaniesMarketCap.
The Magnificent Seven Stocks by Market Cap and 5-Year Return
The Magnificent Seven stocks are megacap companies focused and capitalizing on tech growth trends including AI, cloud computing, and cutting-edge hardware and software.
Four of the five FAANG stocks retain their place amongst the Magnificent Seven, with newcomers Nvidia, Tesla, and Microsoft joining the group. Following a poor 2022 performance and having more difficulty capitalizing on tech trends, Netflix is the sole FAANG company not included.
Here's a look at the companies ranked by their market capitalization on November 6, 2023, alongside their 5-year stock performance:
| Rank | Company | Market Cap | 5 Year Performance |
| --- | --- | --- | --- |
| 1 | Apple | $2.8 trillion | +250% |
| 2 | Microsoft | $2.6 trillion | +224% |
| 3 | Alphabet | $1.6 trillion | +141% |
| 4 | Amazon | $1.4 trillion | +63% |
| 5 | Nvidia | $1.1 trillion | +783% |
| 6 | Meta | $811 billion | +118% |
| 7 | Tesla | $690 billion | +829% |
The Magnificent Seven make up more than one-quarter of the S&P 500 and more than half of the Nasdaq 100.
Meanwhile, five of the seven are part of the rare trillion dollar club, with Nvidia being the most recent entry.
A common theme among the Magnificent Seven is their ability to collect vast amounts of customer data, create cutting-edge hardware and software, as well as harness the power of AI.
However, if Netflix gets back on track—recently announcing its new ad-supported membership tier has 15 million subscribers—we could soon see a "Magnificent Eight."