Mapped: The Literal Translation of Every Country's Name
View the full-size version of the infographic
Mapped: The Literal Translation of Every Country's Name
View the full-size version of the infographic by clicking here
These days, planes, trains, and automobiles can deliver us to any destination we can name. But how often can we say we know the origins of those names?
Today's map comes to us courtesy of Credit Card Compare, and it visualizes the literal translations of every country's name, arranged by continent. Of course, naming conventions are always layered and open to interpretation — especially when they've gone through multiple levels of translation — but it's still an interesting exercise to trace where they are thought to come from.
North America
Starting with the Great White North, Canada's name is derived from the Indigenous Huron people. Kanata means village, or settlement, in the Iroquoian language. Meanwhile, The United States of America was named in honor of the Italian explorer Amerigo Vespucci. Vespucci is credited with correcting Columbus' error, in which the latter mistook the New World for the East Indies.
Finally, Mexico comes from the simplified Spanish translation for the Aztec capital, Metztlixihtlico, which is said to mean "place at the center of the moon". The word is a blend of mētztli for 'moon', xictli for 'navel' or 'centre', and the suffix -co for 'place'.
South America
Brazil's name is actually shortened from Terra do Brasil (land of Brazil). The brazilwood tree, or pau-brasil, was valued highly in the early 16th century. It was used to produce red dyes for the European textile industry — hence the "red like an ember" moniker.
Uruguay has a couple of meanings attached to it, the first being "Bird's Tail" in reference to the uru, a type of quail that lived by the river. Another association is the uruguä, a species of mussel, for which the country is named "River of Shellfish". It's interesting to note the relationship to water and rivers, which is reflected in the similarly-themed naming history across the continent.
Venezuela is named for its resemblance to the Italian city of Venice, thus gaining the title of "Little Venice". Another area also named after European cities? Colombia, which was originally named "New Granada" in a hat tip to the capital of the Spanish province.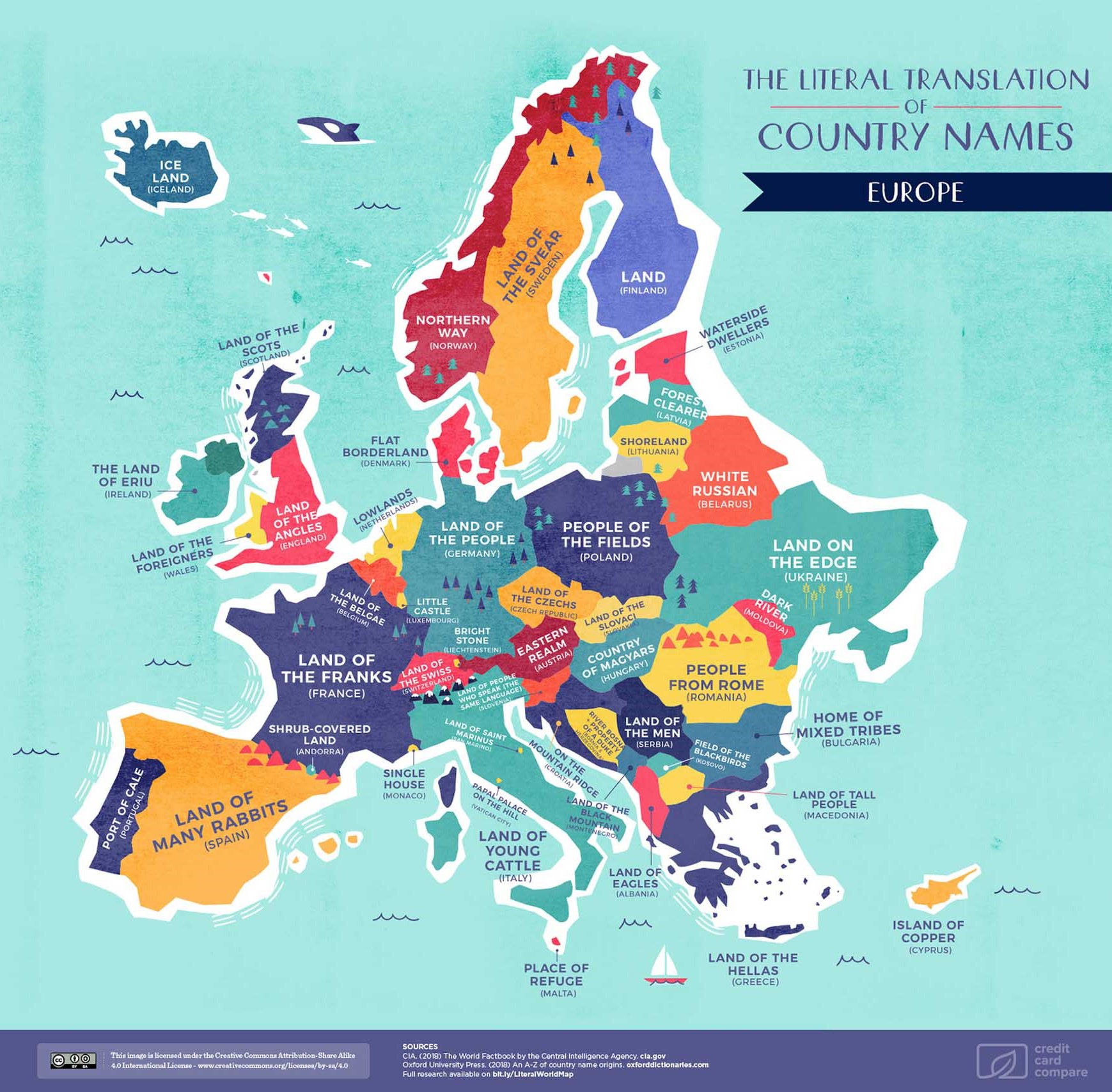 Europe
The "Land of the Franks", France, gets its namesake from the Latin word francia. This dates back even further to the Old German word franka, meaning brave, or fierce. There's also a political angle to the name: King Louis V famously proclaimed that "France signifies freedom".
The exact origin for Germany is unknown, possibly because it was composed of various tribes and states before 1871. It's known as Deutschland (for "of the people") in German, Alemania in Spanish, Niemcy in Polish, and Saksa in Finnish. Another theory ties it with the Celtic word 'gair' for neighbor.
By the Mediterranean, the boot-shaped country of Italy gets its name from the symbol of the Southern Italic Vitali tribe: the bull. The name is connected to the Latin vitulus for 'calf' or 'sons of the bull'. Another interpretation is the phrase diovi-telia, which translates to "land of the light".
Asia
China's English name comes from the Qin dynasty, the first unified and multinational state in Chinese history. Although the dynasty only existed between 221-207 BC, it had a profound and lasting influence on the country. A fascinating tidbit is that China's name in fact borrows from the Persian language, and even Sanskrit.
India's name comes from Greek, but also the Sanskrit Síndhu, where both refer to the Indus River. Bharat is another official and historically significant name for the Republic of India, and Hindustan is an alternative name for the region, but its use depends on context and language.
Oceania
The Land Down Under of Australia is fairly geographical in its name, drawn from the Latin australis for "southern". The explorer Matthew Flinders popularized the name as we know it in 1804, and "Australia" replaced "New Holland" as the official continent.
The Māori name for New Zealand is Aotearoa, which is most commonly defined as "the long white cloud" — a reference to early Polynesian navigators discovering the country by relying on cloud formations.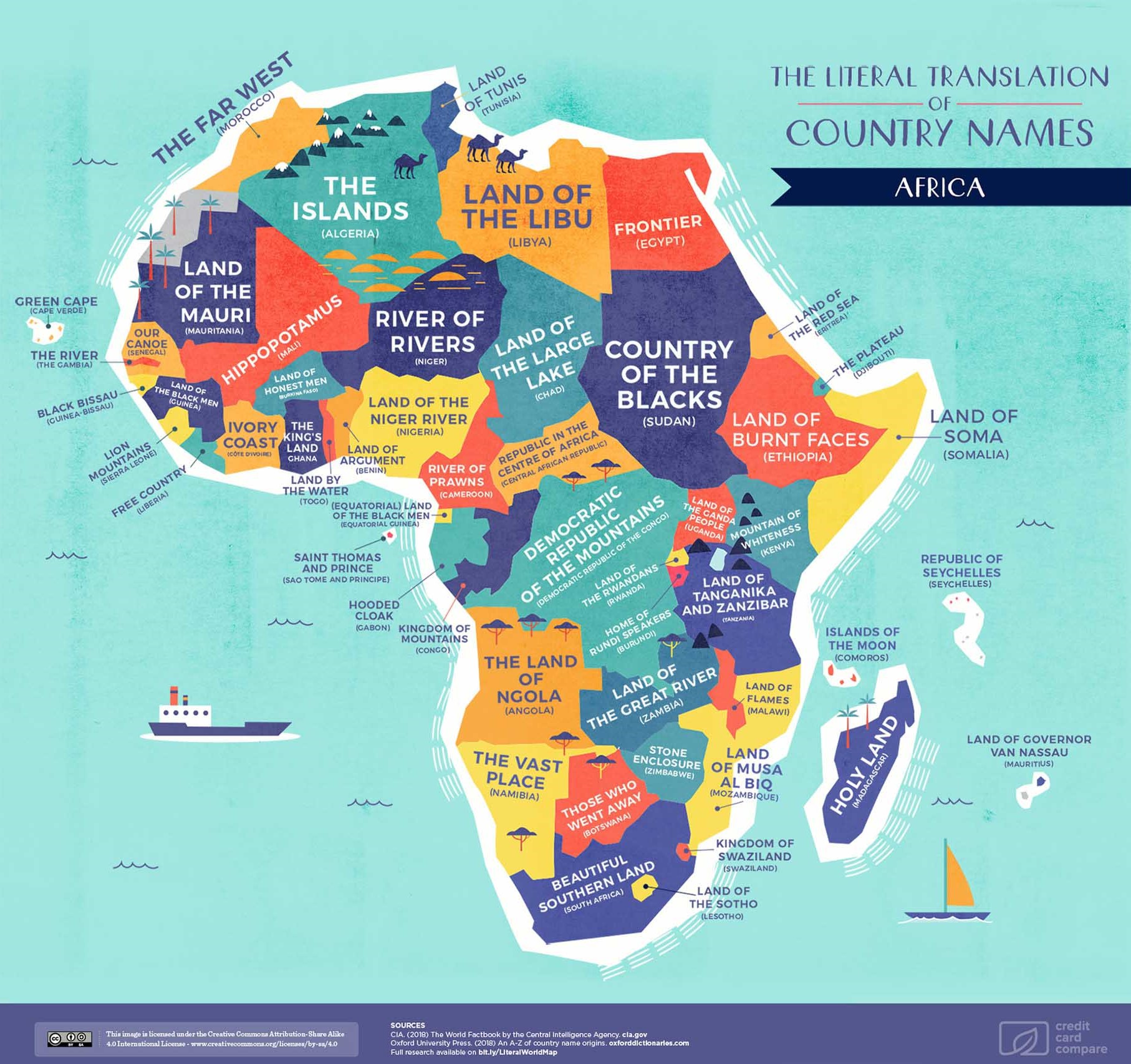 Africa
The name Egypt comes from the Ancient Greek Aiguptos and Latin Ægyptus, and is also derived from hūt-kā-ptah (Temple of the Soul of Ptah). The ancient Egyptian name for the country was km.t (pronounced "kemet"), meaning "black land" likely for the fertile soils of the Nile valley. Today, Egypt's official name is Jumhūrīyat Miṣr al-ʻArabīyah, or "Arab Republic of Egypt".
South Africa is aptly named for its geographical location. Interestingly, however, the country has different names in the country's 11 official languages, including English, Afrikaans, the Venda language, the Tsonga language, and the Nguni and Sotho languages.
What rich histories can be uncovered from your country's name?
Note: Where some of the country names on the individual maps vary from the translations, please consult the original research document which include the English translations and explanations behind the etymology.
10 Travel Destinations for Post-Pandemic Life
Excited to get back to travelling the world? This infographic highlights the 10 most popular tourist destinations.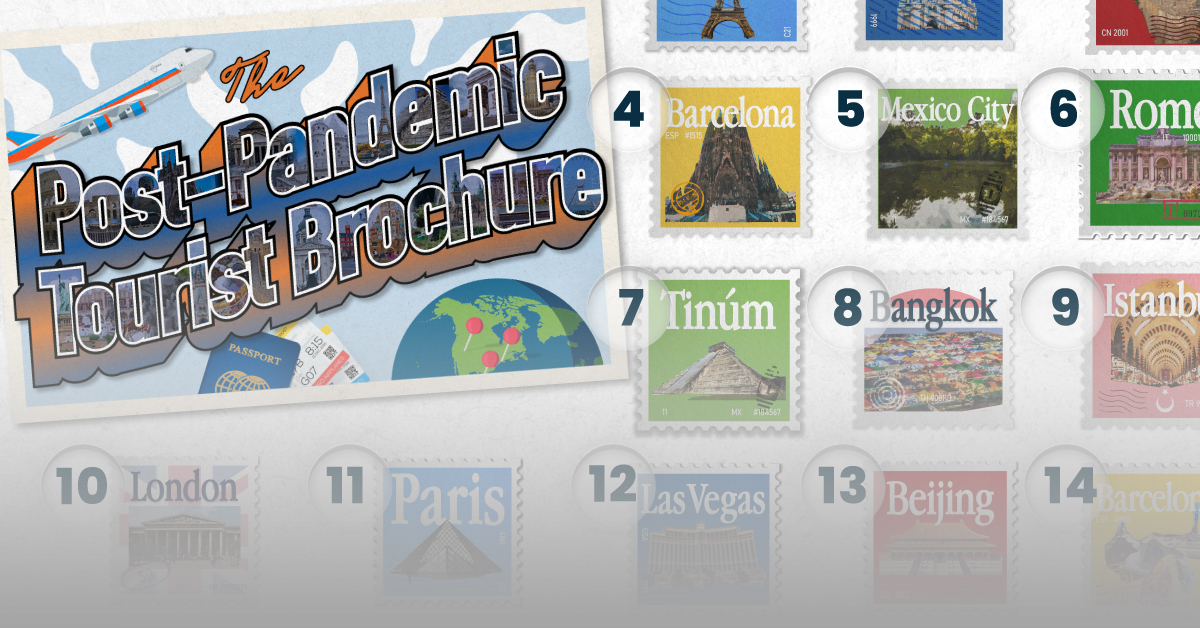 10 Travel Destinations for Post-Pandemic Life
On March 11, 2020, the World Health Organization formally classified the COVID-19 outbreak as a pandemic. The resulting travel bans decimated the tourism industry, and international air travel initially fell by as much as 98%.
Almost two years later, travel is finally back on the table, though there are many restrictions to consider. Regardless, a survey conducted in September 2021 found that, as things revert to normalcy, 82% of Americans are looking forward to international travel more than anything else.
To give inspiration for your next vacation (whenever that may be), this infographic lists the 10 most visited countries in 2019, as well as three of their top attractions according to Google Maps.
Bon Voyage
Here were the 10 most popular travel destinations in 2019, measured by their number of international arrivals.
| Country | Number of international arrivals in 2019 (millions) |
| --- | --- |
| 🇫🇷 France* | 90.0 |
| 🇪🇸 Spain | 83.5 |
| 🇺🇸 U.S. | 79.3 |
| 🇨🇳 China | 65.7 |
| 🇮🇹 Italy | 64.5 |
| 🇹🇷 Turkey | 51.2 |
| 🇲🇽 Mexico | 45.0 |
| 🇹🇭 Thailand | 39.8 |
| 🇩🇪 Germany | 39.6 |
| 🇬🇧 United Kingdom | 39.4 |
*Estimate | Source: World Bank
France was the most popular travel destination by a significant margin, and it's easy to see why. The country is home to many of the world's most renowned sights, including the Arc de Triomphe and Louvre Museum.
The Arc de Triomphe was built in the early 1800s, and honors those who died in the French Revolutionary and Napoleonic Wars. In 1944, Allied soldiers marched through the monument after Paris was liberated from the Nazis.
The Louvre Museum, on the other hand, is often recognized by its giant glass pyramid. The museum houses over 480,000 works of art, including Leonardo da Vinci's Mona Lisa.
Art isn't the only thing that France has to offer. The country has a reputation for culinary excellence, and is home to 632 Michelin-starred restaurants, the most out of any country. Japan comes in at second, with 413.
While You're There…
After seeing the sights in Paris, you may want to consider a visit to Spain. The country is the southern neighbor of France and is known for its beautiful villages and beaches.
One of its most impressive sights is the Sagrada Familia, a massive 440,000 square feet church which began construction in 1882, and is still being worked on today (139 years in the making). The video below shows the structure's striking evolution.
At a height of 172 meters, the Sagrada Familia is approximately 52 stories tall.
Another popular spot is Ibiza, an island off the coast of Spain that is famous for its robust nightlife scene. The island is frequently mentioned in pop culture—Netflix released an adventure/romance movie titled Ibiza in 2018, and the remix of Mike Posner's song I Took a Pill in Ibiza has over 1.4 billion views on YouTube.
Beaches Galore
If you're looking for something outside of Europe, consider Mexico or Thailand, which are the 7th and 8th most popular travel destinations. Both offer hot weather and an abundance of white sand beaches.
If you need even more convincing, check out these links:
Expect Turbulence
Under normal circumstances, hundreds of billions of dollars are spent each year by international tourists. According to the World Travel & Tourism Council (WTCC), this spending accounted for an impressive 10.4% of global GDP in 2019.
Travel restrictions introduced in 2020 dealt a serious blow to the industry, reducing its share of global GDP to 5.5%, and wiping out an estimated 62 million jobs. While the WTCC believes these jobs could return by 2022, the emerging Omicron variant has already prompted many countries to tighten restrictions once again.
To avoid headaches in the future, make sure you fully understand the rules and restrictions of where you're heading.
Which Values Children Should Be Encouraged to Learn, By Country
Which qualities do people think are most important for children to learn? The answer differs from country to country.

Creator Program
Many of the values we prioritize as adults were instilled in us during our childhood days.
They're called our formative years for a reason—from when we're born up until we're about eight years old, our brains are easily molded and remain highly sensitive to external influences and environments. But depending on where you grew up, you may have been exposed to different values during your childhood compared to someone from another place.
These visualizations by Anders Sundell illustrate the most important values people think children should learn at home, across more than 80 different countries.
Methodology
Sundell used data from the World Values Survey, an international survey that interviews hundreds of thousands of participants from across the globe. Respondents were asked to pick up to five qualities they believe are the most desirable for children to have:
Good manners
Independence
Hard work
Feeling of responsibility
Imagination
Tolerance and respect for other people
Thrift, saving money
Determination and perseverance
Religious faith
Unselfishness
Obedience
Sundell took the survey data and calculated the proportion of people in each country that selected each quality. From there, he took the top qualities and created three separate plot graphs to show the contrast between them.
Let's look at the importance that countries placed on different values, including (1) independence and obedience, (2) unselfishness and religious faith, and (3) hard work and imagination.
1. Independence vs Obedience
Nordic countries value independence greatly, and find obedience to be a less important quality to instill in children.
View the full-size infographic
Other available data also supports that adults in Nordic countries value independence. According to Eurostat, the most common age to leave home in Sweden is between 17 and 18—nearly a decade sooner than the average age across the EU (26 years old).
Denmark's average age to leave home is also below the European average, at 21 years old.
On the other end of the spectrum, countries like Iraq and Egypt believe obedience is much more important for children to learn.
2. Unselfishness vs Religious Faith
Bangladesh, Egypt, and Jordan all place a strong emphasis on faith, and fall on the far right of this graph.
View the full-size infographic
Islam is a strong influence in all three of these countries. In Bangladesh and Jordan, it's the official state religion. And while Egypt is a secular country, a majority of citizens identify as Muslim—about 90% of the population.
Interestingly, places like the U.S. and Hong Kong fall right in the between, placing relatively equal importance on religion and unselfishness.
3. Hard Work vs Imagination
Left-leaning Nordic countries like Sweden, Norway, Denmark, and Finland think imagination is more important for children to learn than hard work.
View the full-size infographic
Interestingly, Japan also scored high for imagination, seeing it was a more important value to teach children than hard work. This is despite the fact that the country has an international reputation for being a hardworking country, where even taking an extended vacation can be frowned upon. Then again, Japan has a reputation for producing wildly creative works of art that are popular internationally (anime, for instance).
As expected, countries and cultures contain multitudes, and can often seem paradoxical and complex to those who try to codify them.
What qualities do you think are most important, and what countries surprised you with their placements?