50 Years of Gaming History, by Revenue Stream (1970-2020)
Click here to view the full version of this graphic
50 Years of Gaming History, by Revenue Stream (1970-2020)
View a more detailed version of the above by clicking here
Every year it feels like the gaming industry sees the same stories—record sales, unfathomable market reach, and questions of how much higher the market can go.
We're already far past the point of gaming being the biggest earning media sector, with an estimated $165 billion revenue generated in 2020.
But as our graphic above helps illustrate, it's important to break down shifting growth within the market. Research from Pelham Smithers shows that while the tidal wave of gaming has only continued to swell, the driving factors have shifted over the course of gaming history.
1970–1983: The Pre-Crash Era
At first, there was Atari.
Early prototypes of video games were developed in labs in the 1960s, but it was Atari's release of Pong in 1972 that helped to kickstart the industry.
The arcade table-tennis game was a sensation, drawing in consumers eager to play and companies that started to produce their own knock-off versions. Likewise, it was Atari that sold a home console version of Pong in 1975, and eventually its own Atari 2600 home console in 1977, which would become the first console to sell more than a million units.
In short order, the arcade market began to plateau. After dwindling due to a glut of Pong clones, the release of Space Invaders in 1978 reinvigorated the market.
Arcade machines started to be installed everywhere, and new franchises like Pac-Man and Donkey Kong drove further growth. By 1982, arcades were already generating more money than both the pop music industry and the box office.
1985–2000: The Tech Advancement Race
Unfortunately, the gaming industry grew too quickly to maintain.
Eager to capitalize on a growing home console market, Atari licensed extremely high budget ports of Pac-Man and a game adaptation of E.T. the Extra Terrestrial. They were rushed to market, released in poor quality, and cost the company millions in returns and more in brand damage.
As other companies also looked to capitalize on the market, many other poor attempts at games and consoles caused a downturn across the industry. At the same time, personal computers were becoming the new flavor of gaming, especially with the release of the Commodore 64 in 1982.
It was a sign of what was to define this era of gaming history: a technological race. In the coming years, Nintendo would release the Nintendo Entertainment System (NES) home console in 1985 (released in Japan as the Famicom), prioritizing high quality games and consistent marketing to recapture the wary market.
On the backs of games like Duck Hunt, Excitebike, and the introduction of Mario in Super Mario Bros, the massive success of the NES revived the console market.
Estimated Total Console Sales by Manufacturer (1970-2020)
| Manufacturer | Home Console sales | Handheld Console Sales | Total Sales |
| --- | --- | --- | --- |
| Nintendo | 318 M | 430 M | 754 M |
| Sony | 445 M | 90 M | 535 M |
| Microsoft | 149 M | - | 149 M |
| Sega | 64-67 M | 14 M | 81 M |
| Atari | 31 M | 1 M | 32 M |
| Hudson Soft/NEC | 10 M | - | 10 M |
| Bandai | - | 3.5 M | 3.5 M |
Source: Wikipedia
Nintendo looked to continue its dominance in the field, with the release of the Game Boy handheld and the Super Nintendo Entertainment System. At the same time, other competitors stepped in to beat them at their own game.
In 1988, arcade company Sega entered the fray with the Sega Mega Drive console (released as the Genesis in North America) and then later the Game Gear handheld, putting its marketing emphasis on processing power.
Electronics maker Sony released the PlayStation in 1994, which used CD-ROMs instead of cartridges to enhance storage capacity for individual games. It became the first console in history to sell more than 100 million units, and the focus on software formats would carry on with the PlayStation 2 (DVDs) and PlayStation 3 (Blu-rays).
Even Microsoft recognized the importance of gaming on PCs and developed the DirectX API to assist in game programming. That "X" branding would make its way to the company's entry into the console market, the Xbox.
2001–Present: The Online Boom
It was the rise of the internet and mobile, however, that grew the gaming industry from tens of billions to hundreds of billions in revenue.
A primer was the viability of subscription and freemium services. In 2001, Microsoft launched the Xbox Live online gaming platform for a monthly subscription fee, giving players access to multiplayer matchmaking and voice chat services, quickly becoming a must-have for consumers.
Meanwhile on PCs, Blizzard was tapping into the Massive Multiplayer Online (MMO) subscription market with the 2004 release of World of Warcraft, which saw a peak of more than 14 million monthly paying subscribers.
All the while, companies saw a future in mobile gaming that they were struggling to tap into. Nintendo continued to hold onto the handheld market with updated Game Boy consoles, and Nokia and BlackBerry tried their hands at integrating game apps into their phones.
But it was Apple's iPhone that solidified the transition of gaming to a mobile platform. The company's release of the App Store for its smartphones (followed closely by Google's own store for Android devices) paved the way for app developers to create free, paid, and pay-per-feature games catered to a mass market.
Now, everyone has their eyes on that growing $85 billion mobile slice of the gaming market, and game companies are starting to heavily consolidate.
Major Gaming Acquisitions Since 2014
| Date | Acquirer | Target and Sector | Deal Value (US$) |
| --- | --- | --- | --- |
| Apr. 2014 | Facebook | Oculus - VR | $3.0 Billion |
| Aug. 2014 | Amazon | Twitch - Streaming | $1.0 Billion |
| Nov. 2014 | Microsoft | Mojang - Games | $2.5 Billion |
| Feb. 2016 | Activision Blizzard | King - Games | $5.9 Billion |
| Jun. 2016 | Tencent | Supercell - Games | $8.6 Billion |
| Feb. 2020 | Embracer Group | Saber Interactive - Games | $0.5 Billion |
| Sep. 2020 | Microsoft | ZeniMax Media - Games | $7.5 Billion |
| Nov. 2020 | Take-Two Interactive | Codemasters - Games | $1.0 Billion |
Console makers like Microsoft and Sony are launching cloud-based subscription services even while they continue to develop new consoles. Meanwhile, Amazon and Google are launching their own services that work on multiple devices, mobile included.
After seeing the success that games like Pokémon Go had on smartphones—reaching more than $1 billion in yearly revenue—and Grand Theft Auto V's record breaking haul of $1 billion in just three days, companies are targeting as much of the market as they can.
And with the proliferation of smartphones, social media games, and streaming services, they're on the right track. There are more than 2.7 billion gamers worldwide in 2020, and how they choose to spend their money will continue to shape gaming history as we know it.
How Do Esports Companies Compare with Sports Teams?
With some esports companies more valuable than traditional sports teams, we visualize esports vs sports in franchise value.
How Do Esports Companies Compare with Sports Teams?
Are esports on the same level as "real" sports? These comparisons range from tricky to subjective, but the monetary value of companies speak for themselves.
The world's largest esports companies have definitely risen to the occasion. Valued at almost half-a-billion dollars, they've started to pass some sports franchises in value.
In the above graphic, we compare Forbes' valuation of the top 10 esports companies in 2020 against median franchises in the "Big Four" major leagues (NFL, MLB, NBA, and NHL). Despite competitive gaming's rapid growth, there's still a long way left to go.
Esports Impress but NFL Teams Reign Supreme
The world's top esports companies have grown quickly, and impressively.
As of 2018, there was only one esports company worth more than $300 million in valuation. By 2020, four of the top 10 were valued at more than $300 million.
| Esports Company | Games with Franchises | Value (2020) |
| --- | --- | --- |
| TSM | League of Legends | $410M |
| Cloud9 | League of Legends, Overwatch | $350M |
| Team Liquid | League of Legends | $310M |
| FaZe Clan | Call of Duty | $305M |
| 100 Thieves | League of Legends, Call of Duty | $190M |
| Gen.G | League of Legends, Overwatch, NBA 2K | $185M |
| Enthusiast Gaming | Call of Duty, Overwatch | $180M |
| G2 Esports | League of Legends | $175M |
| NRG Esports | Call of Duty, Overwatch | $155M |
| T1 | League of Legends | $150M |
When compared to traditional sports valuations, esports companies have already reached major league hockey status.
TSM, the world's most valuable esports company in 2020, has a higher valuation than five NHL franchises. In fact, four esports companies were estimated to be more valuable than two NHL franchises, the Florida Panthers and Arizona Coyotes.
But other sports leagues are further away. While the median value of an NHL franchise in 2020 was $520 million, the MLB, NBA, and NFL all saw median values of over $1.6 billion.
| Esports vs. Sports Franchises | Lowest Valued Team | Highest Valued Team | Median |
| --- | --- | --- | --- |
| NFL | $2.0B | $5.7B | $3.0B |
| NBA | $1.3B | $4.6B | $1.8B |
| MLB | $980M | $5.0B | $1.6B |
| NHL | $285M | $1.6B | $520M |
| Esports (Top 10) | $150M | $410M | $188M |
Differences in Esports vs Sports Structures and Growth
Try as we might to make a clean apples-to-apples comparison between esports and traditional sports teams, there are significant differences in the business models to consider.
For starters, major esports companies own multiple franchises and non-franchise teams across many games. Cloud9 owns both the eponymous Cloud9 League of Legends franchise and the London Spitfire Overwatch franchise, for example, as well as non-franchise teams in Halo, Counter Strike: Global Offensive, Fortnite, and other games.
The revenue streams for esports companies are also extremely varied. Companies like TSM, 100 Thieves, FaZe Clan and Enthusiast Gaming made 50% or more of their revenue from outside of esports, having instead expanded into diverse companies with an equal focus on content creation and apps.
But it's this greater ability to diversify, and the still-increasing size of esports fandom, that continues to grow esports valuations. In fact, TSM's estimated 2020 revenue of $45 million is less than half of the Arizona Coyotes' estimated revenue of $95 million, despite a $100+ million valuation difference in favor of TSM.
That's why the continued maturation of esports is only going to make traditional sports comparisons easier, and closer. Instead of having to pit companies against franchises, direct league-to-league comparisons will be possible, and the differences will likely shrink from billions to millions.
Switch to Success: 20 Years of Nintendo Console Sales
This graphic explores 20 years of Nintendo console sales and the success of the Nintendo Switch.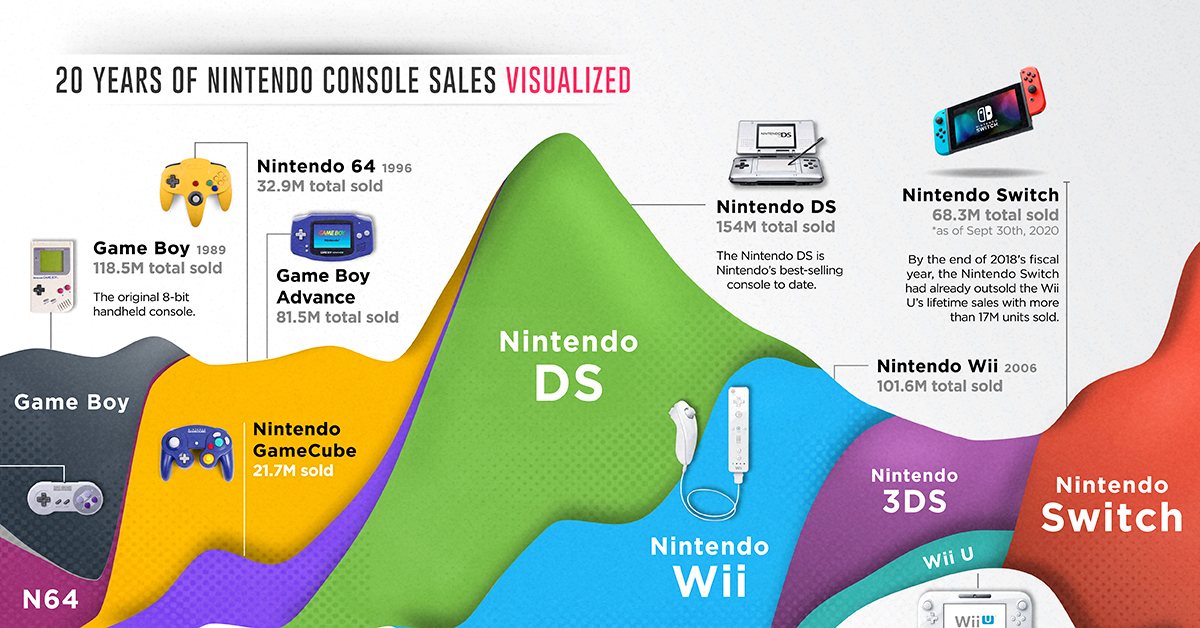 How the Nintendo Switch Brought Console Sales Back
Since its 2017 release, the Nintendo Switch has become a household game console for gamers and non-gamers alike.
Few consoles penetrate the mainstream deeply enough to have parents referring to a console by its proper name, instead of their children's "Gameboy" or "Wii". Even fewer come together as a complete package that ties together the ideologies and technical ideas of their preceding consoles like the Nintendo Switch has.
This graphic visualizes the Nintendo Switch sales success story alongside more than 20 years of Nintendo console sales.
The History of Nintendo Console Sales
Nintendo has a long and storied history in gaming—but since the release of the original Game Boy in 1989, the company has favored a two-pronged approach with its game consoles: having both a portable handheld console and a home console which connects to a TV on the market.
The Game Boy and the SNES (1990) were the first iteration of this strategy, and they reached more than 160 million units sold combined while establishing legendary game franchises with revered sequels like Super Mario World and The Legend of Zelda: A Link to the Past.
The Game Boy's variants like the Game Boy Pocket (1996) and Game Boy Color (1998) lengthened the handheld's lifespan enough to accompany another home console, with the Nintendo 64 coming out in 1996 and selling 32.93 million units of its own.
These successes proved that the gaming audience would support two separate Nintendo consoles on the market, and Nintendo kept the strategy going the following generations.
Lifetime Nintendo Console Sales
Console
Release Year
Units Sold
(as of Sept 30, 2020)
NES
1983
61.91 M
Game Boy
1989
118.69 M
SNES
1990
49.1 M
Nintendo 64
1996
32.93 M
Game Boy Advance
2001
81.51 M
Nintendo GameCube
2001
21.74 M
Nintendo DS
2004
154.02 M
Nintendo Wii
2006
101.63 M
Nintendo 3DS
2011
75.94 M
Wii U
2012
13.56 M
Nintendo Switch
2017
68.3 M
Source: Nintendo
The next generation made up of the Game Boy Advance (2001) and Nintendo GameCube (2001) saw slightly lower sales numbers, but was competing against Microsoft's gaming debut with the original Xbox (2001) and Sony's incredibly popular Playstation 2 (2000).
While the GameCube sold 21.7 million total units and the original Xbox sold ~24 million total units, the Playstation 2 dominated this generation and is still the best-selling video game console of all time with 155 million units sold.
The Sales Success of the Wii and Nintendo DS
As Sony and Microsoft pushed HD rendering and higher graphical fidelity in their next generation of consoles, Nintendo focused on how games were played rather than raw power.
This brought about the Nintendo DS (2004), which added a second touch screen for developers to build games around, and the Nintendo Wii (2006), which pioneered motion controls and accessibility with the simpler Wii Remote controller.
Both the Nintendo DS and the Nintendo Wii were runaway successes, dominating their generation with more than 255 million combined consoles sold.
At the same time, Sony had tried to replicate Nintendo's strategy with handheld consoles of their own, the PSP (2004) and PS Vita (2011), and while they sold 80 million units and ~10-15 million units respectively, Sony ultimately abandoned the handheld console market.
The Sales Slump of the Nintendo 3DS and Wii U
Nintendo was clearly the king of the handheld console market. While mobile phones were feared to be a portable console killer, the Nintendo 3DS sold well when it released in 2011 (75.94 million units) and was Nintendo's saving grace for its generation.
What didn't hold up well was Nintendo's home console follow-up to the Wii, the Wii U. The console only reached 13.56 million lifetime sales, and was quickly overshadowed by the Playstation 4 (113.5 million units sold) and Xbox One (~51 million units sold) releases in 2013.
The Wii U's weak sales brought about one of Nintendo's worst periods ever in recent history, with two unprofitable years for the company in 2012 and 2014. While developers previously flocked to create games for the Wii's motion controls, the Wii U's tablet controller didn't attract the same kind of innovative software development.
Nintendo's Net Income Since 2000
| Year | Net Income (USD) |
| --- | --- |
| 2000 | $490 M |
| 2001 | $734 M |
| 2002 | $896 M |
| 2003 | $627 M |
| 2004 | $324 M |
| 2005 | $742 M |
| 2006 | $827 M |
| 2007 | $1,561 M |
| 2008 | $2,838 M |
| 2009 | $3,003 M |
| 2010 | $2,819 M |
| 2011 | $1,010 M |
| 2012 | -$498 M |
| 2013 | $67 M |
| 2014 | -$194 M |
| 2015 | $348 M |
| 2016 | $141 M |
| 2017 | $910 M |
| 2018 | $1,273 M |
| 2019 | $1,787 M |
| 2020 | $2,500 M |
Source: Nintendo
How the Nintendo Switch Unified Nintendo's Strategies
With the Wii U's poor performance leaving Nintendo in a tough spot, the next console release was crucial to the success of the company.
The Nintendo Switch came just in time in 2017 as the Wii U's sales dried up, and the new hybrid home and portable console was an instant success. By the end of 2018's fiscal year, the Switch had already outsold the Wii U with 17 million units sold.
While the Nintendo Switch sales success story came largely from how it unified home and handheld gaming, the console brought to fruition many of Nintendo's strategies and technical decisions over the generations.
Many of the Wii Remote's abilities are still present in the Switch's Joy-Cons, with built-in accelerometers and gyroscopes for motion controls, along with the ability to rotate them sideways for a more classic controller configuration. The Nintendo DS's touch screen permeated many Nintendo consoles and is still present in the Switch, and looking back at the Wii U's tablet controller, it now seems like an early prototype for the Switch's free-form portability.
Combining Physical and Digital Play
Nintendo's foray into physical toys, which started with Amiibo figures, is also gradually developing and merging physical and digital play thanks to the Switch.
In 2018, the company released Nintendo Labo, a custom cardboard building set which integrates with the Switch and its Joy-Cons for a variety of games and experiences. The 2020 release of Mario Kart Live: Home Circuit pushed this further, with players able to build a Mario Kart circuit in their home to race physical karts controlled by the Switch.
The company is continuing to branch out into other realms with the opening of Super Nintendo World theme park in Universal Studios in Osaka, Japan on February 4th, 2021. The theme park will also be combining the digital and physical world, with virtual coin collecting and other prizes tracked on mobile phones, gamifying the experience for visitors.
Broadening Nintendo's Audience to More than Just Gamers
The success of the Nintendo Switch has brought on more experimentation and fresh ideas from the company, and the COVID-19 pandemic made it an essential product of 2020. With many families at home due to lockdowns, being able to slide the console out of its dock and off the TV to play in handheld mode has been a game-changer.
While Nintendo's development team can prepare for their next console with a bit more financial breathing room thanks to the Switch's superb sales, the company has been working hard to broaden its audience. The physical toys for younger audiences help capture a new generation of Nintendo fans, while older generations of fans will be excited to visit Super Nintendo World and indulge in nostalgia while introducing Nintendo to their children.
As the Nintendo Switch's excellent game library continues to expand, new and old fans alike will be excited to see what consoles, games, and other products come next from the legendary game company.