Mapped: The 50-Year Evolution of Walt Disney World
Walt Disney World Master Plan (circa 1982) with the Magic Kingdom in the top–left and Epcot under construction in the center.
The 50-Year Evolution of Walt Disney World in Maps
In the early 1960s, Walt Disney was riding high on the success of Disneyland in California.
Disneyland had a problem though. Only a small fraction of its guests were from the East Coast of the U.S., which meant Disney was missing out on a huge potential audience for his theme park. To expand the company's reach and scope, he began looking for a location that would match his grand ambitions, and Florida, with its abundance of cheap land and warm climate was a natural choice.
On November 22, 1963—coincidentally the day JFK was assassinated—Walt flew over to the Orlando to do some location scouting. At the time, most of the area was swampland, though there was one area adjacent to an under-construction highway that caught his attention.
Using shell companies to preserve his anonymity (and to keep the price down), Disney began acquiring the sprawling properties that would become today's Walt Disney World (WDW).
Walt Disney World: The First Iteration
When Walt Disney World finally opened in 1971, it included the main Magic Kingdom site, as well as two golf courses and two hotels—Contemporary Resort and the Polynesian Village Resort. These areas were all connected by a monorail system.
As these maps depict, there was a plan to develop three unique themed zones around the Seven Seas Lagoon: Persian, Asian, and Venetian.
However, these projects were scrapped after the 1973 oil crisis as tourism declined.
The original master plan for Walt Disney World did not include plans for the Seven Seas Lagoon, and it was likely added so that the displaced earth could be used to fortify swampy sections of the property to make them suitable for building.
Epcot Expansion
The first major Disney World expansion was Epcot Center, which opened in 1982. The site, which was twice as big as the Magic Kingdom, is best described as a permanent world's fair.
The park was anchored by Future World and "Spaceship Earth", the iconic geodesic sphere structure that sat at the entrance of the park.
Surrounding the nearby lake were pavilions themed after various locations in the world.
Though the scope of Epcot was impressive at the time, it was still vastly scaled down from Walt Disney's original vision for a fully functioning "city of the future". Ultimately, the company was uncertain about the feasibility of operating a functional city, so the idea was scrapped in favor of the current iteration.
Hollywood Comes to Florida
Disney-MGM Studios opened in 1989, in a location just south of Epcot. The park featured "imagined worlds from film, television, music, and theater, drawing inspiration from the Golden Age of Hollywood".
To make this happen, Disney entered into a licensing agreement with MGM to help increase the variety of film representation within the park.
Approximately 11 million visitors pass through Hollywood Studios every year.
Animal Kingdom and Rapid Expansion
In 1998, WDW added a fourth theme park called Animal Kingdom. It's the largest theme park in the world, covering 580 acres, and combines elements of both a zoo and theme park.
A central feature of Animal Kingdom is the massive Tree of Life. The 145 foot tall work of art contains 325 unique animal carvings and over 100,000 artificial leaves. The park itself features about 2,000 animals representing 300 species.
Around 13 million people visit the theme park each year.
Walt Disney World Today
So, how big is Walt Disney World today? 43 square miles, which is about the same area as San Francisco and and twice the size of Manhattan.
The scale of today's WDW has fully eclipsed the original version of the site. The resort, which featured two hotels in 1971, now has more than 20, with 30,000 hotel rooms. WDW is also the largest single site employer in the United States.
Looking at the map above, one might wonder whether this sprawling entertainment empire is bursting at the seams. Will WDW eventually build over its entire property? The answer is somewhat complicated.
What's Missing from Walt Disney World Maps?
While the stylized maps above do a great job of highlighting WDW's many attractions, they generally downplay an important fact. Much of the land owned by Disney is still undeveloped, and there is a lot of space between the various parks. Much of this space is earmarked as conservation areas, and only some of the remaining land is actually suitable for development. Despite the sheer size of the property occupied by WDW, space for expansion grows increasingly scarce with each new development.
The stylized maps also downplay the size of WDW's parking lots, which are extensive. The Magic Kingdom parking lot, for example, is actually larger than the theme park itself.
The giant map below is an accurate representation of the park's layout, and includes facts on some of the attributes of the park.
This enormous land parcel is also unique in that it's a kind of self-governing municipality, with its own fire department and emergency services. The district—officially known as the Reedy Creek Improvement District—is governed by a five-person Board of Supervisors elected by the landowners in the district. As a result, high-level Disney employees essentially run the entire region encompassing WDW.
In the 50 years since the Magic Kingdom first opened its turnstiles, Disney's own kingdom in Central Florida has transformed dramatically. With Disney's continued financial success and the freedom to make large-scale moves within their property, the next 50 years will no doubt bring more dramatic changes to the world's biggest theme park.
24 Cognitive Biases That Are Warping Your Perception of Reality
The world isn't as it seems—here are some of the most important cognitive biases that are messing with how you think the world works, and why.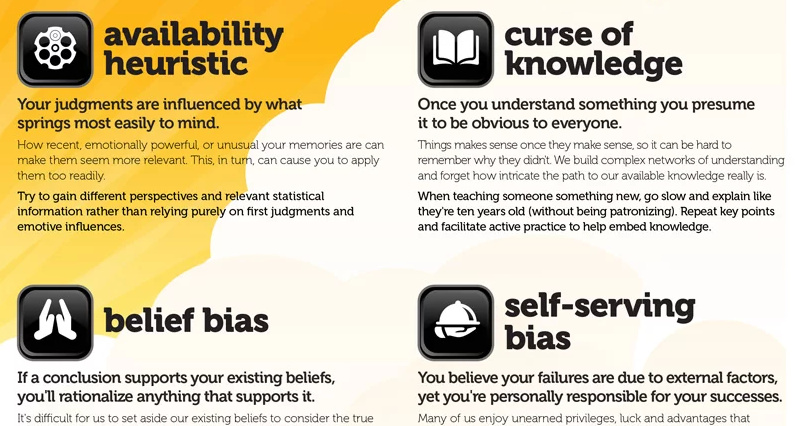 We are each entitled to our own personal world view.
But unfortunately, when it comes to interpreting information and trying to make objective sense of reality, human brains are hard-wired to make all kinds of mental mistakes that can impact our ability to make rational judgments.
In total, there are over 180 cognitive biases that interfere with how we process data, think critically, and perceive reality.
Flawed Human Reasoning
There is no simple way to get around these basic human instincts, but one thing that we can do is understand the specific mistakes we make and why.
Today's infographic comes to us from School of Thought, a non-profit dedicated to spreading critical thinking. The graphic describes 24 of the key biases that warp our sense of reality, providing useful examples along the way.
At the beginning of the infographic, you may have noticed illustrations of two gentlemen.
In case you were wondering, those happen to represent Daniel Kahneman and Amos Tversky, two of the leading social scientists known for their contributions to this field. Not only did they pioneer work around cognitive biases starting in the late 1960s, but their partnership also resulted in a Nobel Prize in Economics in 2002.
Biases Distorting Reality
Here are some of the biases we found most interesting from the list:
Declinism:
You remember the past as better than it was, and expect the future to be worse than it is likely to be. This is an interesting one, since statistically this is one of the most peaceful and prosperous times in history—yet the 24-hour news cycle rarely reflects this. (For a good example how the world is improving, see these six charts)
Just World Hypothesis:
Your preference for a just world makes you presume that it exists. Of course, it's much more uncomfortable to think that the world is unfair, but by understanding this you will make more accurate judgments about people and situations.
Belief Bias
If a conclusion supports your existing beliefs, you'll rationalize anything that supports it. In other words, instead of willingly looking at new information, we are primed to defend our own ideas without actually questioning them.
Framing Effect:
Context and delivery can have a big impact on how a story is interpreted. We must have the humility to recognize that we can be manipulated, and work to limit the effect that framing has on our critical thinking.
The Curse of Knowledge
Ever try to explain something you know intricately and have worked on for many years? It's hard, because you've internalized everything you've learned, and now you forget how to explain it. This bias is similar—you know something inside and out, and what is obvious to you is not to others.
Reactance:
Sometimes we all get the urge to do the opposite of what we're told. Nobody likes being constrained. The only problem is that when we're in this situation, there is a tendency to overreact and to throw any logic out of the window.
Spotlight Effect:
Because we each live inside our own heads, our natural focus is on what we're thinking and doing. We project this onto others, and we overestimate how much they notice about how we look or how we act.
Want to see more on cognitive biases? Here are 188 of them in one infographic.
Ranked: The 35 Vehicles With the Longest Production Runs
Successful cars come in many shapes and sizes. See which ones have stood the test of time in this infographic.
Visualizing the Longest Vehicle Production Runs
Over the automotive industry's 100+ year history, companies such as Ford, Chevrolet, and Mercedes-Benz have produced some truly iconic cars.
Whether they're designed for excitement, luxury, or just simple transportation, these vehicles offer a set of features that make them highly desirable to consumers. The most successful models will undergo numerous revisions over time, sometimes sticking around for many decades.
To learn more, this graphic from Alan's Factory Outlet lists the 35 vehicles with the longest production runs of all time. Here are the top 10 below.
| Brand | Model Name | Class | Production Run (years) |
| --- | --- | --- | --- |
| 🇺🇸 Chevrolet | Suburban | SUV | 86 |
| 🇺🇸 Ford | F-Series | Pickup truck | 74 |
| 🇩🇪 Volkswagen | Transporter | Van | 71 |
| 🇯🇵 Toyota | Land Cruiser | SUV | 70 |
| 🇺🇸 Chevrolet | Corvette | Sports car | 68 |
| 🇩🇪 Mercedes-Benz | S-Class | Sedan | 67 |
| 🇯🇵 Toyota | Crown | Sedan | 66 |
| 🇯🇵 Nissan | Skyline | Sedan | 64 |
| 🇬🇧 Mini | Mini | Hatchback | 62 |
| 🇩🇪 Porsche | 911 | Sports car | 58 |
As we can see, successful models come in many shapes and sizes, and from a variety of manufacturers. Below, we'll take a deeper dive to learn more about what makes these cars special.
Ford F-Series
Ford began selling its first pickup truck in 1925, which was essentially a Model T with a flatbed in the rear. This layout was very useful because it enabled people to transport cargo, raw materials, and other items with relative ease.
Then, in 1948, Ford introduced the F-series pickup. The truck became one of Ford's most well-known and profitable models, and is currently in its 14th generation.
While the fundamental shape of the F-series hasn't changed, Ford's best-selling model owes much of its success to its constant innovation and technological improvements.
In 2015, the F-150 became the first fullsize pickup to feature an all-aluminum body. This reduced the truck's weight by as much as 500 pounds, resulting in better fuel economy and driving dynamics.
Ford is also credited with bringing turbocharged engines into the mainstream (within the pickup segment). This first-mover advantage gave the F-Series a competitive edge in terms of fuel efficiency and torque.
Chevrolet Corvette
First introduced in 1953, the Chevrolet Corvette is regarded as America's most iconic sports car. It has a reputation for offering similar performance as its more expensive foreign rivals, and combines unique styling elements with a successful motorsport background.
For most of its history, the Corvette was a rear-wheel drive coupe with a V-8 engine placed in the front. It also featured pop-up headlights for several generations, but the design was eventually phased out due to stricter regulations.
Chevrolet drastically changed the formula of the Corvette for its eighth generation, which launched in 2020. The engine is no longer in the front of the car, but instead, placed directly behind the occupants.
This mid-engine layout results in a Corvette with significantly different proportions than its predecessors. Because a bulk of the car's weight is now located more centrally, the C8 should (in theory) offer better traction and balance.
Few cars have undergone such large changes to their fundamental design philosophy, but the move appears to have worked—production is far from meeting demand.
Mercedes-Benz S-Class
The S-Class from Mercedes is widely recognized as the global benchmark for full-size luxury sedans. Since its introduction in the 1950s, the S-Class has continuously introduced new innovations that improve comfort and safety.
The 1959 S-Class (dubbed W111) was the first production car with crumple zones front and rear. Crumple zones are structural elements that absorb the impact of a collision.
The 1978 S-Class (W116) introduced electronic anti-lock brakes (ABS). This system prevents tires from locking up under sudden braking and is included on every modern car.
The 1991 S-Class (W140) was the first car to feature double-glazed windows, which improves insulation while reducing road noise.
The 2021 S-Class (W223) introduced the world's first rear-seat airbag.
One of the most important aspects of a luxury car is its interior, and the S-class has come a long way since its first iteration.
The interior of the latest S-Class features active ambient lighting that can visually reinforce any warnings generated by the car's driving assistance systems. The cabin also features MBUX Interior Assist, which can read motion commands (such as hand movements) by the driver.
The car's center console is dominated by a single large screen—a trend that was first introduced by the Tesla Model S.
Big Changes in Store
Global governments have announced a ban on the sale of new gasoline cars by as early as 2030. This foreshadows a great shift towards battery power and gives automakers the opportunity to reimagine their most iconic models.
For example, the Ford Mustang Mach-E is an all-electric SUV that borrows both the name and styling of the brand's famous pony car. The company also recently launched an electric version of the F-150, called the F-150 Lightning.
German brands are taking a different approach by creating a completely new range for their EV models. This includes the Audi e-tron, BMW i, and Mercedes EQ lineups. This implies that their existing gasoline-powered models could be coming to an end.