29 Psychological Tricks To Make You Buy More
29 Psychological Tricks To Make You Buy More
Ever suffered from buyer's remorse? You're not alone.
According to a recent survey, only 5% of people have never felt guilty about buying something. That means the majority of us, at some point in our lives, have regretted a purchase.
But consumers aren't necessarily only to blame for impulse buys. After all, we're constantly bombarded with advertisements and marketing tactics specifically tailored to try and get us to spend more money.
Today's graphic by TitleMax explains 29 different psychological tactics that marketers try to get consumers to buy more.
Tricks are for Marketers
While this list isn't exhaustive, it provides some key examples of the ways that marketers are attempting to influence your subconscious mind.
We noticed some high-level trends among the 29 tactics, which we compiled into four overarching sections:
Visual Pricing Tricks
These tricks aim to intentionally minimize the appearance of the price, so it's more palatable to consumers. For instance, a store will price something at $9.99 instead of $10.00, or label a product as "buy-one-get-one" rather than 50% off.
Intentional Language Tricks
It's not what you say, but how you say it. Making products seem costly to manufacture, offering exclusivity, and using words associated with small amounts fall under this category. These tricks use semantics to position a product in an appealing way.
Brick-and-Mortar Tricks
A store's layout is less arbitrary than you may realize. Having a bright and colorful entrance, playing calm and slow music, and putting the essential items at the back of the store are a few tactics that fall into this section. These tricks use displays and product placement to influence consumer behavior.
Urgency Tricks
A false sense of urgency and phase-out discounts are included in this category. If a consumer believes they might miss out on a deal, they're more likely to buy.
The Theories in Practice
While most retailers are guilty of using at least a few of these tactics, several big companies are notorious for their use of psychological tricks to boost sales.
For instance, Ikea is well known for its confusing, maze-like layout. This is no accident, as an Ikea store's architecture is designed specifically to maximize product exposure—it's mastered what's called the Gruen effect, a term named after architect Victor Gruen, whose elaborate displays were proven to convert browsers into buyers.
Another example is Walmart's rollback pricing, which uses visual contrast to make the sale price more appealing. It's clearly served the company well—in 2019, Walmart made $524 billion in revenue, making it the world's largest retailer.
Costco uses a few tactics on the list, but one it's notorious for is putting fresh produce in the back of the store. That means customers need to pass through the electronics, clothing, and household goods sections before they can get to the necessities.
While the above tactics are in a gray area, other tricks are flat out dishonest. Makeup brand Sunday Riley was caught writing fake Sephora reviews to boost sales. Employees were encouraged to write outstanding reviews for the company, and the CEO even provided instructions on how to avoid getting caught.
The Influencer Era
As consumers become aware of certain marketing tactics, retailers are forced to switch up their game in order to remain effective.
A relatively recent phenomenon is influencer marketing, which is when brands partner with vloggers or influencers to endorse a product. And these partnerships tend to work—a recent survey revealed that 40% of people have purchased something based on an influencer's recommendation.
But how long will influencer marketing—or any of these tactics—stay effective? Some of the more subtle pricing tactics might stay relevant for longer, but it's unlikely that all of these tricks will stand the test of time.
Visualizing Population Density Patterns in Six Countries
These maps show the population density of several countries, using 3D spikes to denote where more people live.

Creator Program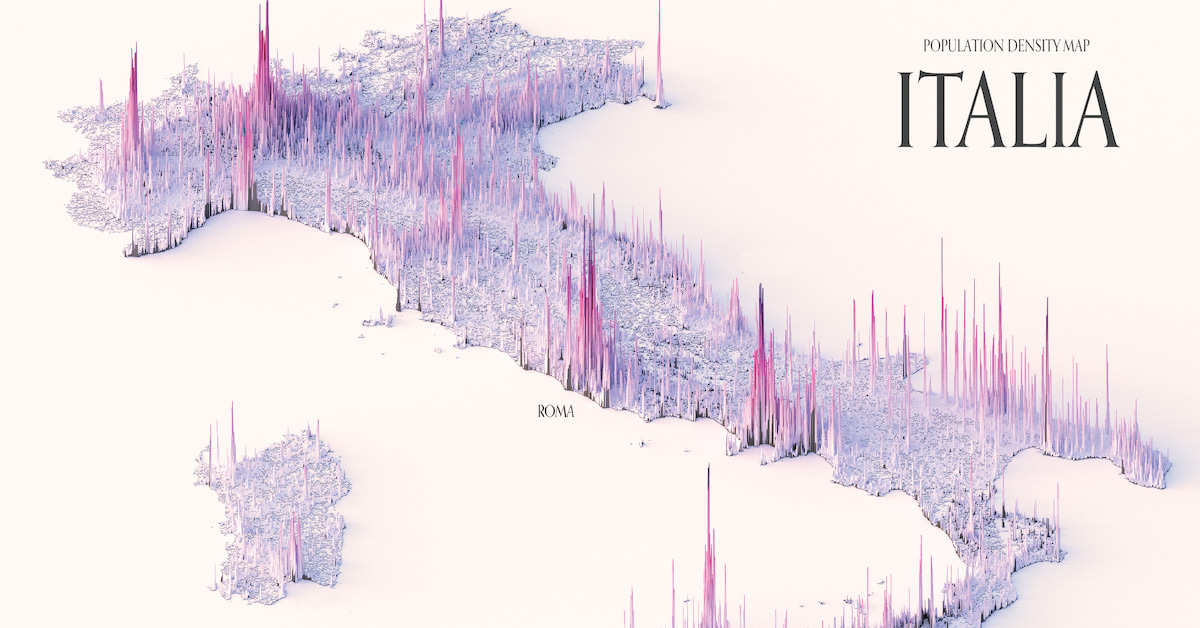 As of 2022, Earth has 8 billion humans. By 2050, the population is projected to grow to 10 billion.
In the last 100 years, the global population more than quadrupled. But none of this growth has been evenly spread out, including within countries.
This series of 3D maps from Terence Teo, an associate professor at Seton Hall University, renders the population density of six countries using open-source data from Kontur Population. He used popular programming language R and a path-tracing package, Rayshader, to create the maps.
France and Germany: Population Density Spikes and Troughs
Let's take a look at how the population spreads out in different countries around the world. Click the images to explore higher-resolution versions.
France is the world's 7th largest economy and second-most-populous country in the EU with 65 million people. But a staggering one-fifth of the French population lives in Paris and its surrounding metro—the most populous urban area in Europe.
Many residents in the Paris metropolitan area are employed in the service sector, which makes up one-third of France's $2.78 trillion gross domestic product.
Unlike France, Germany has many dense cities and regions, with Berlin, Munich, Stuttgart, and Cologne all having over a million residents. Berlin is the most populated at 3.5 million residents in the city proper, and 6 million in the wider urban area.
That said, the relatively recent reunification of West and East Germany in 1991 meant that post-WWII growth was mostly concentrated in West Germany (and West Berlin).
Italy and Chile: Coast to Coast
In Italy, another phenomenon affects population density and urban development—a sprawling coastline.
Despite having a large population of 59 million and large metropolitan areas throughout, Italy's population spikes are closer to the water.
The port cities of Genoa, Napoli, and Palermo all have large spikes relative to the rest of the country, as does the capital, Rome. Despite its city center located 15 miles inland from the sea, it extends to the shore through the district of Ostia, where the ancient port of Rome existed.
Meanwhile in Chile, stuck between the Andes to the east and the Pacific Ocean to the west, population spikes corroborate with its many port towns and cities.
However, the country is more concentrated than Italy, with 40% of its residents congregating around the capital of Santiago.
Turkey and Canada: Marred by Mountains and Climes
Though Chile has difficulties with terrain, it is relatively consistent. Other countries have to attempt to settle many different climes—regions defined by their climates.
Mountains to the south and east, a large, semi-arid plateau, and even a small desert leave few centers of urban growth in Türkiye.
Predictably, further west, as the elevation comes down to the Aegean and Mediterranean Seas, population spikes begin to heighten. The largest of course is the economic and cultural hub of Istanbul, though the capital Ankara is also prominent with more than 5 million residents.
In Canada, the Rocky Mountains to the west and freezing cold temperatures in the center and north account for the large country's relative emptiness.
Though population spikes in Western Canada are growing rapidly, highly populous urban centers are noticeably concentrated along the St. Lawrence River, with the Greater Toronto Area accounting for more than one-sixth of the country's 39 million people.
Increasing Urbanization
According to the World Bank, more than half of the world's population currently lives in cities, and that trend is only growing.
By 2050, 7 out of 10 people are projected to live in cities. This congregation makes cities a beehive of productivity and innovation—with more than 80% of the world's GDP being generated at these population centers.
It's in this context that mapping and studying urban development becomes all the more important, particularly as policymakers try their hand at sustainable urban planning.
As Teo puts it:
"By showing where people are (and are not), they show us where political and economic power is concentrated, and perhaps where and who our governments represent."