24 Cognitive Biases That Are Warping Your Perception of Reality
We are each entitled to our own personal world view.
But unfortunately, when it comes to interpreting information and trying to make objective sense of reality, human brains are hard-wired to make all kinds of mental mistakes that can impact our ability to make rational judgments.
In total, there are over 180 cognitive biases that interfere with how we process data, think critically, and perceive reality.
Flawed Human Reasoning
There is no simple way to get around these basic human instincts, but one thing that we can do is understand the specific mistakes we make and why.
Today's infographic comes to us from School of Thought, a non-profit dedicated to spreading critical thinking. The graphic describes 24 of the key biases that warp our sense of reality, providing useful examples along the way.
At the beginning of the infographic, you may have noticed illustrations of two gentlemen.
In case you were wondering, those happen to represent Daniel Kahneman and Amos Tversky, two of the leading social scientists known for their contributions to this field. Not only did they pioneer work around cognitive biases starting in the late 1960s, but their partnership also resulted in a Nobel Prize in Economics in 2002.
Biases Distorting Reality
Here are some of the biases we found most interesting from the list:
Declinism:
You remember the past as better than it was, and expect the future to be worse than it is likely to be. This is an interesting one, since statistically this is one of the most peaceful and prosperous times in history—yet the 24-hour news cycle rarely reflects this. (For a good example how the world is improving, see these six charts)
Just World Hypothesis:
Your preference for a just world makes you presume that it exists. Of course, it's much more uncomfortable to think that the world is unfair, but by understanding this you will make more accurate judgments about people and situations.
Belief Bias
If a conclusion supports your existing beliefs, you'll rationalize anything that supports it. In other words, instead of willingly looking at new information, we are primed to defend our own ideas without actually questioning them.
Framing Effect:
Context and delivery can have a big impact on how a story is interpreted. We must have the humility to recognize that we can be manipulated, and work to limit the effect that framing has on our critical thinking.
The Curse of Knowledge
Ever try to explain something you know intricately and have worked on for many years? It's hard, because you've internalized everything you've learned, and now you forget how to explain it. This bias is similar—you know something inside and out, and what is obvious to you is not to others.
Reactance:
Sometimes we all get the urge to do the opposite of what we're told. Nobody likes being constrained. The only problem is that when we're in this situation, there is a tendency to overreact and to throw any logic out of the window.
Spotlight Effect:
Because we each live inside our own heads, our natural focus is on what we're thinking and doing. We project this onto others, and we overestimate how much they notice about how we look or how we act.
Want to see more on cognitive biases? Here are 188 of them in one infographic.
Ranked: The 35 Vehicles With the Longest Production Runs
Successful cars come in many shapes and sizes. See which ones have stood the test of time in this infographic.
Visualizing the Longest Vehicle Production Runs
Over the automotive industry's 100+ year history, companies such as Ford, Chevrolet, and Mercedes-Benz have produced some truly iconic cars.
Whether they're designed for excitement, luxury, or just simple transportation, these vehicles offer a set of features that make them highly desirable to consumers. The most successful models will undergo numerous revisions over time, sometimes sticking around for many decades.
To learn more, this graphic from Alan's Factory Outlet lists the 35 vehicles with the longest production runs of all time. Here are the top 10 below.
| Brand | Model Name | Class | Production Run (years) |
| --- | --- | --- | --- |
| 🇺🇸 Chevrolet | Suburban | SUV | 86 |
| 🇺🇸 Ford | F-Series | Pickup truck | 74 |
| 🇩🇪 Volkswagen | Transporter | Van | 71 |
| 🇯🇵 Toyota | Land Cruiser | SUV | 70 |
| 🇺🇸 Chevrolet | Corvette | Sports car | 68 |
| 🇩🇪 Mercedes-Benz | S-Class | Sedan | 67 |
| 🇯🇵 Toyota | Crown | Sedan | 66 |
| 🇯🇵 Nissan | Skyline | Sedan | 64 |
| 🇬🇧 Mini | Mini | Hatchback | 62 |
| 🇩🇪 Porsche | 911 | Sports car | 58 |
As we can see, successful models come in many shapes and sizes, and from a variety of manufacturers. Below, we'll take a deeper dive to learn more about what makes these cars special.
Ford F-Series
Ford began selling its first pickup truck in 1925, which was essentially a Model T with a flatbed in the rear. This layout was very useful because it enabled people to transport cargo, raw materials, and other items with relative ease.
Then, in 1948, Ford introduced the F-series pickup. The truck became one of Ford's most well-known and profitable models, and is currently in its 14th generation.
While the fundamental shape of the F-series hasn't changed, Ford's best-selling model owes much of its success to its constant innovation and technological improvements.
In 2015, the F-150 became the first fullsize pickup to feature an all-aluminum body. This reduced the truck's weight by as much as 500 pounds, resulting in better fuel economy and driving dynamics.
Ford is also credited with bringing turbocharged engines into the mainstream (within the pickup segment). This first-mover advantage gave the F-Series a competitive edge in terms of fuel efficiency and torque.
Chevrolet Corvette
First introduced in 1953, the Chevrolet Corvette is regarded as America's most iconic sports car. It has a reputation for offering similar performance as its more expensive foreign rivals, and combines unique styling elements with a successful motorsport background.
For most of its history, the Corvette was a rear-wheel drive coupe with a V-8 engine placed in the front. It also featured pop-up headlights for several generations, but the design was eventually phased out due to stricter regulations.
Chevrolet drastically changed the formula of the Corvette for its eighth generation, which launched in 2020. The engine is no longer in the front of the car, but instead, placed directly behind the occupants.
This mid-engine layout results in a Corvette with significantly different proportions than its predecessors. Because a bulk of the car's weight is now located more centrally, the C8 should (in theory) offer better traction and balance.
Few cars have undergone such large changes to their fundamental design philosophy, but the move appears to have worked—production is far from meeting demand.
Mercedes-Benz S-Class
The S-Class from Mercedes is widely recognized as the global benchmark for full-size luxury sedans. Since its introduction in the 1950s, the S-Class has continuously introduced new innovations that improve comfort and safety.
The 1959 S-Class (dubbed W111) was the first production car with crumple zones front and rear. Crumple zones are structural elements that absorb the impact of a collision.
The 1978 S-Class (W116) introduced electronic anti-lock brakes (ABS). This system prevents tires from locking up under sudden braking and is included on every modern car.
The 1991 S-Class (W140) was the first car to feature double-glazed windows, which improves insulation while reducing road noise.
The 2021 S-Class (W223) introduced the world's first rear-seat airbag.
One of the most important aspects of a luxury car is its interior, and the S-class has come a long way since its first iteration.
The interior of the latest S-Class features active ambient lighting that can visually reinforce any warnings generated by the car's driving assistance systems. The cabin also features MBUX Interior Assist, which can read motion commands (such as hand movements) by the driver.
The car's center console is dominated by a single large screen—a trend that was first introduced by the Tesla Model S.
Big Changes in Store
Global governments have announced a ban on the sale of new gasoline cars by as early as 2030. This foreshadows a great shift towards battery power and gives automakers the opportunity to reimagine their most iconic models.
For example, the Ford Mustang Mach-E is an all-electric SUV that borrows both the name and styling of the brand's famous pony car. The company also recently launched an electric version of the F-150, called the F-150 Lightning.
German brands are taking a different approach by creating a completely new range for their EV models. This includes the Audi e-tron, BMW i, and Mercedes EQ lineups. This implies that their existing gasoline-powered models could be coming to an end.
A Deep Dive Into the World's Oceans, Lakes, and Drill Holes
A unique and entertaining graphic that compares the depth of the world's lakes and oceans, as well as the deepest holes ever drilled.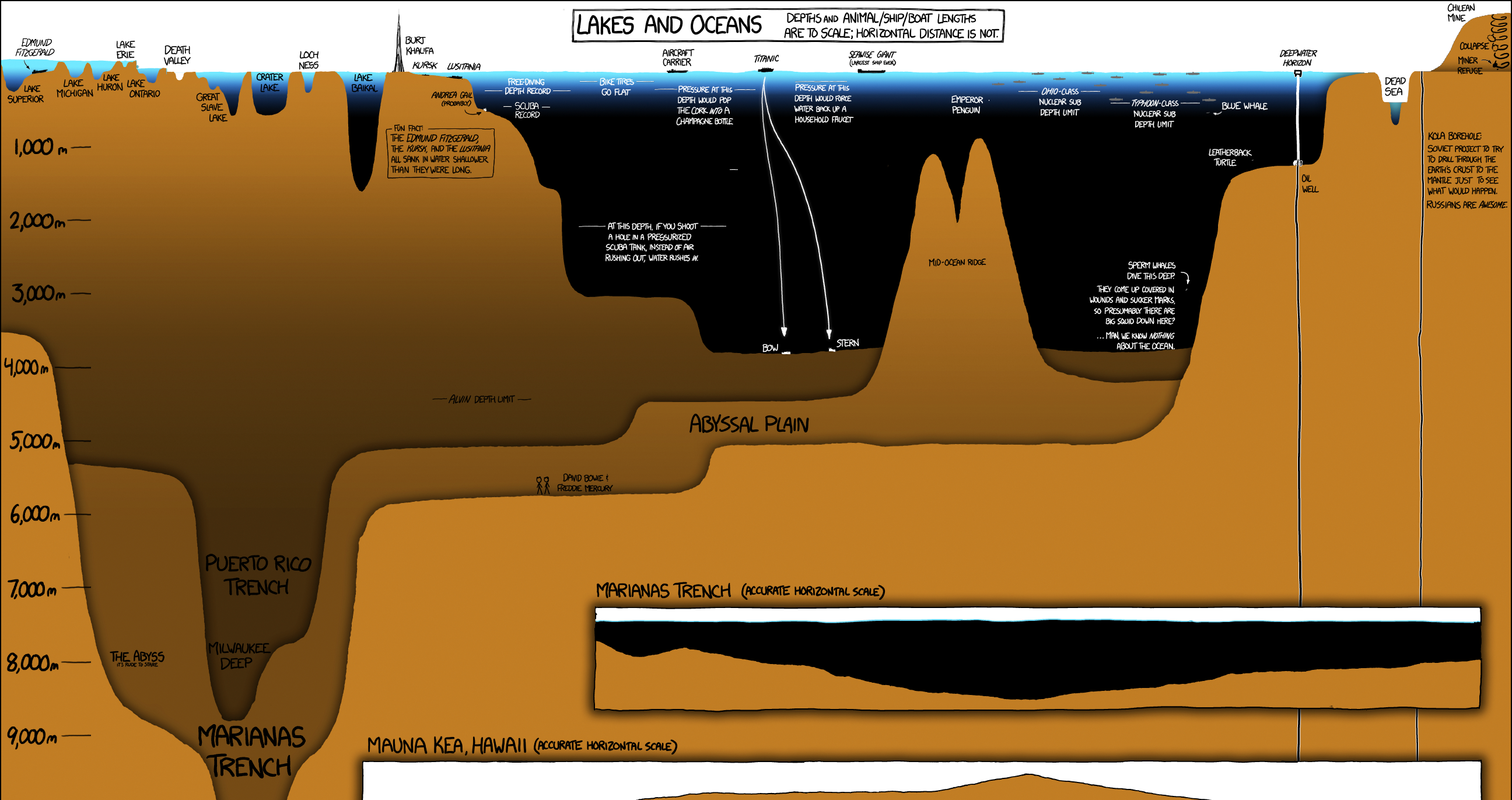 Today's chart is best viewed full-screen. Explore the high resolution version by clicking here.
Sailors have been circumnavigating the high seas for centuries now, but what could be found beneath the sunlit surface of the ocean remained a mystery until far more recently. In fact, it wasn't until 1875, during the Challenger expedition, that humanity got it's first concrete idea of how deep the ocean actually was.
Today's graphic, another fantastic piece by xkcd, is a unique and entertaining look at everything from Lake Superior's ice encrusted shoreline down to blackest, inhospitable trench (which today bears the name of the expedition that first discovered it).
The graphic is packed with detail, so we'll only highlight a few points of interest.
Deep Thoughts with Lake Baikal
Deep in Siberia, abutting a mountainous stretch of the Mongolian border, is the one of the most remarkable bodies of water on Earth: Lake Baikal. There are a number of qualities that make Lake Baikal stand out.
Depth: Baikal, located in a massive continental rift, is the deepest lake in the world at 1,642m (5,387ft). That extreme depth holds a lot of fresh water. In fact, an estimated 22% of all the world's fresh water can be found in the lake.
Age: Baikal (which is listed as a UNESCO World Heritage Site) is estimated to be over 25 million years old, making it the most ancient lake on the planet.
Clarity: Interestingly, the water in the lake is exceptionally clear. In winter, visibility can extend over 30m (98ft) below the surface.
Biodiversity: The unique ecosystem of Lake Baikal provides a home for thousands of plant and animal species. In fact, upwards of 80% of those species are endemic, meaning they are unique to that region.
Who is Alvin?
Since 1964, a hard-working research submersible named Alvin has been helping us better understand the deep ocean. Alvin explored the wreckage of RMS Titanic in 1986, and helped confirm the existence of black smokers (one of the weirdest ecosystems in the world).
Though most of the components of the vessel have been replaced and upgraded over the years, it's still in use today. In 2020, Alvin received an $8 million upgrade, and is now capable of exploring 99% of the ocean floor.
We know more about the surface of Venus than the bottom of the ocean. The potential for discovery is huge.– Anna-Louise Reysenbach, Professor of Microbiology, PSU
The Ocean's Deepest Point
The deepest point in the ocean is the Mariana Trench, at 11,034 meters (36,201 feet).
This trench is located in the Pacific Ocean, near Guam and the trench's namesake, the Mariana Islands. While the trench is the most extreme example of ocean depths, when compared to surface level distance, it's depth is shorter than Manhattan.
Obviously, the context of surface distance is wildly different than vertical distance, but it serves as a reminder of how narrow the "explorable" band of the Earth's surface is.
Polymetallic Nodules
The ancient Greek word, ábyssos, roughly means "unfathomable, bottomless gulf". While there is a bottom (the abyssopelagic zone comprises around 75% of the ocean floor), the enormous scale of this ecosystem is certainly unfathomable.
Objectively, the abyssal plain is not the prettiest part of the ocean. It's nearly featureless, and lacks the panache of, say, a coral reef, but there are still some very compelling reasons we're eager to explore it. Resource companies are chiefly interested in polymetallic nodules, which are essentially rich manganese formations scattered about on the sea bottom.
Manganese is already essential in steel production, but demand is also getting a substantial lift from the fast-growing electric vehicle market. The first company to find an economical way to harvest nodules from the ocean floor could reap a significant windfall.
Drill Baby, Drill
Demand for resources can force humans into some very inhospitable places, and in the case of Deepwater Horizon, we chased oil to a depth even surpassing the famed Marianas Trench.
Drilling that far below the surface is a complicated endeavor, and when the drill platform was put into service in 2001, it was hailed as an engineering marvel. To this day, Deepwater Horizon holds the record for the deepest offshore hole ever made.
After the rig's infamous explosion and subsequent spill in 2010, that depth record for drilling may stand the test of time.