The 14 Best Visual Capitalist Infographics of 2014

For the final post of 2014, we've decided to come up with a list of the best original infographics of 2014 that were posted on the site. We based the list on a variety of criteria including views, comments from our audience, social media shares, and our own subjective opinion.
Click on any link below to visit the full version of each infographic on the list.
Also, if you don't already get our daily infographics and other visual content, make sure you connect with us here.

14. How 3D Printing is Shaping Business
Our 3D Printing infographic showed how additive manufacturing technology works, as well as how it may impact industries in the future. While consumer electronics is currently the biggest market with 22% market share, as adoption increases, 3D printing is expected to set to change the business of medicine, defense, vehicle manufacturing, jewelry, and much more.
13. How to Test for Fake Gold or Silver
This summer, working with Silver.com, we showed how bullion buyers can test for fake gold or silver. In recent years there have been various concerning cases of bullion counterfeiting, and so investors should be aware of these methods to ensure their gold and silver are the real deal.
12. A New Vision of the Mining Company of the Future
We presented a vision of the Mining Company of the Future in this infographic and accompanying video version. Mining companies today face a complexity of problems: spiraling costs, government intervention, deepening pits, lower ore grades, and declining productivity are just some of the issues. These graphics convey a framework developed by KIN Catalyst through years of conferences, consultation, and hard work.
11. Is Vancouver a Legitimate Tech Hub?
If you're asking yourself if Vancouver is able to directly compare with Silicon Valley, the answer is a resolute "no". To put things in perspective, Silicon Valley boasts at least 10x more tech employees, 20x more venture capital deals, and an unsurpassed track record of success. In fact, California alone grabbed a hefty 47% of all North American venture capital funding in 2013. However, the Canadian city is trending in the right direction and in this infographic we look at the evidence on both sides.
10. Peak Population
By 2100, our global population is to be between 9.6 and 12.3 billion. In the first part of our Peak Population Series we look at the crunch that a growing global population will put on natural resources.
9. Medical Marijuana in Canada
On April 1, 2014, Canadian legislation changed significantly around medical marijuana. In our Medical Marijuana in Canada infographic we look at the new regulations, the market for medical cannabis, and its uses and treatments.
8. Everything You Need to Know About the Swiss Gold Referendum
In November, Switzerland had a potential game-changing referendum on their central bank's use of gold. The vote ended up being a firm "no", but in this Swiss Referendum infographic we looked at the potential implications that a "yes" vote would have brought in Switzerland and the rest of the world.
7. The Definitive History of Bitcoin
We put together an ambitious five year history of Bitcoin together all the way from its inception to the end of 2013. See the Definitive History of Bitcoin in all of its glory as every notable event is compiled in one place in beautiful detail.
6. The Many Phases of Silver (Silver Series)
In the first part of our new Silver Series presented by Silver.com we covered the many phases of silver: its uses as a monetary, health, and industrial metal.
5. The Narwhal Club: Home to Canada's $1B Tech Startups
The Narwhal Club is Canada's answer to Aileen Lee's idea of a "Unicorn Club" for $1B+ valued startups in the United States. Working with Garibaldi Capital Advisors we compiled and curated a list of all tech startups in Canada worth over $1 Billion, including many companies that are on the verge of success.
4. Space Wars: The Private Sector Strikes Back
The space industry is rapidly changing, and there are about a dozen private companies that are helping to shape the future of space travel. From space tourism to dreams of harvesting asteroids, we cover the movers and shakers of Space's Private Sector in this infographic.
3. Inside Tesla's $5 Billion Gigafactory
Recently, Tesla made the bold decision to build a $5 Billion factory to mass produce batteries with economies of scale. In this infographic on the Tesla Gigafactory, we look at the implications of this decision with regards to natural resources such as graphite, cobalt, and lithium.
2. A Year's Extraction of Metal Shown Next to Landmarks and Cities
In this infographic slideshow, we asked ourselves how big a year's extraction of various metals would be if they were put in a hypothetical cube. Some of the answers will surprise you.
1. The Gold Series
In our Gold Series, we covered everything on the yellow metal including its rich history, supply and geology, demand and uses, investment upside, and predictions for the future. Spanning five infographic parts, The Gold Series is a world class collection of informational and educational content on the fundamentals of gold investing. This series was viewed more than any other infographic this year.
The Incredible Historical Map That Changed Cartography
Check out the Fra Mauro Mappa Mundi (c. 1450s), a historical map that formed a bridge between medieval and renaissance worldviews.
The Incredible Historical Map That Changed Cartography
This map is the latest in our Vintage Viz series, which presents historical visualizations along with the context needed to understand them.
In a one-paragraph story called On Exactitude in Science (Del Rigor en la Ciencia), Jorge Luis Borges imagined an empire where cartography had reached such an exact science that only a map on the same scale of the empire would suffice.
The Fra Mauro Mappa Mundi (c. 1450s), named for the lay Camaldolite monk and cartographer whose Venetian workshop created it, is not nearly as large, at a paltry 77 inches in diameter (196 cm). But its impact and significance as a bridge between Middle Age and Renaissance thought certainly rivaled Borges' imagined map.
One of 'the Wonders of Venice'
Venice was the undisputed commercial power in the Mediterranean, whose trade routes connected east and west, stretching to Flanders, London, Algeria, and beyond.
This network was protected by fleets of warships built at the famous Arsenale di Venezia, the largest production facility in the West, whose workforce of thousands of arsenalotti built ships on an assembly line, centuries before Henry Ford.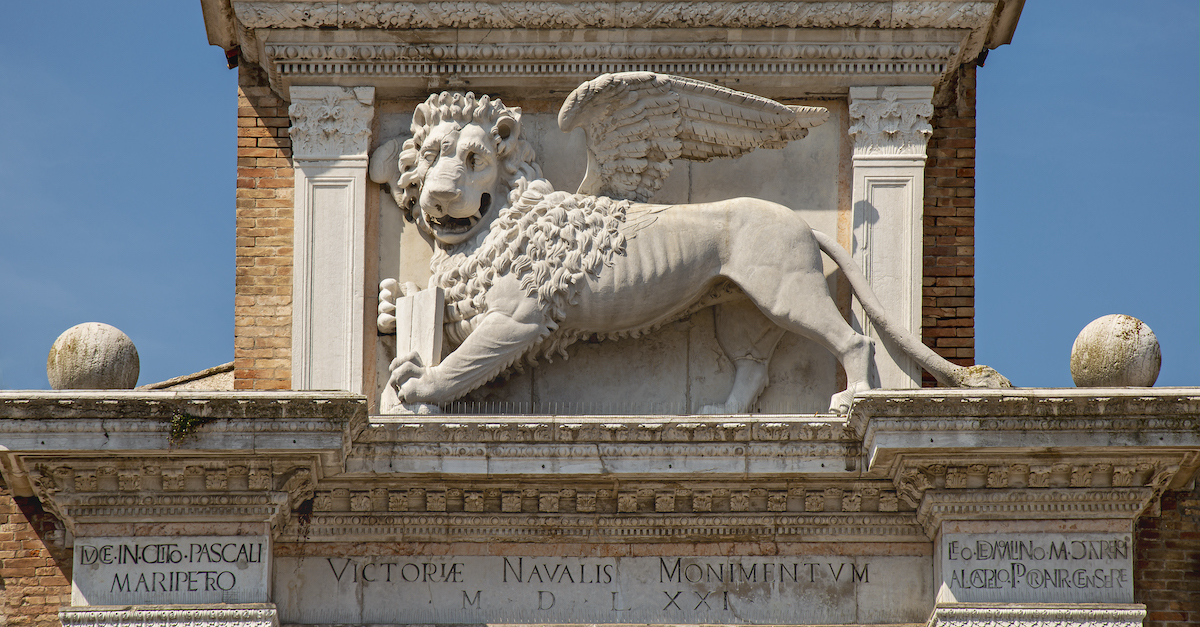 The lion of St Mark guards the land gate to the Arsenale di Venezia, except instead of the usual open bible in its hands offering peace, this book is closed, reflecting its martial purpose. Source: Wikipedia
The Mappa Mundi (literally "map of the world") was considered one of the wonders of Venice with a reputation that reached the Holy Land. It is a circular planisphere drawn on four sheets of parchment, mounted onto three poplar panels and reinforced by vertical battens.
The map is painted in rich reds, golds, and blues; this last pigment was obtained from rare lapis lazuli, imported from mines in Afghanistan. At its corners are four spheres showing the celestial and sublunar worlds, the four elements (earth, air, fire, and water), and an illumination of the Garden of Eden by Leonardo Bellini (active 1443-1490).
Japan (on the left edge, called the Isola de Cimpagu) appears here for the first time in a Western map. And contradicting Ptolemaic tradition, it also shows that it was possible to circumnavigate Africa, presaging the first European journey around the Cape of Good Hope by the Portuguese explorer Bartolomeu Dias in 1488.
NASA called the historical map "stunning" in its accuracy.
A Historical Map Between Two Worlds
Medieval maps, like the Hereford Mappa Mundi (c. 1300), were usually oriented with east at the top, because that's where the Garden of Eden was thought to be. Fra Mauro, however, chose to orient his to the south, perhaps following Muslim geographers such as Muhammad ibn Muhammad al-Idrisi.
Significantly, the Garden of Eden is placed outside of geographic space and Jerusalem is no longer at the center, though it is still marked by a windrose. The nearly 3,000 place names and descriptions are written in the Venetian vernacular, rather than Latin.
At the same time, as much as Fra Mauro's map is a departure from the past, it also retains traces of a medieval Christian worldview. For example, included on the map are the Kingdom of the Magi, the Kingdom of Prester John, and the Tomb of Adam.
Isidore of Seville, Etymologiae (c. 600–625). Source: Wikipedia
The circular planisphere also follows the medieval T-O schema, first described by Isidore of Seville, with Asia occupying the top half of the circle, and Europe and Africa each occupying the bottom two quarters (Fra Mauro turns the 'T' on its side, to reflect a southern orientation). Around the circle, are many islands, beyond which is the "dark sea" where only shipwreck and misfortune await.
Fra Mauro's Legacy
Fra Mauro died some time before 20 October 1459, and unfortunately his contributions fell into obscurity soon thereafter; until 1748, it was believed that the Mappa Mundi was a copy of a lost map by Marco Polo.
In 1811, the original was moved from Fra Mauro's monastery of San Michele to the Biblioteca Nazionale Marciana, following the suppression of religious orders in the Napoleonic era, where it can be viewed today.
Two digital editions have also been produced by the Museo Galileo and the Engineering Historical Memory project, where readers can get a glimpse into a fascinating piece of cartographic history.