Here's 13 Ideas to Fight Fake News – and a Big Problem With All of Them
Will humans or computer algorithms be the future arbiters of "truth"?
Today's infographic from Futurism sums up the ideas that academics, technologists, and other experts are proposing that we implement to stop the spread of fake news.
Below the infographic, we raise our concerns about these methods.
While fake news is certainly problematic, the solutions proposed to penalize articles deemed to be "untrue" are just as scary.
By centralizing fact checking, a system is created that is inherently fragile, biased, and prone for abuse. Furthermore, the idea of axing websites that are deemed to be "untrue" is an initiative that limits independent thought and discourse, while allowing legacy media to remain entrenched.
Centralizing "Truth"
It could be argued that the best thing about the internet is that it decentralizes content, allowing for any individual, blog, or independent media company to stimulate discussion and new ideas with low barriers to entry. Millions of new entrants have changed the media landscape, and it has left traditional media flailing to find ways to adjust revenue models while keeping their influence intact.
If we say that "truth" can only be verified by a centralized mechanism – a group of people, or an algorithm written by a group of people – we are welcoming the idea that arbitrary sources will be preferred, while others will not (unless they conform to certain standards).
Based on this mechanism, it is almost certain that well-established journalistic sources like The New York Times or The Washington Post will be the most trusted. By the same token, newer sources (like independent media, or blogs written by emerging thought leaders) will not be able to get traction unless they are referencing or receiving backing from these "trusted" gatekeepers.
The Impact?
This centralization is problematic – and here's a step-by-step reasoning of why that is the case:
First, either method (human or computer) must rely on preconceived notions of what is "authoritative" and "true" to make decisions. Both will be biased in some way. Humans will lean towards a particular consensus or viewpoint, while computers must rank authority based on different factors (Pagerank, backlinks, source recognition, or headline/content analysis).
Next, there is a snowball effect involved: if only posts referencing these authoritative sources of "truth" can get traction on social media, then these sources become even more authoritative over time. This creates entrenchment that will be difficult to overcome, and new bloggers or media outlets will only be able to move up the ladder by associating their posts with an existing consensus. Grassroot movements and new ideas will suffer – especially those that conflict with mainstream beliefs, government, or corporate power.
Finally, this raises concerns about who fact checks the fact checkers. Forbes has a great post on this, showing that Snopes.com (a fact checker) could not even verify basic truths about its own operations.
Removing articles deemed to be "untrue" is a form of censorship. While it may help to remove many ridiculous articles from people's social feeds, it will also impact the qualities of the internet that make it so great in the first place: its decentralized nature, and the ability for any one person to make a profound impact on the world.
Charted: What are Retail Investors Interested in Buying in 2023?
What key themes and strategies are retail investors looking at for the rest of 2023? Preview: AI is a popular choice.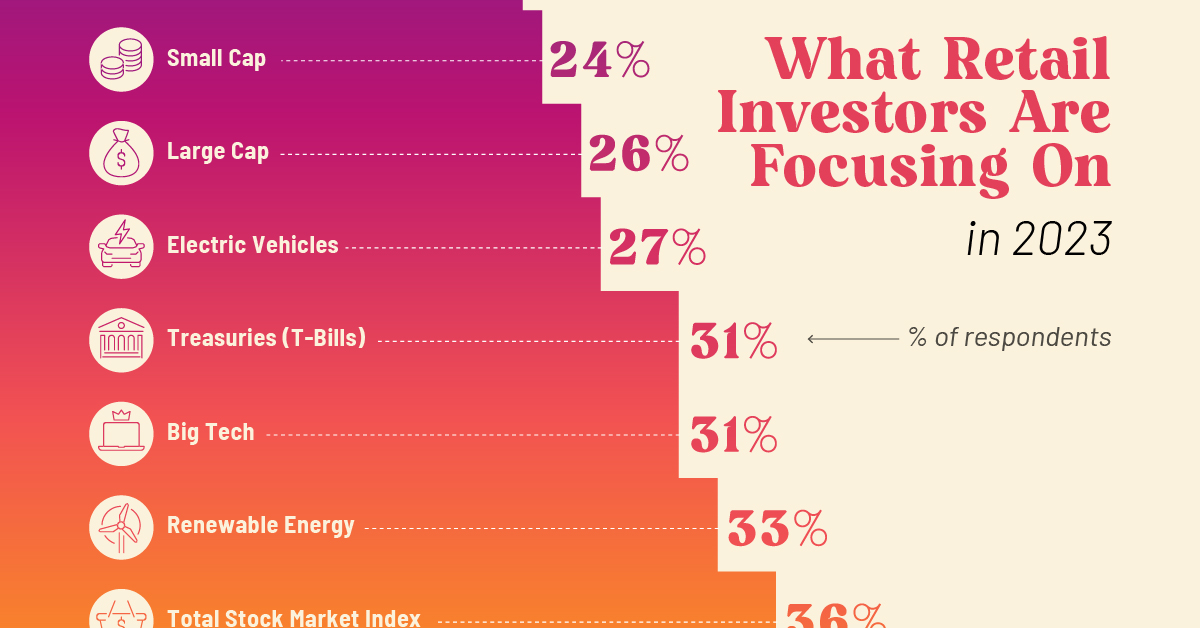 Charted: Retail Investors' Top Picks for 2023
U.S. retail investors, enticed by a brief pause in the interest rate cycle, came roaring back in the early summer. But what are their investment priorities for the second half of 2023?
We visualized the data from Public's 2023 Retail Investor Report, which surveyed 1,005 retail investors on their platform, asking "which investment strategy or themes are you interested in as part of your overall investment strategy?"
Survey respondents ticked all the options that applied to them, thus their response percentages do not sum to 100%.
Where Are Retail Investors Putting Their Money?
By far the most popular strategy for retail investors is dividend investing with 50% of the respondents selecting it as something they're interested in.
Dividends can help supplement incomes and come with tax benefits (especially for lower income investors or if the dividend is paid out into a tax-deferred account), and can be a popular choice during more inflationary times.
| Investment Strategy | Percent of Respondents |
| --- | --- |
| Dividend Investing | 50% |
| Artificial Intelligence | 36% |
| Total Stock Market Index | 36% |
| Renewable Energy | 33% |
| Big Tech | 31% |
| Treasuries (T-Bills) | 31% |
| Electric Vehicles | 27% |
| Large Cap | 26% |
| Small Cap | 24% |
| Emerging Markets | 23% |
| Real Estate | 23% |
| Gold & Precious Metals | 23% |
| Mid Cap | 19% |
| Inflation Protection | 13% |
| Commodities | 12% |
Meanwhile, the hype around AI hasn't faded, with 36% of the respondents saying they'd be interested in investing in the theme—including juggernaut chipmaker Nvidia. This is tied for second place with Total Stock Market Index investing.
Treasury Bills (30%) represent the safety anchoring of the portfolio but the ongoing climate crisis is also on investors' minds with Renewable Energy (33%) and EVs (27%) scoring fairly high on the interest list.
Commodities and Inflation-Protection stocks on the other hand have fallen out of favor.
Come on Barbie, Let's Go Party…
Another interesting takeaway pulled from the survey is how conversations about prevailing companies—or the buzz around them—are influencing trades. The platform found that public investors in Mattel increased 6.6 times after the success of the 'Barbie' movie.
Bud Light also saw a 1.5x increase in retail investors, despite receiving negative attention from their fans after the company did a beer promotion campaign with trans influencer Dylan Mulvaney.
Given the origin story of a large chunk of American retail investors revolves around GameStop and AMC, these insights aren't new, but they do reveal a persisting trend.