12 Stunning Visualizations of Gold Shows Its Rarity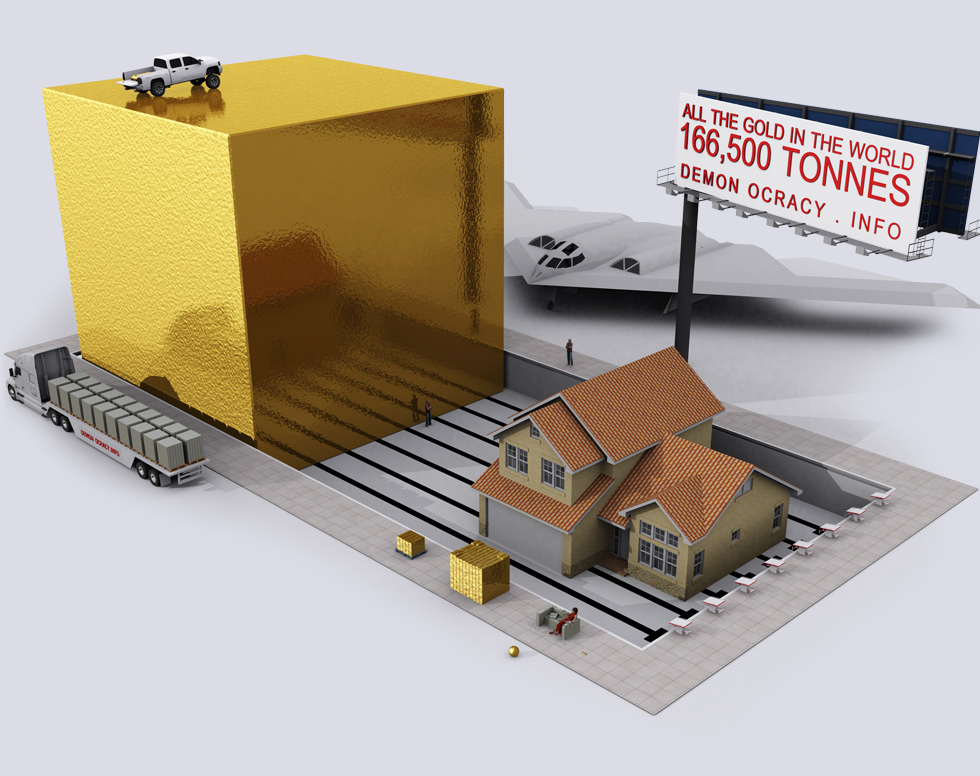 For the companies exploring for gold, a deposit that has more than one gram of gold for every tonne of earth is an exciting prospect. In fact, in our 2013 report summarizing the world's gold deposits, we found that the average grade of gold deposits in the world is around that amount: about 1.01 g/t.
Think about that for a moment. One gram (0.035 oz) is equal to the mass of a small paper clip. This small amount of gold is usually not even in one place – it is dispersed through a tonne of rock and dirt in smaller amounts, most of the time invisible to the naked eye. For some companies that have the stars align with easy metallurgy, a deposit near surface, and open pit potential, this gram per tonne deposit may even somehow be economic.
It's hard to believe that such a small amount of gold could be worth so much, and that is why great visualizations can help us understand the rarity of this yellow metal. Luckily, the folks at Demonocracy.info have done the heavy lifting for us, putting together a series of 3D visualizations of gold bullion bars showcasing the world's gold that has been mined thus far. Note: these visualizations are a couple of years old and optimistically have the value of gold pegged at US$2,000 per oz, presumably for the ease of calculations.
For those interested, we have also put together a similar slideshow on the topic, showing how much gold, silver, copper, and other metals are mined each year.

Smaller denominations of gold plates: 1 gram, 5 grams, 10 grams, 20 grams, and 1 troy oz of gold.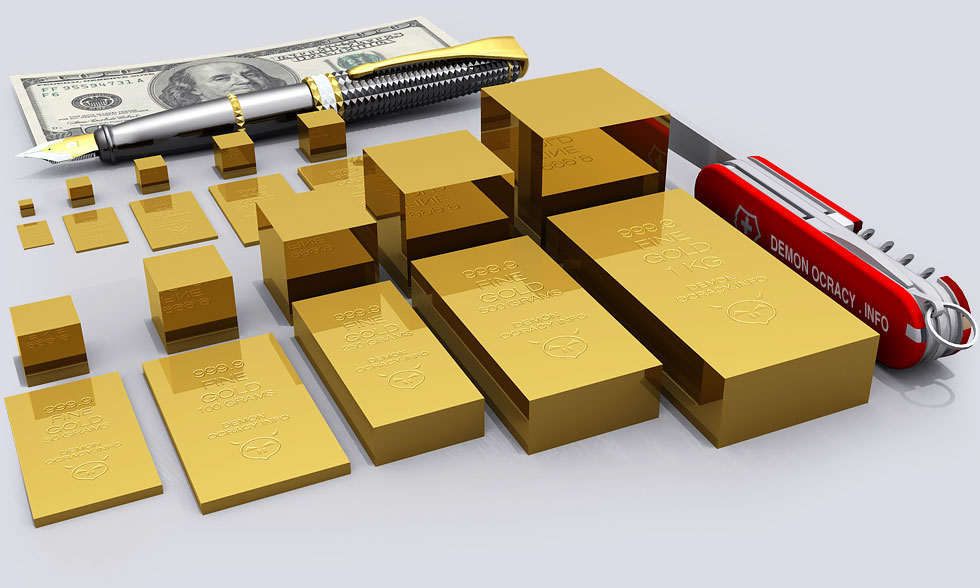 Larger denominations of gold plates: 50 grams, 100 grams, 250 grams, 500 grams, and 1 kg of gold.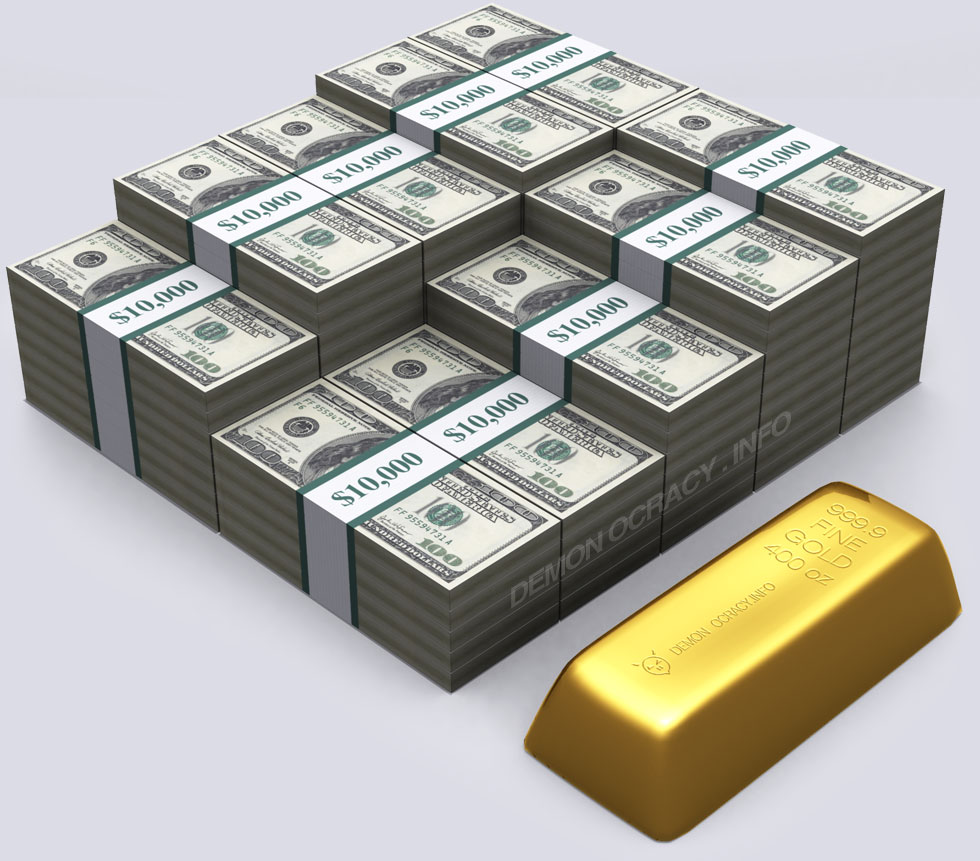 This 400 oz gold bar, at $2,000 per oz gold, is worth the $800,000 cash beside it. The gold bar is extremely heavy, weighing more than three full milk jugs.

Here's what one tonne of gold looks like. At $2,000 per oz, it's worth $64.3 million.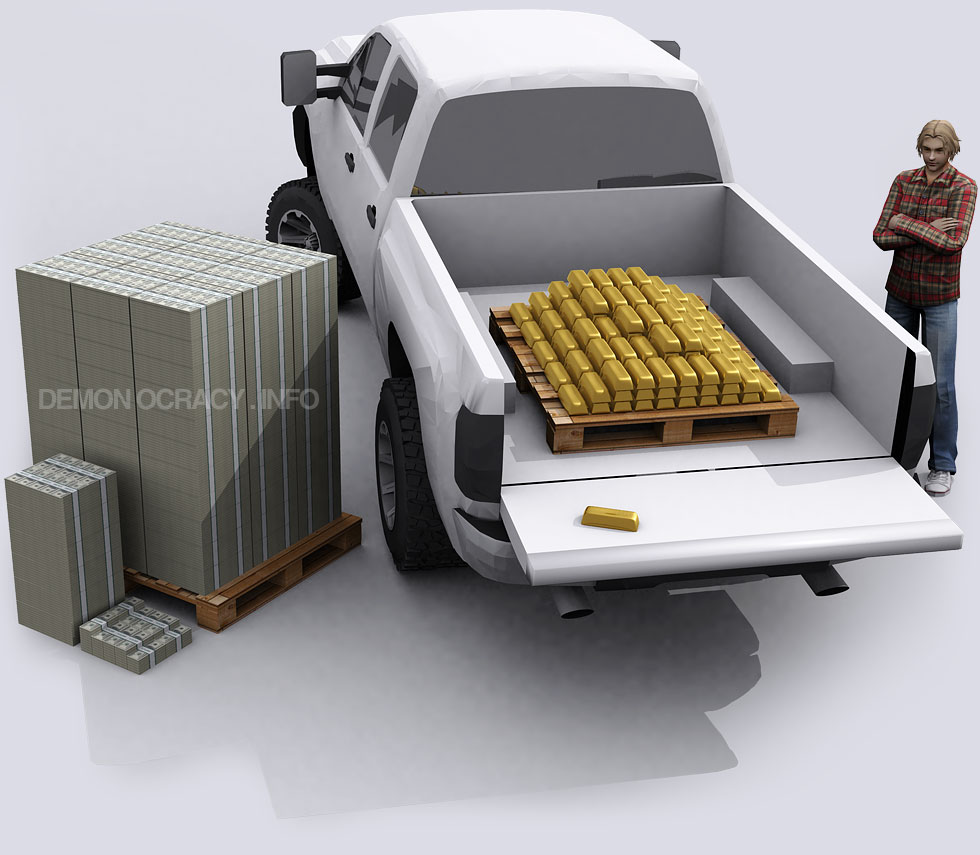 Gold is so heavy that the suspension of an average truck would break if it held anymore than pictured above. Even if the truck's suspension broke, the load of gold in the back could buy 2,660 brand new trucks at an MSRP of $40,000 per truck.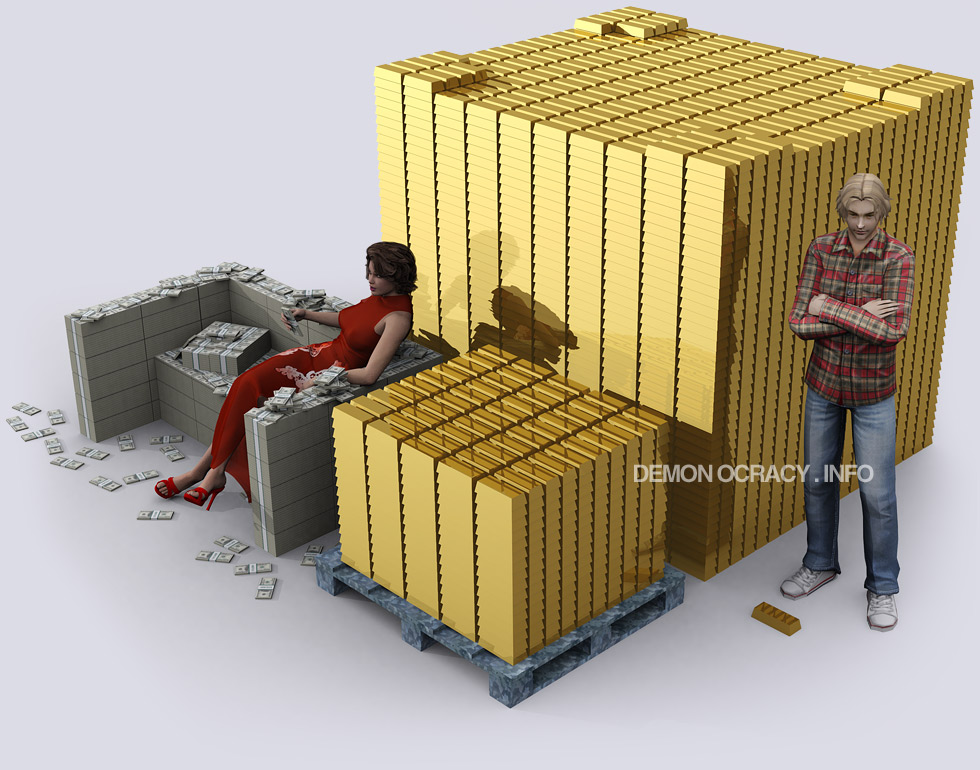 Here's 10 tonnes of gold compared to 100 tonnes of the yellow metal.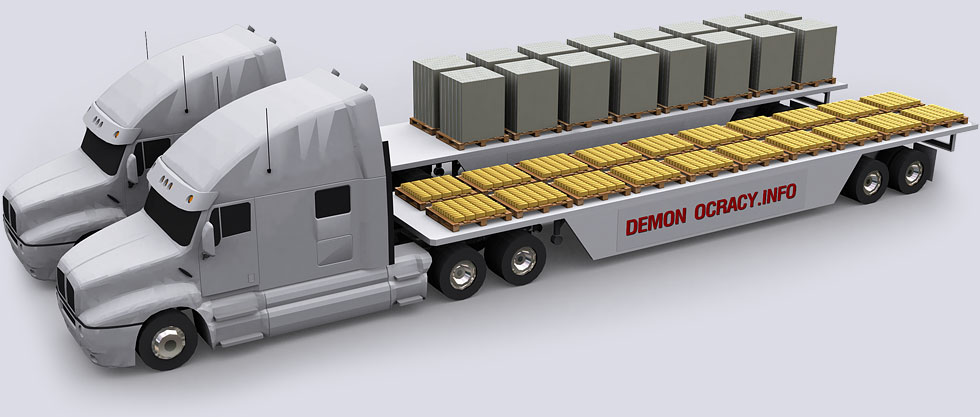 This semi-truck is carrying the maximum load it can legally carry, which is about about 25 tonnes. Here there are 24.88 tonnes of gold, worth $1.6 billion.


The Northrop Grumman B2 Spirit Bomber program cost $44.75 Billion for a total of 21 units built, which averages to $2,130,952,380 per unit. Shown here is the amount of gold it costs to buy one unit.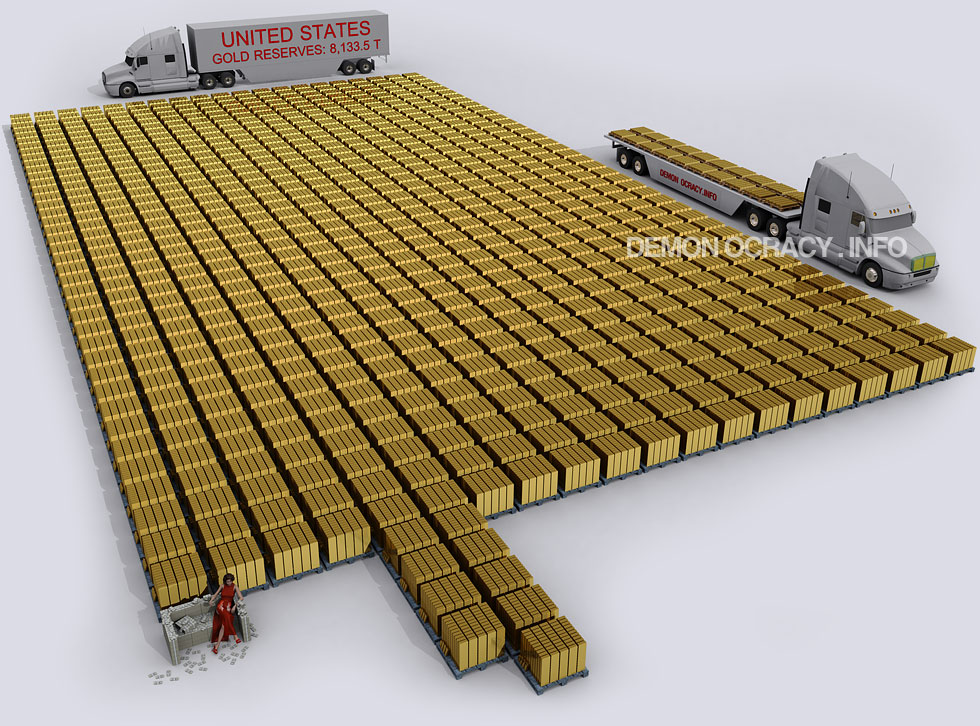 Here's the entire gold reserves of the United States government, which is 8,133.5 tonnes.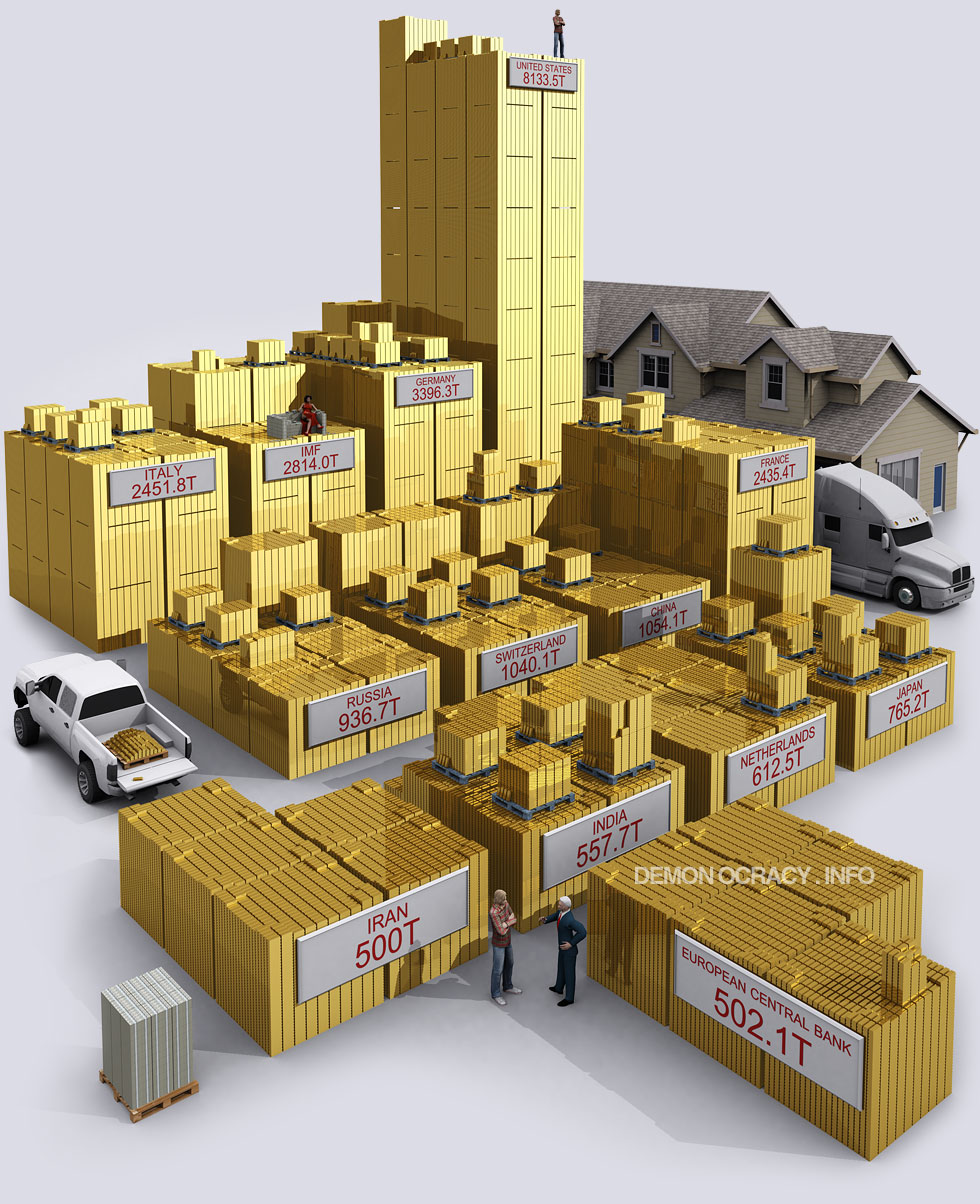 Here's the world's gold reserves by government circa 2012. This is slightly outdated, with China and Russia both having significant increases since then.


All gold mined in history, stacked in 400 oz bars. The 166,500 tonnes here is actually divided into four levels: the bottom level is jewelry (50.5% of all gold), the 2nd level is private investment (18.7%), the third level is world governments (17.4%), and the highest level is other uses for gold such as industry (13.4%).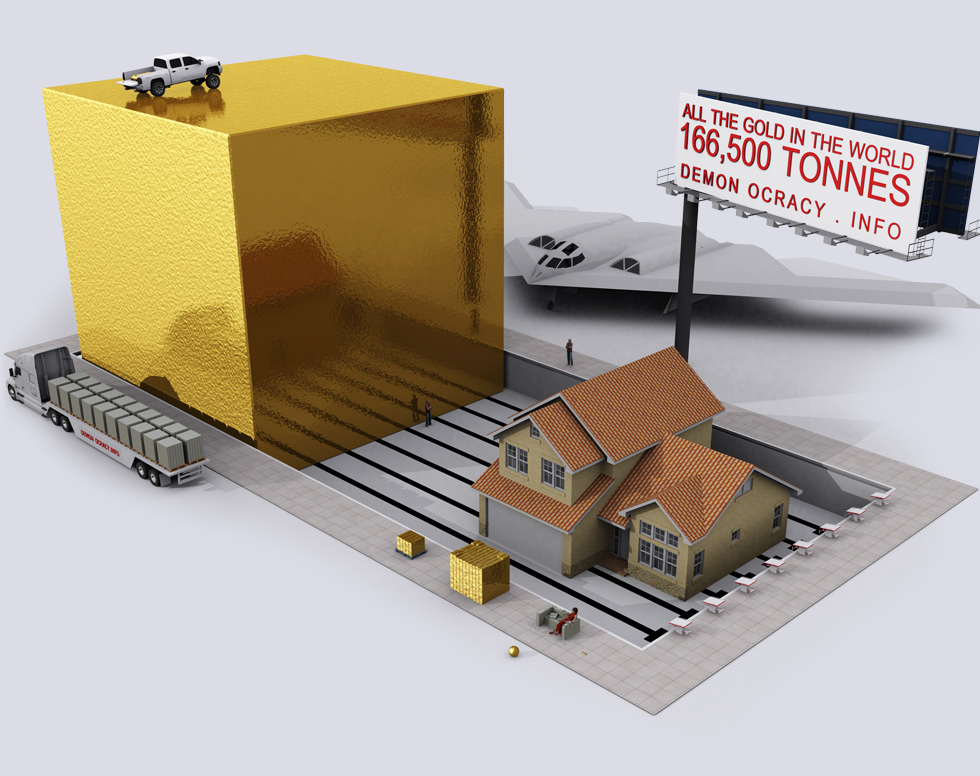 Lastly, we finish off with an image of all of the world's mined gold in one cube with dimensions of 20.5m. If it was all melted, it would fit within the confines of an Olympic Swimming Pool.
Want to learn everything you need to know about gold in about 20 minutes? Our five-part Gold Series covers everything from its rich history, supply and geology, demand drivers, investment properties, and market trends.
More Than Precious: Silver's Role in the New Energy Era (Part 3 of 3)
Long known as a precious metal, silver in solar and EV technologies will redefine its role and importance to a greener economy.
Silver's Role in the New Energy Era (Part 3 of 3)
Silver is one of the first metals that humans discovered and used. Its extensive use throughout history has linked its name to its monetary value. However, as we have advanced technologically, so have our uses for silver. In the future, silver will see a surge in demand from solar and electric vehicle (EV) technologies.
Part 1 and Part 2 of the Silver Series showcased its monetary legacy as a safe haven asset as a precious metal and why now is its time to shine.
Part 3 of the Silver Series comes to us from Endeavour Silver, and it outlines silver's role in the new energy era and how it is more than just a precious metal.
A Sterling Reputation: Silver's History in Technologies
Silver along with gold, copper, lead and iron, was one of the first metals known to humankind. Archaeologists have uncovered silver coins and objects dating from before 4,000 BC in Greece and Turkey. Since then, governments and jewelers embraced its properties to mint currency and craft jewelry.
This historical association between silver and money is recorded across multiple languages. The word silver itself comes from the Anglo-Saxon language, seolfor, which itself comes from ancient Germanic silabar.
Silver's chemical symbol, "Ag", is an abbreviation of the Latin word for silver, argentum. The Latin word originates from argunas, a Sanskrit word which means shining. The French use argent as the word for money and silver. Romans bankers and silver traders carried the name argentarius.
While silver's monetary meanings still stand today, there have been hints of its use beyond money throughout history. For centuries, many cultures used silver containers and wares to store wine, water, and food to prevent spoilage.
During bouts of bubonic plague in Europe, children of wealthy families sucked on silver spoons to preserve their health, which gave birth to the phrase "born with a silver spoon in your mouth."
Medieval doctors invented silver nitrate used to treat ulcers and burns, a practice that continues to this day. In the 1900s, silver found further application in healthcare. Doctors used to administer eye drops containing silver to newborns in the United States. During World War I, combat medics, doctors, and nurses would apply silver sutures to cover deep wounds.
Silver's shimmer also made an important material in photography up until the 1970s. Silver's reflectivity of light made it popular in mirror and building windows.
Now, a new era is rediscovering silver's properties for the next generation of technology, making the metal more than precious.
Silver in the New Energy Era: Solar and EVs
Silver's shimmering qualities foreshadowed its use in renewable technologies. Among all metals, silver has the highest electrical conductivity, making it an ideal metal for use in solar cells and the electronic components of electric vehicles.
Silver in Solar Photovoltaics
Conductive layers of silver paste within the cells of a solar photovoltaic (PV) cell help to conduct the electricity within the cell. When light strikes a PV, the conductors absorb the energy and electrons are set free.
Silver's conductivity carries and stores the free electrons efficiently, maximizing the energy output of a solar cell. According to one study from the University of Kent, a typical solar panel can contain as much as 20 grams of silver.
As the world adopts solar photovoltaics, silver could see dramatic demand coming from this form of renewable energy.
Silver in Electric Vehicles
Silver's conductivity and corrosion resistance makes its use in electronics critical, and electric vehicles are no exception. Virtually every electrical connection in a vehicle uses silver.
Silver is a critical material in the automotive sector, which uses over 55 million ounces of the metal annually. Auto manufacturers apply silver to the electrical contacts in powered seats and windows and other automotive electronics to improve conductivity.
A Silver Intensive Future
A green future will require metals and will redefine the role for many of them. Silver is no exception. Long known as a precious metal, silver also has industrial applications metal for an eco-friendly future.

Visualizing China's Dominance in Rare Earth Metals
Rare earth deposits exist all over the planet, but the majority of the world's rare earth metals are produced and refined in China.
China's Dominance in Rare Earth Metals
Did you know that a single iPhone contains eight different rare earth metals?
From smartphones and electric vehicles to x-rays and guided-missiles, several modern technologies wouldn't be what they are without rare earth metals. Also known as rare earth elements or simply "rare earths", this group of 17 elements is critical to a number of wide-ranging industries.
Although deposits of rare earth metals exist all over the world, the majority of both mining and refining occurs in China. The above graphic from CSIS China Power Project tracks China's exports of rare earth metals in 2019, providing a glimpse of the country's dominating presence in the global supply chain.
China's Top Rare Earth Export Destinations
Around 88% of China's 2019 rare earth exports went to just five countries, which are among the world's technological and economic powerhouses.
| Export Destination | Share of China's Rare Earth Exports | Top Rare Earth Import (tons) |
| --- | --- | --- |
| Japan | 36.0% | Cerium |
| United States | 33.4% | Lanthanum |
| Netherlands | 9.6% | Lanthanum |
| South Korea | 5.4% | Lanthanum |
| Italy | 3.5% | Cerium |
| Rest of the World | 12.1% | Cerium |
Japan and the U.S. are by far the largest importers, collectively accounting for more than two-thirds of China's rare earth metals exports.
Lanthanum, found in hybrid vehicles and smartphones, was China's largest rare earth export by volume, followed by cerium. In dollar terms, terbium was the most expensive—generating $57.9 million from just 115 metric tons of exports.
Why China's Dominance Matters
As the world transitions to a cleaner future, the demand for rare earth metals is expected to nearly double by 2030, and countries are in need of a reliable supply chain.
China's virtual monopoly in rare earth metals not only gives it a strategic upper hand over heavily dependent countries like the U.S.—which imports 80% of its rare earths from China—but also makes the supply chain anything but reliable.
"China will not rule out using rare earth exports as leverage to deal with the [Trade War] situation."
—Gao Fengping et al., 2019, in a report funded by the Chinese government via Horizon Advisory.
A case in point comes from 2010 when China reduced its rare earth export quotas by 37%, which in part resulted in skyrocketing rare earth prices worldwide.
The resulting supply chain disruption was significant enough to push the EU, the U.S., and Japan to jointly launch a dispute settlement case through the World Trade Organization, which was ruled against China in 2014.
On the brighter side, the increase in prices led to an influx of capital in the rare earth mining industry, financing more than 200 projects outside China. While this exploration boom was short-lived, it was successful in kick-starting production in other parts of the world.
Breaking China's Rare Earth Monopoly
China's dominance in rare earths is the result of years of evolving industrial policies since the 1980s, ranging from tax rebates to export restrictions. In order to reduce dependence on China, the U.S. and Japan have made it a priority to diversify their sources of rare earth metals.
For starters, the U.S. has added rare earth metals to its list of critical minerals, and President Donald Trump recently issued an executive order to encourage local production. On the other side of the world, Japan is making efforts to reduce China's share of its total rare earth imports to less than 50% by 2025.
Increasing rare earth mining outside of China has reduced China's global share of mining, down from 97.7% in 2010 to 62.9% in 2019. But mining is merely one piece of the puzzle.
Ultimately, the large majority of rare earth refining, 80%, resides in China. Therefore, even rare earths mined overseas are sent to China for final processing. New North American refining facilities are being set up to tackle this, but the challenge lies in managing the environmental impacts of processing rare earths.