12 Stunning Visualizations of Gold Shows Its Rarity
For the companies exploring for gold, a deposit that has more than one gram of gold for every tonne of earth is an exciting prospect. In fact, in our 2013 report summarizing the world's gold deposits, we found that the average grade of gold deposits in the world is around that amount: about 1.01 g/t.
Think about that for a moment. One gram (0.035 oz) is equal to the mass of a small paper clip. This small amount of gold is usually not even in one place – it is dispersed through a tonne of rock and dirt in smaller amounts, most of the time invisible to the naked eye. For some companies that have the stars align with easy metallurgy, a deposit near surface, and open pit potential, this gram per tonne deposit may even somehow be economic.
It's hard to believe that such a small amount of gold could be worth so much, and that is why great visualizations can help us understand the rarity of this yellow metal. Luckily, the folks at Demonocracy.info have done the heavy lifting for us, putting together a series of 3D visualizations of gold bullion bars showcasing the world's gold that has been mined thus far. Note: these visualizations are a couple of years old and optimistically have the value of gold pegged at US$2,000 per oz, presumably for the ease of calculations.
For those interested, we have also put together a similar slideshow on the topic, showing how much gold, silver, copper, and other metals are mined each year.

Smaller denominations of gold plates: 1 gram, 5 grams, 10 grams, 20 grams, and 1 troy oz of gold.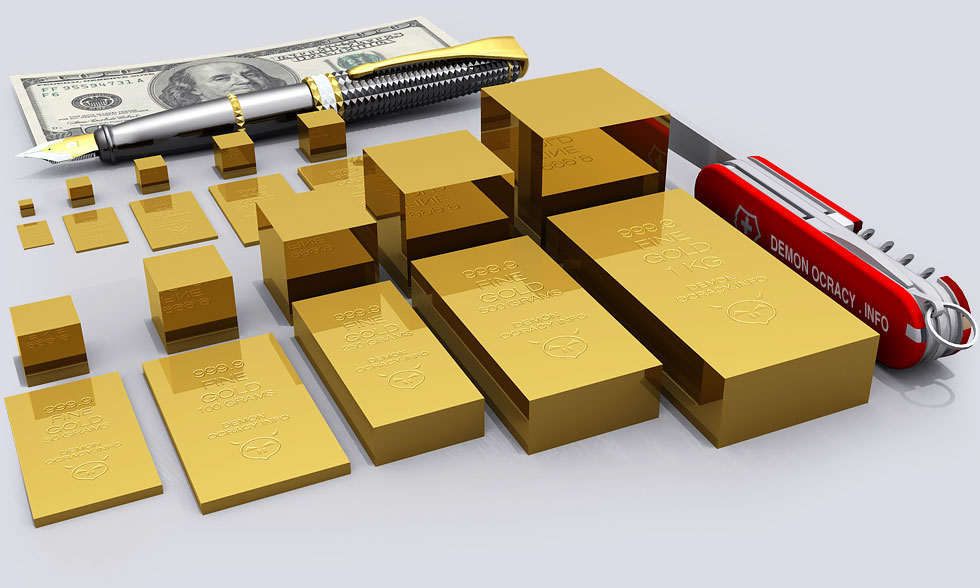 Larger denominations of gold plates: 50 grams, 100 grams, 250 grams, 500 grams, and 1 kg of gold.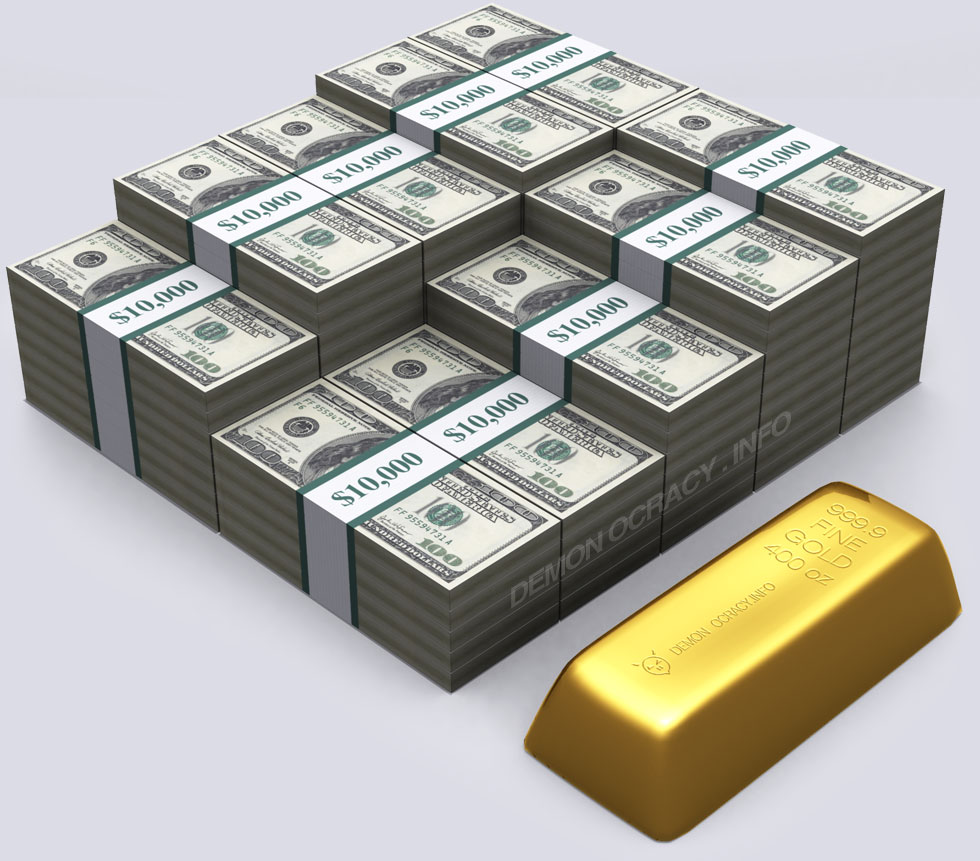 This 400 oz gold bar, at $2,000 per oz gold, is worth the $800,000 cash beside it. The gold bar is extremely heavy, weighing more than three full milk jugs.

Here's what one tonne of gold looks like. At $2,000 per oz, it's worth $64.3 million.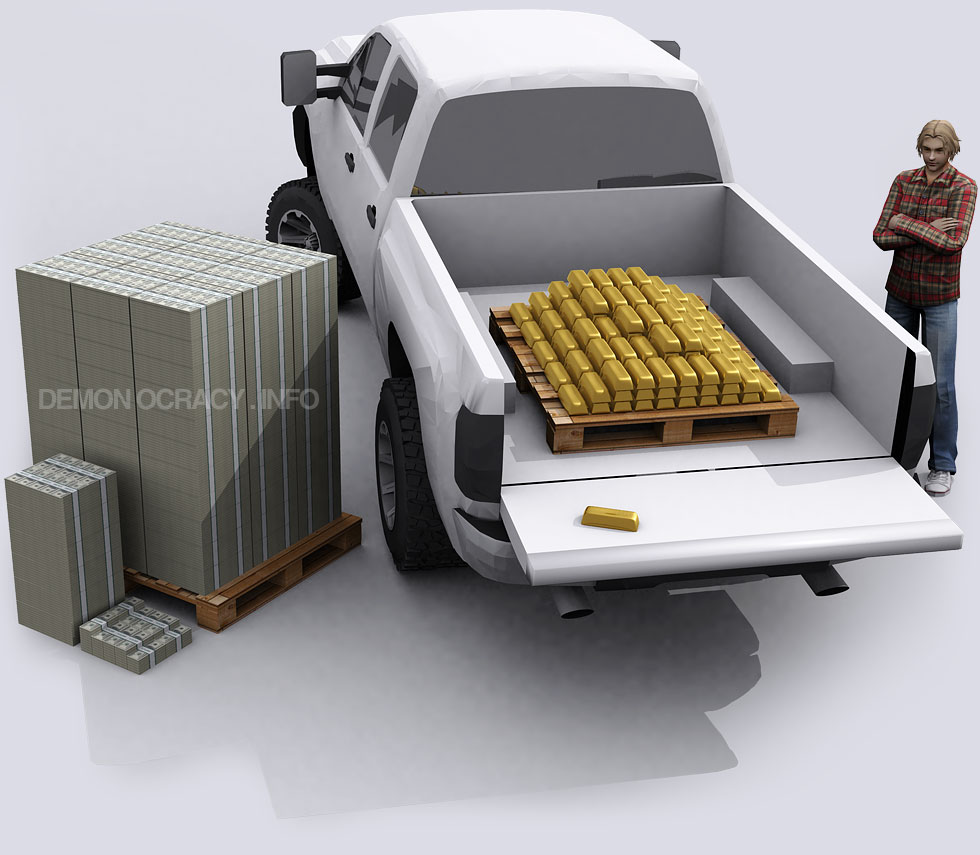 Gold is so heavy that the suspension of an average truck would break if it held anymore than pictured above. Even if the truck's suspension broke, the load of gold in the back could buy 2,660 brand new trucks at an MSRP of $40,000 per truck.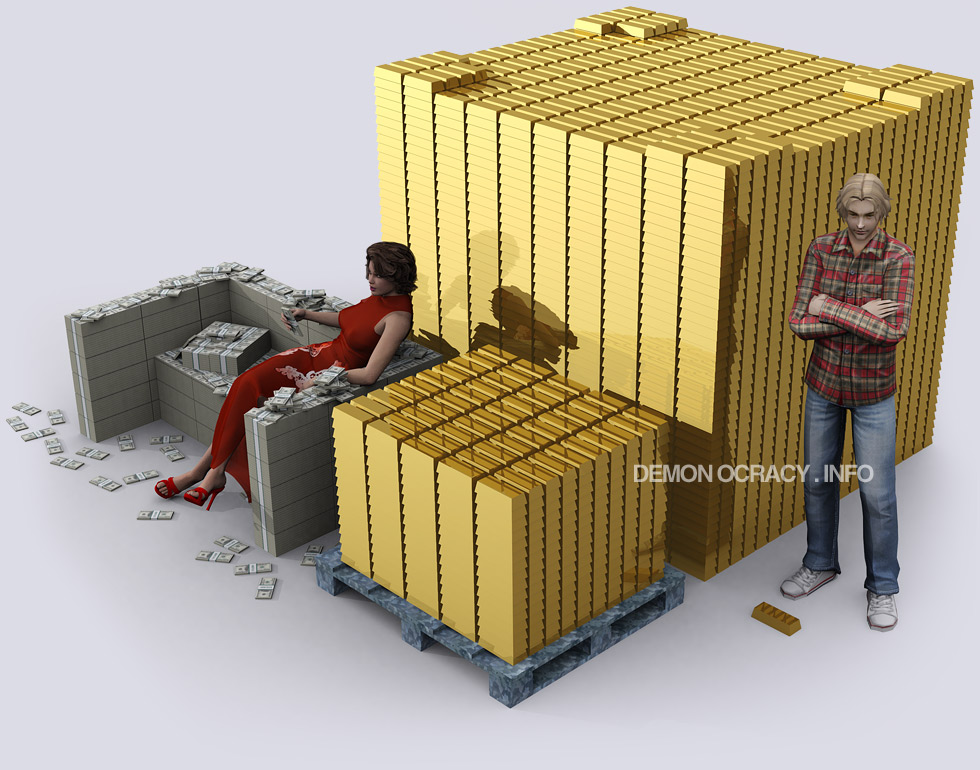 Here's 10 tonnes of gold compared to 100 tonnes of the yellow metal.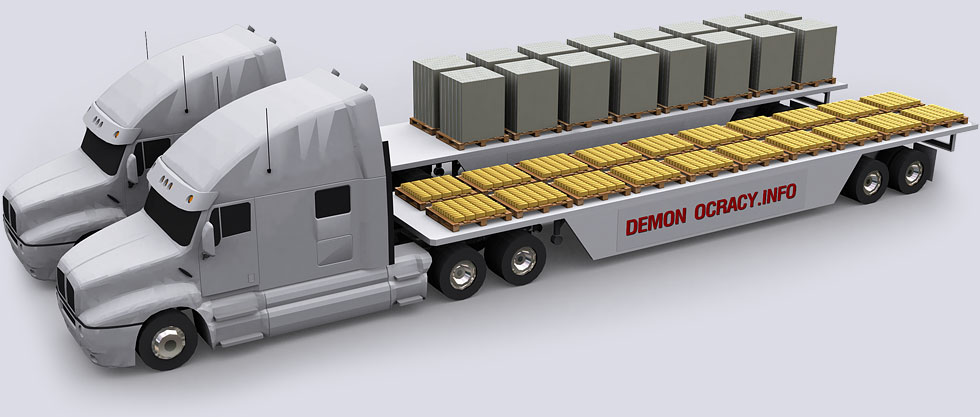 This semi-truck is carrying the maximum load it can legally carry, which is about about 25 tonnes. Here there are 24.88 tonnes of gold, worth $1.6 billion.


The Northrop Grumman B2 Spirit Bomber program cost $44.75 Billion for a total of 21 units built, which averages to $2,130,952,380 per unit. Shown here is the amount of gold it costs to buy one unit.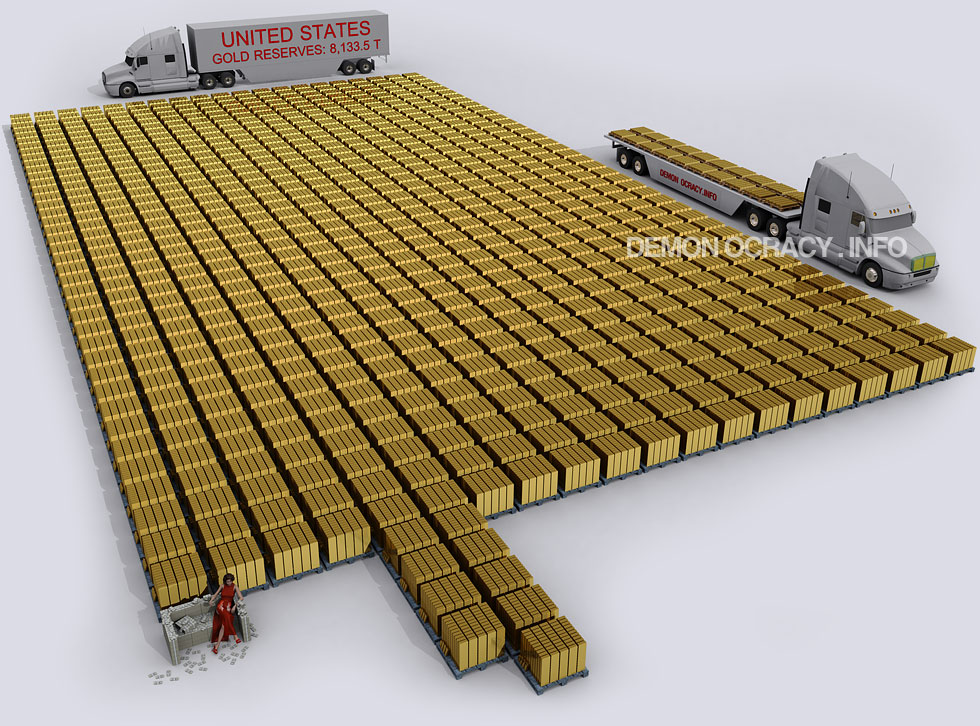 Here's the entire gold reserves of the United States government, which is 8,133.5 tonnes.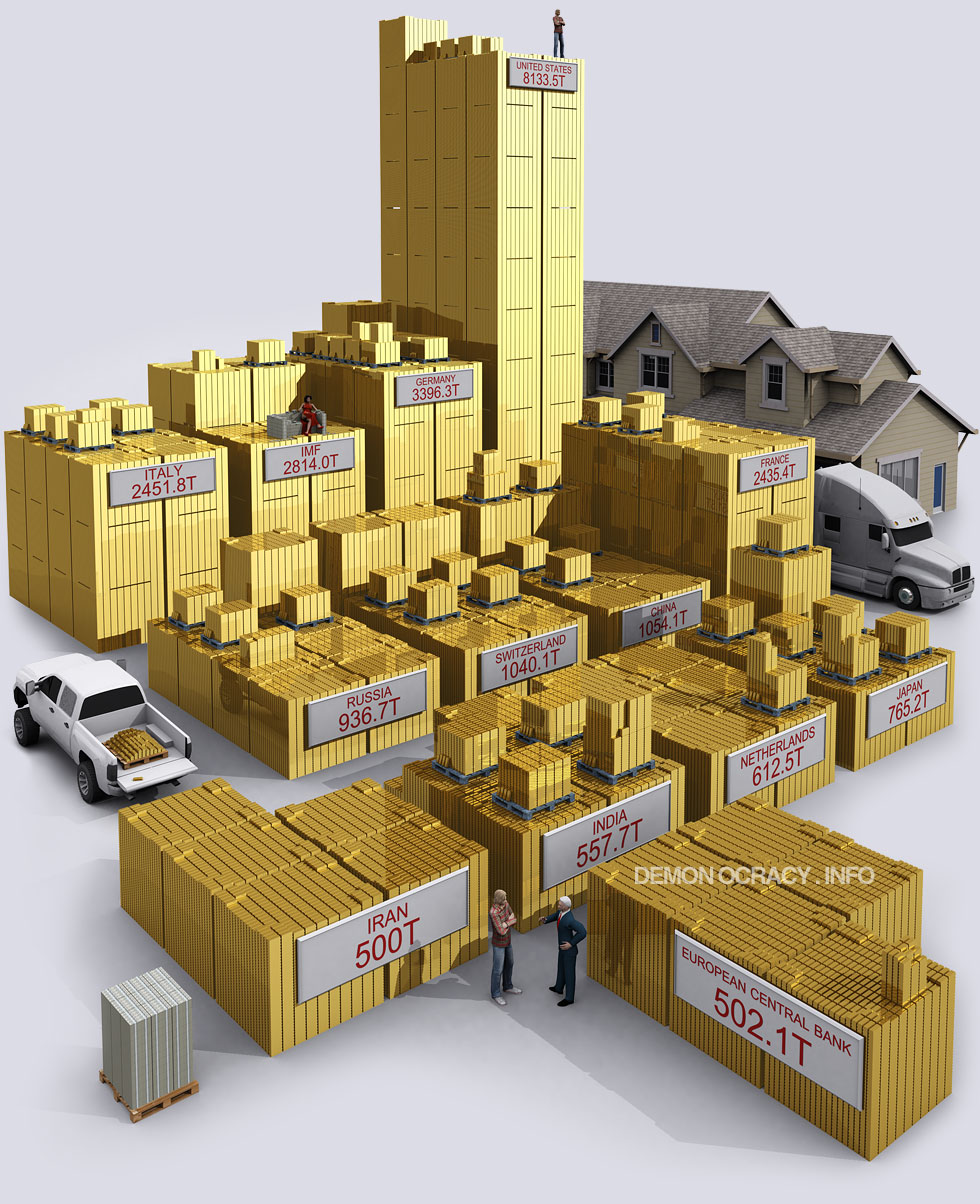 Here's the world's gold reserves by government circa 2012. This is slightly outdated, with China and Russia both having significant increases since then.


All gold mined in history, stacked in 400 oz bars. The 166,500 tonnes here is actually divided into four levels: the bottom level is jewelry (50.5% of all gold), the 2nd level is private investment (18.7%), the third level is world governments (17.4%), and the highest level is other uses for gold such as industry (13.4%).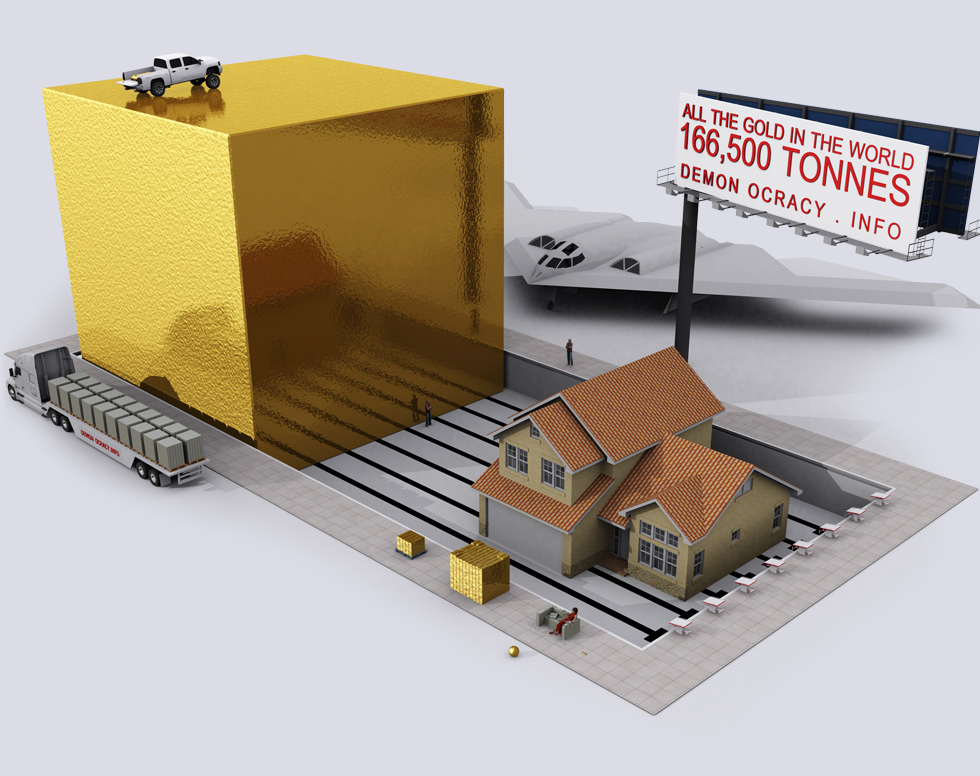 Lastly, we finish off with an image of all of the world's mined gold in one cube with dimensions of 20.5m. If it was all melted, it would fit within the confines of an Olympic Swimming Pool.
Want to learn everything you need to know about gold in about 20 minutes? Our five-part Gold Series covers everything from its rich history, supply and geology, demand drivers, investment properties, and market trends.
Visualizing the Critical Metals in a Smartphone
Smartphones can contain ~80% of the stable elements on the periodic table. This graphic details the critical metals you carry in your pocket.
Visualizing the Critical Metals in a Smartphone
In an increasingly connected world, smartphones have become an inseparable part of our lives.
Over 60% of the world's population owns a mobile phone and smartphone adoption continues to rise in developing countries around the world.
While each brand has its own mix of components, whether it's a Samsung or an iPhone, most smartphones can carry roughly 80% of the stable elements on the periodic table.
But some of the vital metals to build these devices are considered at risk due to geological scarcity, geopolitical issues, and other factors.
| Smartphone Part | Critical Metal |
| --- | --- |
| Touch Screen | indium |
| Display | lanthanum; gadolinium; praseodymium; europium; terbium; dysprosium |
| Electronics | nickel, gallium, tantalum |
| Casing | nickel, magnesium |
| Battery | lithium, nickel, cobalt |
| Microphone, speakers, vibration unit | nickel, praseodymium, neodymium, gadolinium, terbium, dysprosium |
What's in Your Pocket?
This infographic based on data from the University of Birmingham details all the critical metals that you carry in your pocket with your smartphone.
1. Touch Screen
Screens are made up of multiple layers of glass and plastic, coated with a conductor material called indium which is highly conductive and transparent.
Indium responds when contacted by another electrical conductor, like our fingers.
When we touch the screen, an electric circuit is completed where the finger makes contact with the screen, changing the electrical charge at this location. The device registers this electrical charge as a "touch event", then prompting a response.
2. Display
Smartphones screens display images on a liquid crystal display (LCD). Just like in most TVs and computer monitors, a phone LCD uses an electrical current to adjust the color of each pixel.
Several rare earth elements are used to produce the colors on screen.
3. Electronics
Smartphones employ multiple antenna systems, such as Bluetooth, GPS, and WiFi.
The distance between these antenna systems is usually small making it extremely difficult to achieve flawless performance. Capacitors made of the rare, hard, blue-gray metal tantalum are used for filtering and frequency tuning.
Nickel is also used in capacitors and in mobile phone electrical connections. Another silvery metal, gallium, is used in semiconductors.
4. Microphone, Speakers, Vibration Unit
Nickel is used in the microphone diaphragm (that vibrates in response to sound waves).
Alloys containing rare earths neodymium, praseodymium and gadolinium are used in the magnets contained in the speaker and microphone. Neodymium, terbium and dysprosium are also used in the vibration unit.
5. Casing
There are many materials used to make phone cases, such as plastic, aluminum, carbon fiber, and even gold. Commonly, the cases have nickel to reduce electromagnetic interference (EMI) and magnesium alloys for EMI shielding.
6. Battery
Unless you bought your smartphone a decade ago, your device most likely carries a lithium-ion battery, which is charged and discharged by lithium ions moving between the negative (anode) and positive (cathode) electrodes.
What's Next?
Smartphones will naturally evolve as consumers look for ever-more useful features. Foldable phones, 5G technology with higher download speeds, and extra cameras are just a few of the changes expected.
As technology continues to improve, so will the demand for the metals necessary for the next generation of smartphones.
This post was originally featured on Elements
Silver Through the Ages: The Uses of Silver Over Time
The uses of silver span various industries, from renewable energy to jewelry. See how the uses of silver have evolved in this infographic.
Silver is one of the most versatile metals on Earth, with a unique combination of uses both as a precious and industrial metal.
Today, silver's uses span many modern technologies, including solar panels, electric vehicles, and 5G devices. However, the uses of silver in currency, medicine, art, and jewelry have helped advance civilization, trade, and technology for thousands of years.
The Uses of Silver Over Time
The below infographic from Blackrock Silver takes us on a journey of silver's uses through time, from the past to the future.
3,000 BC – The Middle Ages
The earliest accounts of silver can be traced to 3,000 BC in modern-day Turkey, where its mining spurred trade in the ancient Aegean and Mediterranean seas. Traders and merchants would use hacksilver—rough-cut pieces of silver—as a medium of exchange for goods and services.
Around 1,200 BC, the Ancient Greeks began refining and minting silver coins from the rich deposits found in the mines of Laurion just outside Athens. By 100 BC, modern-day Spain became the center of silver mining for the Roman Empire while silver bullion traveled along the Asian spice trade routes. By the late 1400s, Spain brought its affinity for silver to the New World where it uncovered the largest deposits of silver in history in the dusty hills of Bolivia.
Besides the uses of silver in commerce, people also recognized silver's ability to fight bacteria. For instance, wine and food containers were often made out of silver to prevent spoilage. In addition, during breakouts of the Bubonic plague in medieval and renaissance Europe, people ate and drank with silver utensils to protect themselves from disease.
The 1800s – 2000s
New medicinal uses of silver came to light in the 19th and 20th centuries. Surgeons stitched post-operative wounds with silver sutures to reduce inflammation. In the early 1900s, doctors prescribed silver nitrate eyedrops to prevent conjunctivitis in newborn babies. Furthermore, in the 1960s, NASA developed a water purifier that dispensed silver ions to kill bacteria and purify water on its spacecraft.
The Industrial Revolution drove the onset of silver's industrial applications. Thanks to its high light sensitivity and reflectivity, it became a key ingredient in photographic films, windows, and mirrors. Even today, skyscraper windows are often coated with silver to reflect sunlight and keep interior spaces cool.
The 2000s – Present
The uses of silver have come a long way since hacksilver and utensils, evolving with time and technology.
Silver is the most electrically conductive metal, making it a natural choice for electronic devices. Almost every electronic device with a switch or button contains silver, from smartphones to electric vehicles. Solar panels also utilize silver as a conductive layer in photovoltaic cells to transport and store electricity efficiently.
In addition, it has several medicinal applications that range from treating burn wounds and ulcers to eliminating bacteria in air conditioning systems and clothes.
Silver for the Future
Silver has always been useful to industries and technologies due to its unique properties, from its antibacterial nature to high electrical conductivity. Today, silver is critical for the next generation of renewable energy technologies.
For every age, silver proves its value.