12 Stunning Visualizations of Gold Shows Its Rarity
For the companies exploring for gold, a deposit that has more than one gram of gold for every tonne of earth is an exciting prospect. In fact, in our 2013 report summarizing the world's gold deposits, we found that the average grade of gold deposits in the world is around that amount: about 1.01 g/t.
Think about that for a moment. One gram (0.035 oz) is equal to the mass of a small paper clip. This small amount of gold is usually not even in one place – it is dispersed through a tonne of rock and dirt in smaller amounts, most of the time invisible to the naked eye. For some companies that have the stars align with easy metallurgy, a deposit near surface, and open pit potential, this gram per tonne deposit may even somehow be economic.
It's hard to believe that such a small amount of gold could be worth so much, and that is why great visualizations can help us understand the rarity of this yellow metal. Luckily, the folks at Demonocracy.info have done the heavy lifting for us, putting together a series of 3D visualizations of gold bullion bars showcasing the world's gold that has been mined thus far. Note: these visualizations are a couple of years old and optimistically have the value of gold pegged at US$2,000 per oz, presumably for the ease of calculations.
For those interested, we have also put together a similar slideshow on the topic, showing how much gold, silver, copper, and other metals are mined each year.

Smaller denominations of gold plates: 1 gram, 5 grams, 10 grams, 20 grams, and 1 troy oz of gold.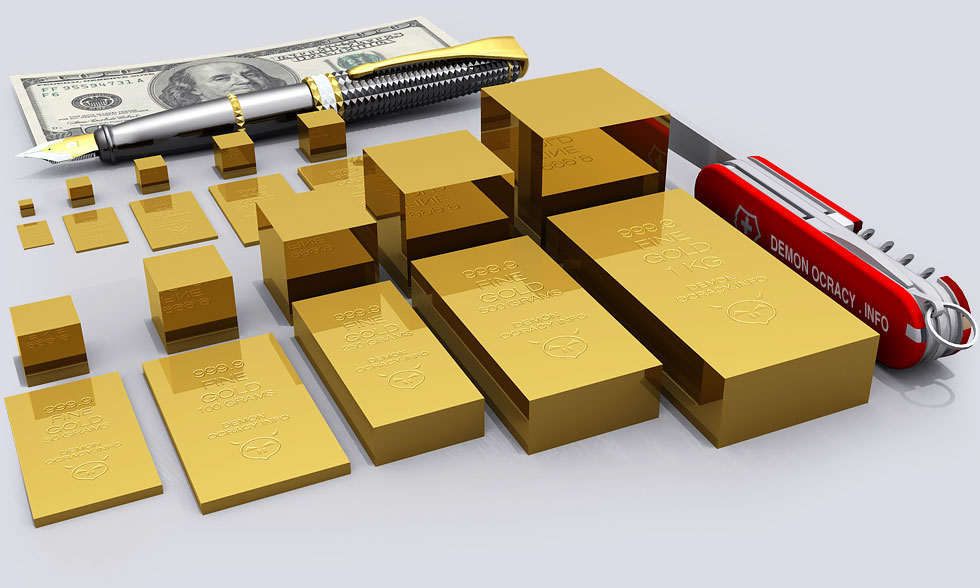 Larger denominations of gold plates: 50 grams, 100 grams, 250 grams, 500 grams, and 1 kg of gold.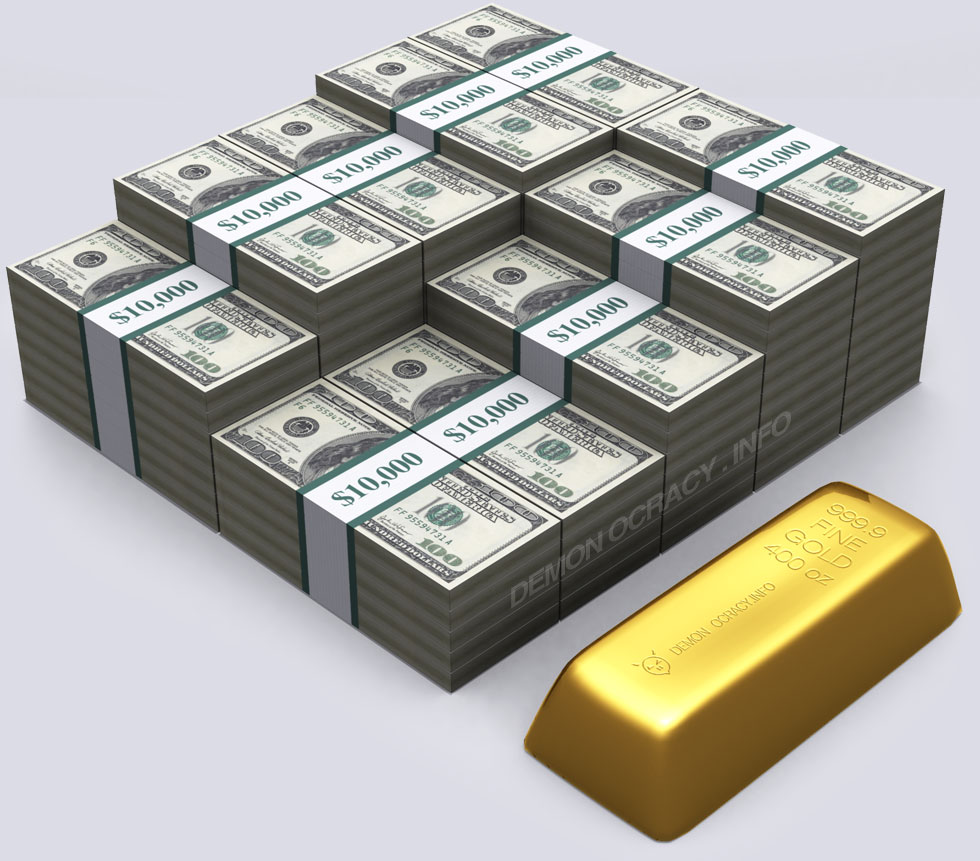 This 400 oz gold bar, at $2,000 per oz gold, is worth the $800,000 cash beside it. The gold bar is extremely heavy, weighing more than three full milk jugs.

Here's what one tonne of gold looks like. At $2,000 per oz, it's worth $64.3 million.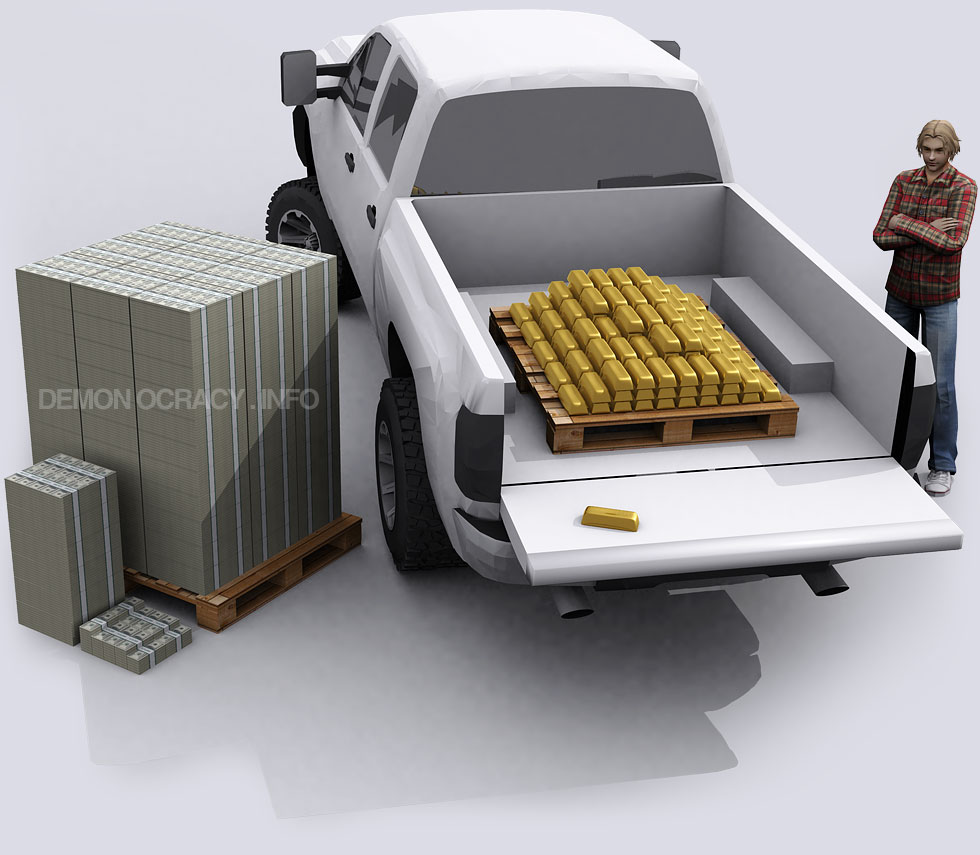 Gold is so heavy that the suspension of an average truck would break if it held anymore than pictured above. Even if the truck's suspension broke, the load of gold in the back could buy 2,660 brand new trucks at an MSRP of $40,000 per truck.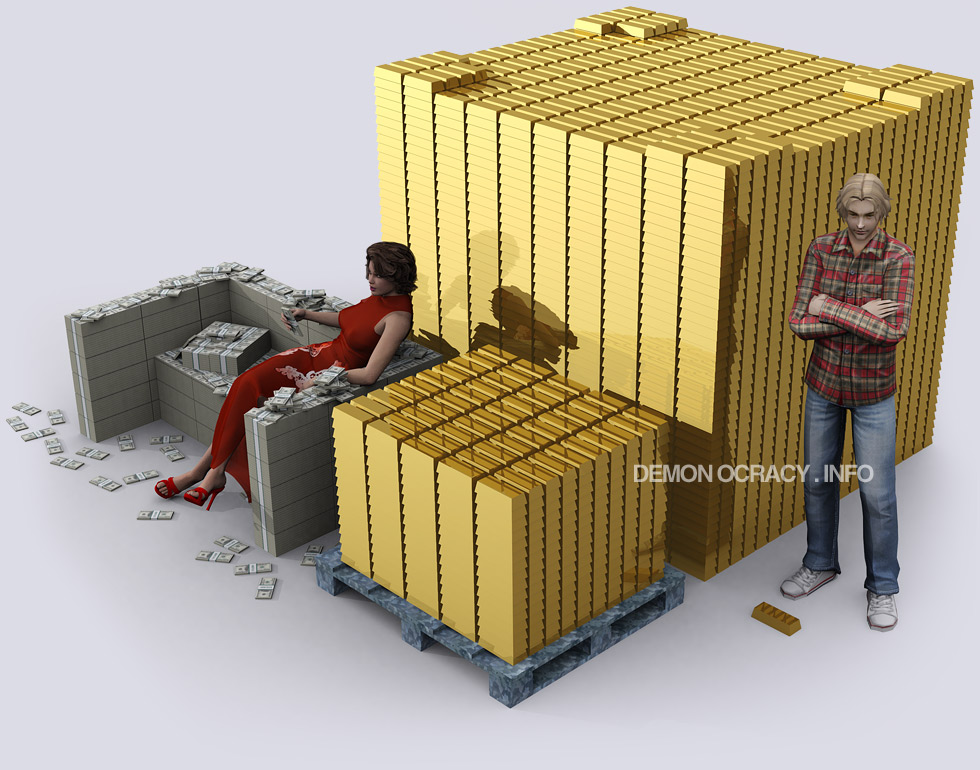 Here's 10 tonnes of gold compared to 100 tonnes of the yellow metal.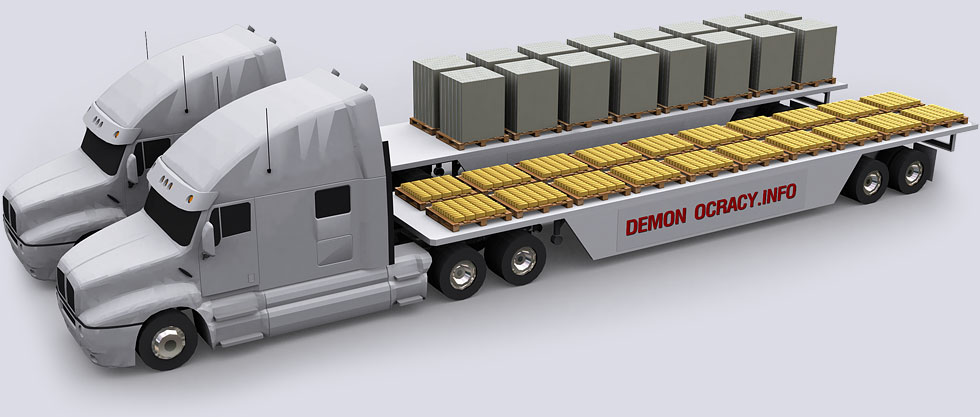 This semi-truck is carrying the maximum load it can legally carry, which is about about 25 tonnes. Here there are 24.88 tonnes of gold, worth $1.6 billion.


The Northrop Grumman B2 Spirit Bomber program cost $44.75 Billion for a total of 21 units built, which averages to $2,130,952,380 per unit. Shown here is the amount of gold it costs to buy one unit.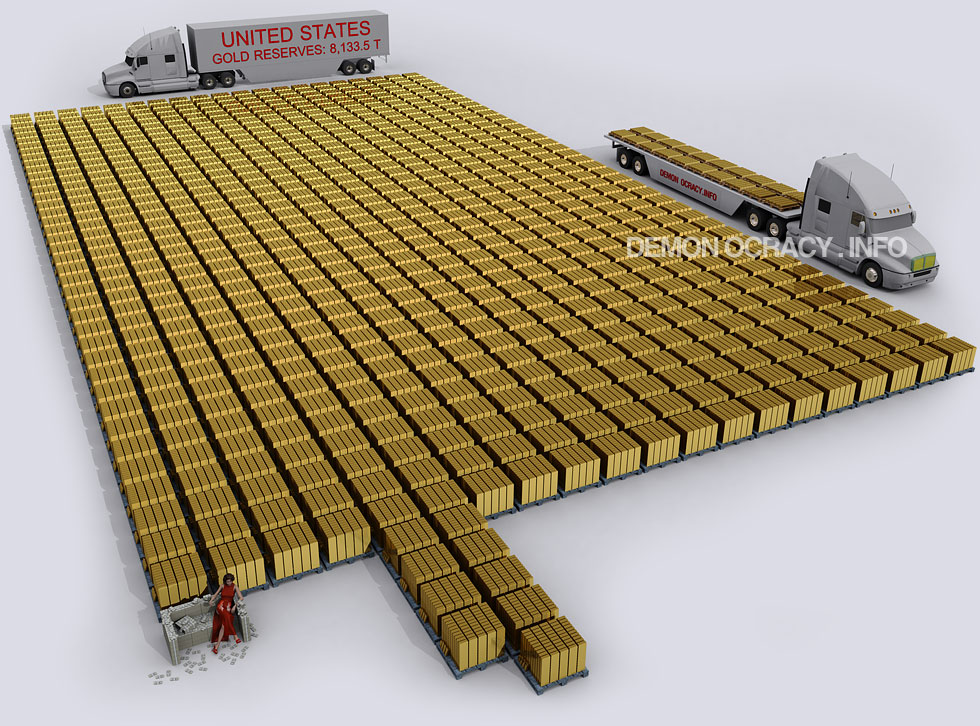 Here's the entire gold reserves of the United States government, which is 8,133.5 tonnes.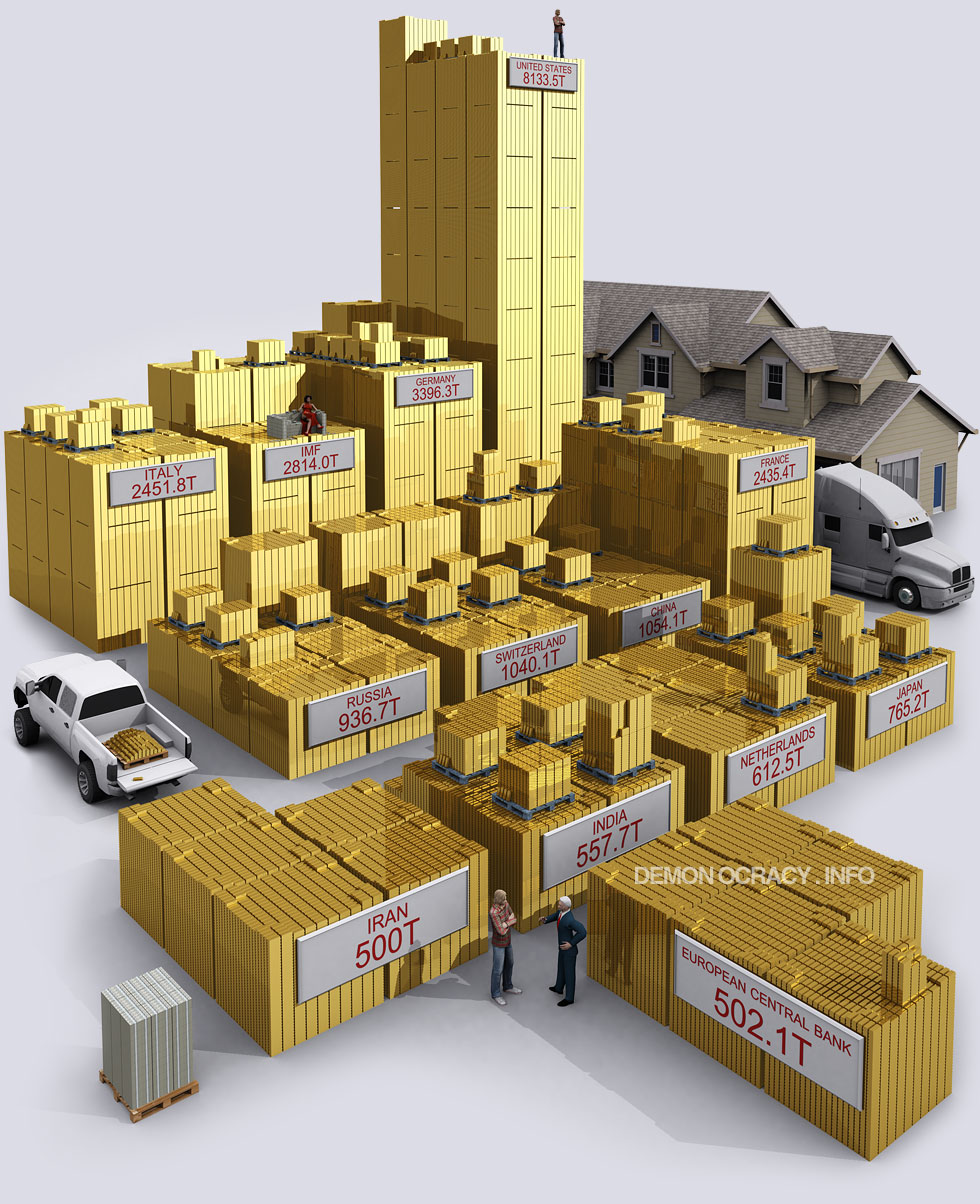 Here's the world's gold reserves by government circa 2012. This is slightly outdated, with China and Russia both having significant increases since then.


All gold mined in history, stacked in 400 oz bars. The 166,500 tonnes here is actually divided into four levels: the bottom level is jewelry (50.5% of all gold), the 2nd level is private investment (18.7%), the third level is world governments (17.4%), and the highest level is other uses for gold such as industry (13.4%).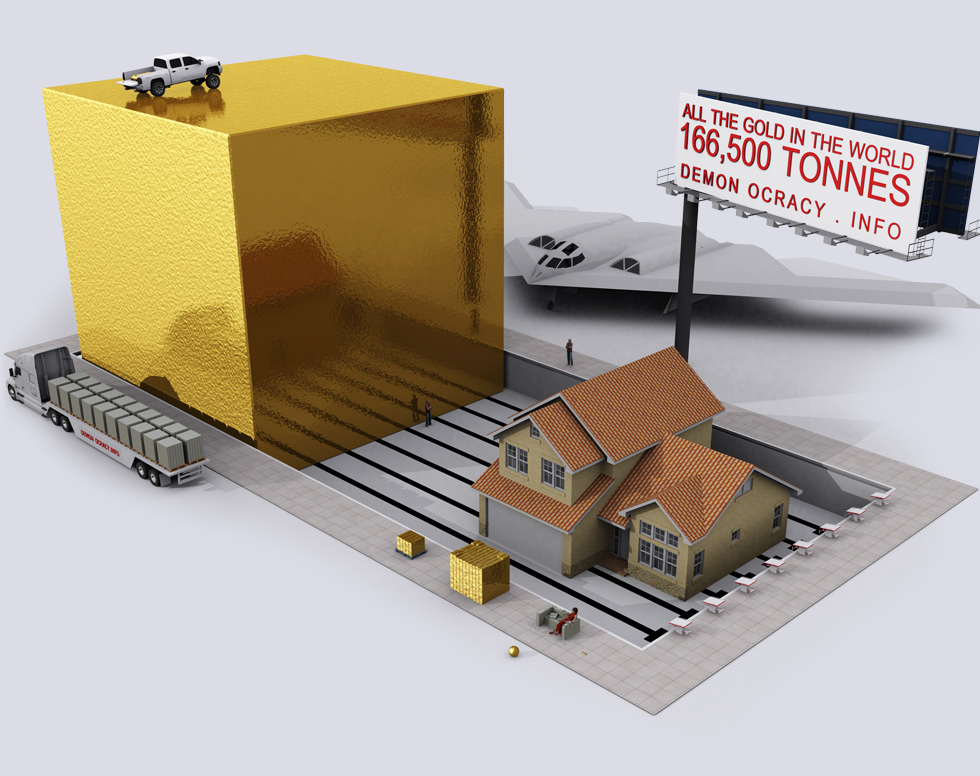 Lastly, we finish off with an image of all of the world's mined gold in one cube with dimensions of 20.5m. If it was all melted, it would fit within the confines of an Olympic Swimming Pool.
Want to learn everything you need to know about gold in about 20 minutes? Our five-part Gold Series covers everything from its rich history, supply and geology, demand drivers, investment properties, and market trends.
The Critical Minerals to China, EU, and U.S. National Security
Ten materials, including cobalt, lithium, graphite, and rare earths, are deemed critical by all three.
The Critical Minerals to China, EU, and U.S. Security
This was originally posted on Elements. Sign up to the free mailing list to get beautiful visualizations on natural resource megatrends in your email every week.
Governments formulate lists of critical minerals according to their industrial requirements and strategic evaluations of supply risks.
Over the last decade, minerals like nickel, copper, and lithium have been on these lists and deemed essential for clean technologies like EV batteries and solar and wind power.
This graphic uses IRENA and the U.S. Department of Energy data to identify which minerals are essential to China, the United States, and the European Union.
What are Critical Minerals?
There is no universally accepted definition of critical minerals. Countries and regions maintain lists that mirror current technology requirements and supply and demand dynamics, among other factors.
These lists are also constantly changing. For example, the EU's first critical minerals list in 2011 featured only 14 raw materials. In contrast, the 2023 version identified 34 raw materials as critical.
One thing countries share, however, is the concern that a lack of minerals could slow down the energy transition.
With most countries committed to reducing greenhouse gas emissions, the total mineral demand from clean energy technologies is expected to double by 2040.
U.S. and EU Seek to Reduce Import Reliance on Critical Minerals
Ten materials feature on critical material lists of both the U.S., the EU, and China, including cobalt, lithium, graphite, and rare earths.
| Mineral / Considered Critical | 🇺🇸 U.S. | 🇪🇺 EU | 🇨🇳 China |
| --- | --- | --- | --- |
| Aluminum/ bauxite | Yes | Yes | Yes |
| Antimony | Yes | Yes | Yes |
| Cobalt | Yes | Yes | Yes |
| Copper | Yes | Yes | Yes |
| Fluorspar | Yes | Yes | Yes |
| Graphite | Yes | Yes | Yes |
| Lithium | Yes | Yes | Yes |
| Nickel | Yes | Yes | Yes |
| Rare earths | Yes | Yes | Yes |
| Tungsten | Yes | Yes | Yes |
| Arsenic | Yes | Yes | No |
| Barite | Yes | Yes | No |
| Beryllium | Yes | Yes | No |
| Bismuth | Yes | Yes | No |
| Germanium | Yes | Yes | No |
| Hafnium | Yes | Yes | No |
| Magnesium | Yes | Yes | No |
| Manganese | Yes | Yes | No |
| Niobium | Yes | Yes | No |
| Platinum | Yes | Yes | No |
| Tantalum | Yes | Yes | No |
| Titanium | Yes | Yes | No |
| Vanadium | Yes | Yes | No |
| Tin | Yes | No | Yes |
| Zirconium | Yes | No | Yes |
| Phosphorus | No | Yes | Yes |
| Cesium | Yes | No | No |
| Chromium | Yes | No | No |
| Indium | Yes | No | No |
| Rubidium | Yes | No | No |
| Samarium | Yes | No | No |
| Tellurium | Yes | No | No |
| Zinc | Yes | No | No |
| Boron | No | Yes | No |
| Coking Coal | No | Yes | No |
| Feldspar | No | Yes | No |
| Gallium | No | Yes | No |
| Helium | No | Yes | No |
| Phosphate Rock | No | Yes | No |
| Scandium | No | Yes | No |
| Silicon | No | Yes | No |
| Strontium | No | Yes | No |
| Gold | No | No | Yes |
| Iron ore | No | No | Yes |
| Molybdenum | No | No | Yes |
| Potash | No | No | Yes |
| Uranium | No | No | Yes |
Despite having most of the same materials found in the U.S. or China's list, the European list is the only one to include phosphate rock. The region has limited phosphate resources (only produced in Finland) and largely depends on imports of the material essential for manufacturing fertilizers.
Coking coal is also only on the EU list. The material is used in the manufacture of pig iron and steel. Production is currently dominated by China (58%), followed by Australia (17%), Russia (7%), and the U.S. (7%).
The U.S. has also sought to reduce its reliance on imports. Today, the country is 100% import-dependent on manganese and graphite and 76% on cobalt.
After decades of sourcing materials from other countries, the U.S. local production of raw materials has become extremely limited. For instance, there is only one operating nickel mine (primary) in the country, the Eagle Mine in Michigan. Likewise, the country only hosts one lithium source in Nevada, the Silver Peak Mine.
China's Dominance
Despite being the world's biggest carbon polluter, China is the largest producer of most of the world's critical minerals for the green revolution.
China produces 60% of all rare earth elements used as components in high-technology devices, including smartphones and computers. The country also has a 13% share of the lithium production market. In addition, it refines around 35% of the world's nickel, 58% of lithium, and 70% of cobalt.
Among some of the unique materials on China's list is gold. Although gold is used on a smaller scale in technology, China has sought gold for economic and geopolitical factors, mainly to diversify its foreign exchange reserves, which rely heavily on the U.S. dollar.
Analysts estimate China has bought a record 400 tonnes of gold in recent years.
China has also slated uranium as a critical mineral. The Chinese government has stated it intends to become self-sufficient in nuclear power plant capacity and fuel production for those plants.
According to the World Nuclear Association, China aims to produce one-third of its uranium domestically.