10 Banknotes From Around the World, and Their Security Features
The history of counterfeiting is almost as extensive as the history of money itself.
It's said that even the first electrum coins in Lydia were regularly faked, and coming across counterfeit coins in Ancient Rome was a daily occurrence. Roman Emperors, like other rulers, also famously did their own counterfeiting, debasing the metal in coins and trying to pass them off as having higher value.
The problem of funny money remained an issue for society even thousands of years later. For example, at the start of the U.S. Civil War in 1861 – when banks still issued their own currencies – it was estimated that half of the banknotes in circulation were forgeries.
Banknote Security Features
And as we move towards a more digital world, the cat and mouse games between authorities and counterfeiters continues.
Today's infographic comes to us from TitleMax and it details 10 popular banknotes from around the world, including the anti-counterfeiting measures that have been taken for each note.
Through centuries of collective experience, advances in technology, and many episodes of trial and error, the latest fiat banknotes have impressive security features that blow previous generations out of the water.
Common Security Features Used
Many national mints have adopted similar anti-counterfeiting technologies for their banknotes:
Plastic money: In Canada, authorities were starting to find 470 counterfeits for every one million legitimate banknotes that existed – a rate almost 10x as high as other G20 countries. In light of this problem, the Bank of Canada recently introduced polymer notes that make counterfeiting considerably more difficult.
Polymer banknotes were pioneered in Australia in 1988, and like Canada, many countries have made the switch to polymer including the United Kingdom, Malaysia, Chile, New Zealand, and Mexico.
Holograms: More than 300 denominations in 97 currencies use holograms for protection, making them one of the most common security features globally. They can be incorporated into designs by the way of security threads, stripes, patches and window features.
Watermarks: One of the most common security features, watermarks are created by using different thicknesses of paper in the printing process. When hit with light, an image will be illuminated.
Microtext: Tiny text, which can only be read with a magnifying glass, is a common safety feature on many bills globally.
Color-changing features: Roughly 42% of banknotes issued since 2011 use color-changing features in which parts of the note change color to the viewer depending on the angle.
Security thread: Many notes use this security feature, which consists of a thin ribbon that is threaded through the note's paper.
Invisible marks: Notes can also incorporate ink or markings that are only visible in fluorescent or infrared light, making them invisible to the naked eye.
All of the World's Money and Markets in One Visualization (2022)
From the wealth held to billionaires to all debt in the global financial system, we look at the vast universe of money and markets in 2022.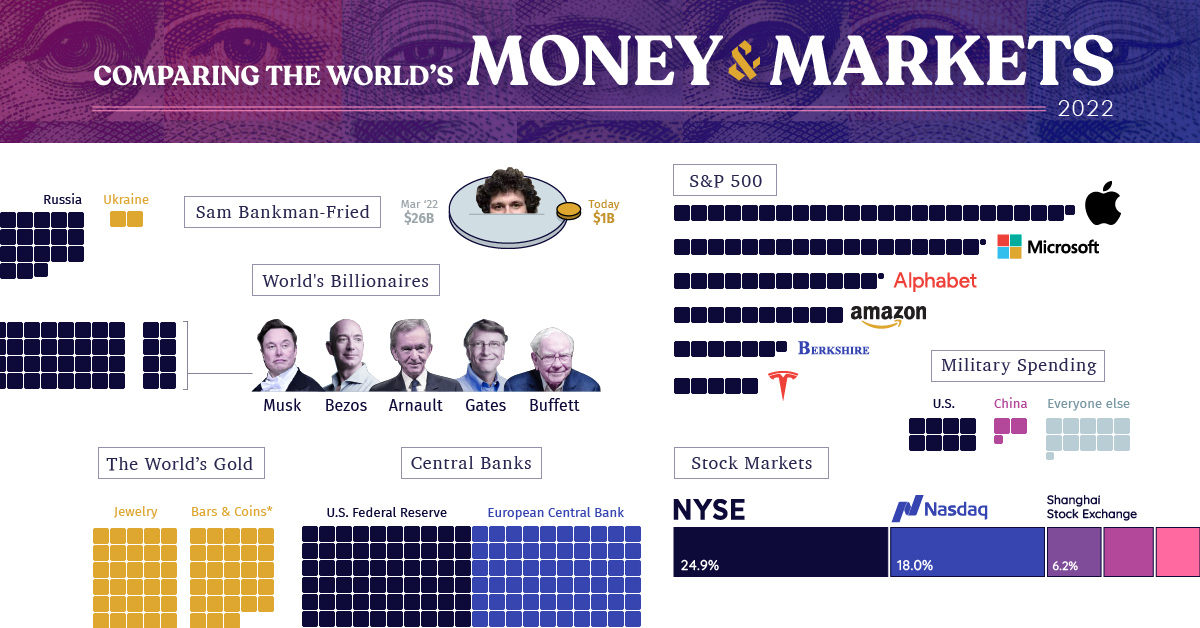 All of the World's Money and Markets in One Visualization
The era of easy money is now officially over.
For 15 years, policymakers have tried to stimulate the global economy through money creation, zero interest-rate policies, and more recently, aggressive COVID fiscal stimulus.
With capital at near-zero costs over this stretch, investors started to place more value on cash flows in the distant future. Assets inflated and balance sheets expanded, and money inevitably chased more speculative assets like NFTs, crypto, or unproven venture-backed startups.
But the free money party has since ended, after persistent inflation prompted the sudden reversal of many of these policies. And as Warren Buffett says, it's only when the tide goes out do you get to see "who's been swimming naked."
Measuring Money and Markets in 2022
Every time we publish this visualization, our common unit of measurement is a two-dimensional box with a value of $100 billion.
Even though you need many of these to convey the assets on the balance sheet of the U.S. Federal Reserve, or the private wealth held by the world's billionaires, it's quite amazing to think what actually fits within this tiny building block of measurement: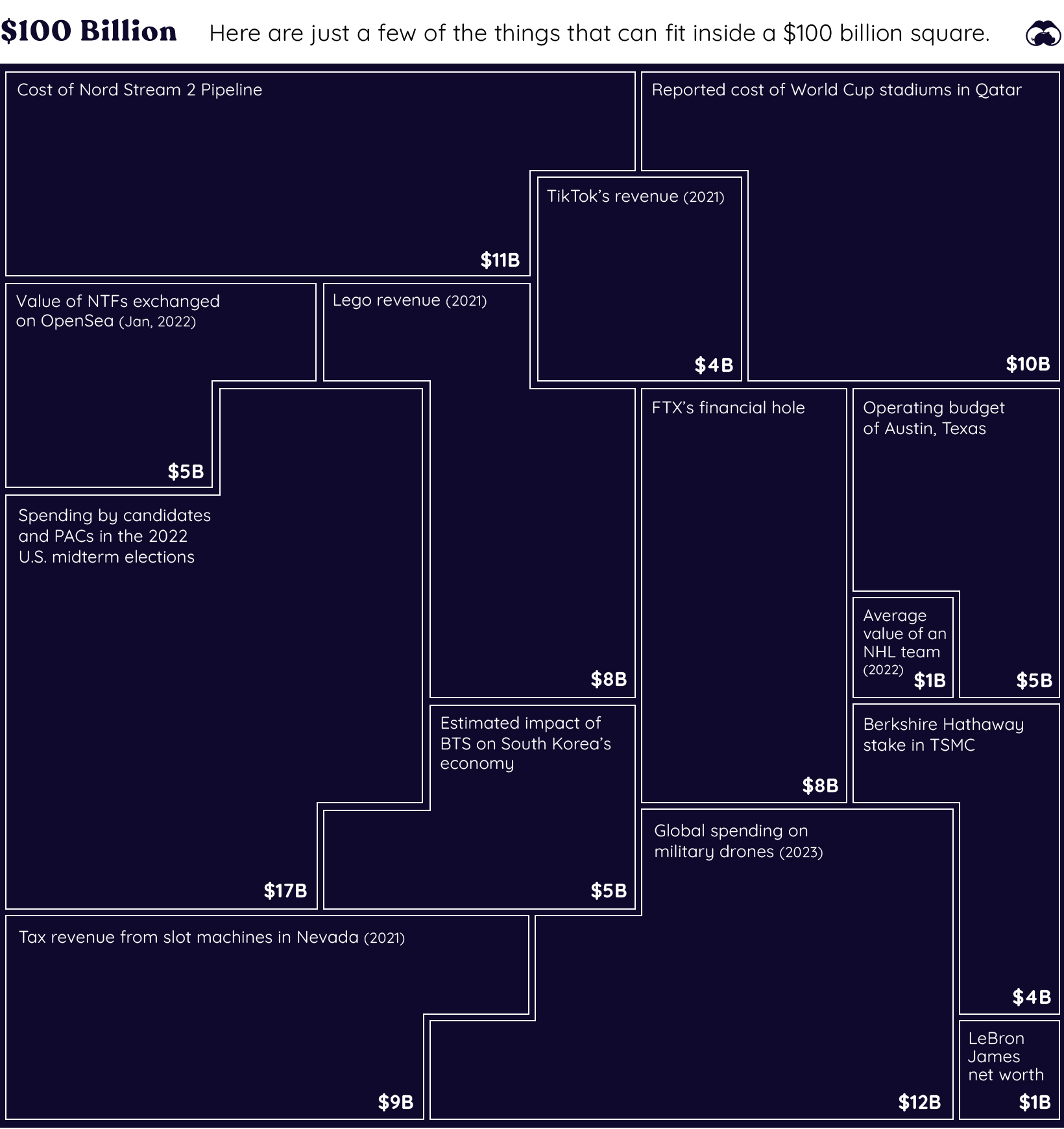 Our little unit of measurement is enough to pay for the construction of the Nord Stream 2 pipeline, while also buying every team in the NHL and digging FTX out of its financial hole several times over.
Here's an overview of all the items we have listed in this year's visualization:
| Asset category | Value | Source | Notes |
| --- | --- | --- | --- |
| SBF (Peak Net Worth) | $26 billion | Bloomberg | Now sits at <$1B |
| Pro Sports Teams | $340 billion | Forbes | Major pro teams in North America |
| Cryptocurrency | $760 billion | CoinMarketCap | Peaked at $2.8T in 2021 |
| Ukraine GDP | $130 billion | World Bank | Comparable to GDP of Mississippi |
| Russia GDP | $1.8 trillion | World Bank | The world's 11th largest economy |
| Annual Military Spending | $2.1 trillion | SIPRI | 2021 data |
| Physical currency | $8.0 trillion | BIS | 2020 data |
| Gold | $11.5 trillion | World Gold Council | There are 205,238 tonnes of gold in existence |
| Billionaires | $12.7 trillion | Forbes | Sum of fortunes of all 2,668 billionaires |
| Central Bank Assets | $28.0 trillion | Trading Economics | Fed, BoJ, Bank of China, and Eurozone only |
| S&P 500 | $36.0 trillion | Slickcharts | Nov 20, 2022 |
| China GDP | $17.7 trillion | World Bank | |
| U.S. GDP | $23.0 trillion | World Bank | |
| Narrow Money Supply | $49.0 trillion | Trading Economics | Includes US, China, Euro Area, Japan only |
| Broad Money Supply | $82.7 trillion | Trading Economics | Includes US, China, Euro Area, Japan only |
| Global Equities | $95.9 trillion | WFE | Latest available 2022 data |
| Global Debt | $300.1 trillion | IIF | Q2 2022 |
| Global Real Estate | $326.5 trillion | Savills | 2020 data |
| Global Private Wealth | $463.6 trillion | Credit Suisse | 2022 report |
| Derivatives (Market) | $12.4 trillion | BIS | |
| Derivatives (Notional) | $600 trillion | BIS | |
Has the Dust Settled Yet?
Through previous editions of our All the World's Money and Markets visualization, we've created snapshots of the world's assets and markets at different points in time.
For example, in our 2017 edition of this visualization, Apple's market capitalization was only $807 billion, and all crypto assets combined for $173 billion. The global debt total was at $215 trillion.
| Asset | 2017 edition | 2022 edition | Change (%) |
| --- | --- | --- | --- |
| Apple market cap | $807 billion | $2.3 trillion | +185% |
| Crypto | $173 billion | $760 billion | +339% |
| Fed Balance Sheet | $4.5 trillion | $8.7 trillion | +93% |
| Stock Markets | $73 trillion | $95.9 trillion | +31% |
| Global Debt | $215 trillion | $300 trillion | +40% |
And in just five years, Apple nearly quadrupled in size (it peaked at $3 trillion in January 2022), and crypto also expanded into a multi-trillion dollar market until it was brought back to Earth through the 2022 crash and subsequent FTX implosion.
Meanwhile, global debt continues to accumulate—growing by $85 trillion in the five-year period.
With interest rates expected to continue to rise, companies making cost cuts, and policymakers reining in spending and borrowing, today is another unique snapshot in time.
Now that the easy money era is over, where do things go from here?
Charted: Income Distributions in 16 Different Countries
This graphic shows income distributions in 16 different countries around the world, using data from the World Inequality Database.

Creator Program
Charting Income Distributions in 16 Different Countries
Throughout the 19th century, roughly 80% of the global population lived in what we'd now consider extreme poverty.
And as earnings and living conditions have improved dramatically since then, they haven't done so evenly across the world. There are still vast income gaps, both between different countries and within them.
To highlight these global income discrepancies, this chart by Ruben Berge Mathisen shows income distributions around the world, using 2021 income data from the World Inequality Database (WID) on a per adult basis.
Global Income Distributions
This graphic shows the adult income distributions of 16 different countries in U.S. dollars, along with the world average.
On a global scale, adults making an annual income greater than $124,720 make it into the 99th percentile, meaning they make more than 99% of the worldwide population.
However, things change when you zoom in on specific countries. Here's a look at all the countries on the list, and how much annual income is needed (at minimum) to be in the top 1%:
| Region | Country | Adult income (2021, 99th percentile) |
| --- | --- | --- |
| North America | 🇺🇸 United States | $336,953.19 |
| North America | 🇨🇦 Canada | $193,035.55 |
| North America | 🇲🇽 Mexico | $130,388.19 |
| South America | 🇧🇷 Brazil | $115,257.86 |
| South America | 🇨🇴 Colombia | $97,500.37 |
| South America | 🇦🇷 Argentina | $94,794.89 |
| Asia | 🇨🇳 China | $99,095.34 |
| Asia | 🇮🇳 India | $65,370.51 |
| Asia | 🇮🇩 Indonesia | $85,176.35 |
| Europe | 🇷🇺 Russia | $124,805.86 |
| Europe | 🇩🇪 Germany | $212,106.53 |
| Europe | 🇬🇧 United Kingdom | $162,547.56 |
| Africa | 🇳🇬 Nigeria | $53,144.36 |
| Africa | 🇪🇹 Ethiopia | $24,295.66 |
| Africa | 🇪🇬 Egypt | $115,546.44 |
| Oceania | 🇦🇺 Australia | $164,773.40 |
| | 🌎 World | $124,719.60 |
People in America's top 1% make at least $336,953 in annual pre-tax income. That's more than $100,000 above the 1% of next closest countries, Germany ($212,107) and Canada ($193,036).
On the flip side, adults in Ethiopia only need to make $24,297 to fall into the country's 99th percentile. Ethiopia is one of the poorest nations in the world—according to estimates by the World Bank, about 27% of Ethiopia's population is thought to be currently living under the poverty line.
Income Gaps Within Countries
It is also noticeable how much income varies within each country.
One example is Colombia, which has one of the largest wealth gaps of any country on the list. The 99th percentile in Colombia is making an annual income that's 192x higher than its 10th percentile. In contrast, an income in the 99th percentile in the United States is 83x higher than the 10th percentile.
Colombia's high level of income inequality stems from early childhood disadvantages, such as lack of access to education, which can limit opportunities later on in life.